Attached files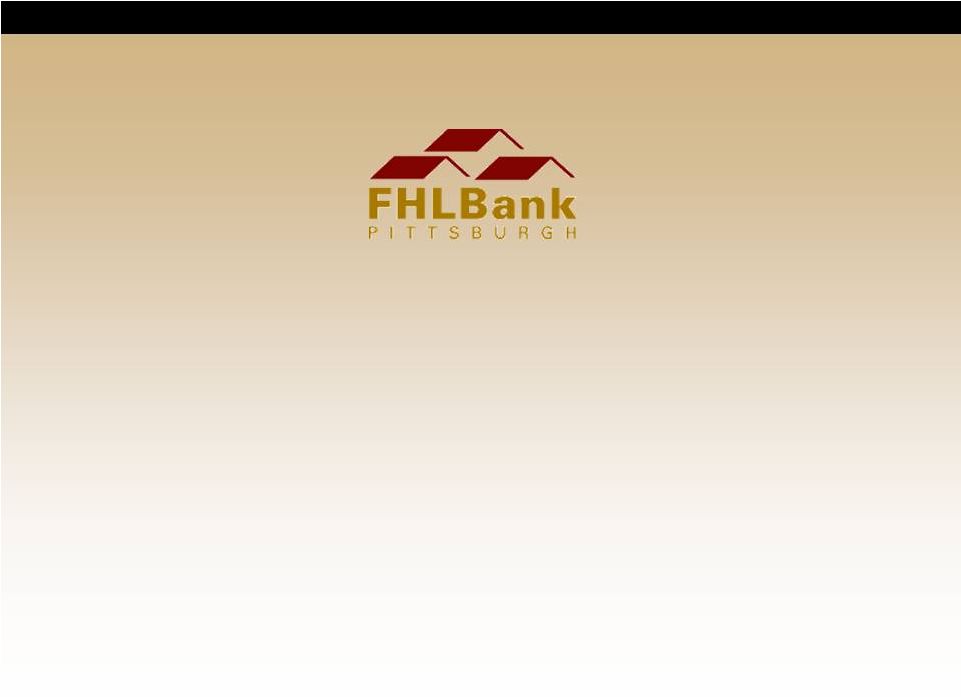 Member Audio/Web
Conference
May 2, 2014
Exhibit 99.1
---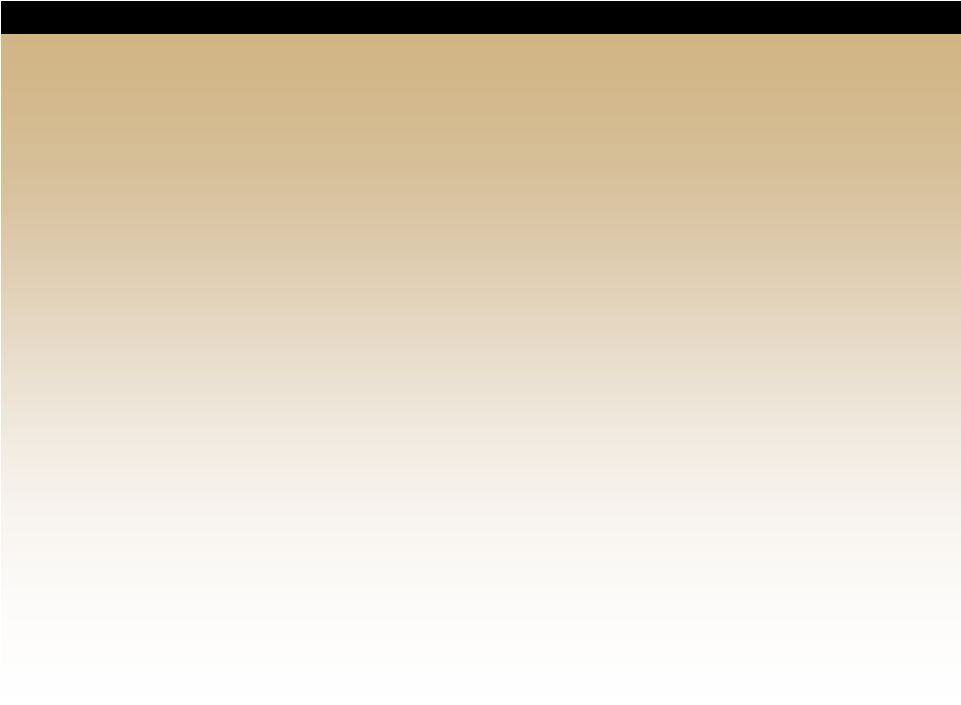 Cautionary Statement Regarding Forward-
Looking Information
2
Statements contained in these slides, including statements describing the objectives, projections, estimates, or predictions of the
future of the Bank, may be "forward-looking statements." These statements may use forward-looking terms, such as "anticipates,"
"believes," "could," "estimates," "may," "should," "will," or their negatives or other variations on these terms. The Federal Home Loan
Bank of Pittsburgh (the Bank) cautions that, by their nature, forward-looking statements involve risk or uncertainty and that actual
results could differ materially from those expressed or implied in these forward-looking statements or could affect the extent to
which a particular objective, projection, estimate, or prediction is realized. These forward-looking statements involve risks and
uncertainties including, but not limited to, the following: economic and market conditions, including, but not limited to, real estate,
credit and mortgage markets; volatility of market prices, rates, and indices related to financial instruments; political, legislative,
regulatory, litigation, or judicial events or actions; changes in assumptions used in the quarterly Other-Than-Temporary Impairment
(OTTI) process; risks related to mortgage-backed securities; changes in the assumptions used in the allowance for credit losses;
changes in the Bank's capital structure; changes in the Bank's capital requirements; membership changes; changes in the demand
by Bank members for Bank advances; an increase in advances' prepayments; competitive forces, including the availability of other
sources of funding for Bank members; changes in investor demand for consolidated obligations and/or the terms of interest rate
exchange agreements and similar agreements; changes in the FHLBank System's debt rating or the Bank's rating; the ability of the
Bank to introduce new products and services to meet market demand and to manage successfully the risks associated with new
products and services; the ability of each of the other FHLBanks to repay the principal and interest on consolidated obligations for
which it is the primary obligor and with respect to which the Bank has joint and several liability; applicable Bank policy requirements
for retained earnings and the ratio of the market value of equity to par value of capital stock; the Bank's ability to maintain adequate
capital levels (including meeting applicable regulatory capital requirements); business and capital plan adjustments and
amendments; technology risks; and timing and volume of market activity. We do not undertake to update any forward-looking
information. Some of the data set forth herein is unaudited.
---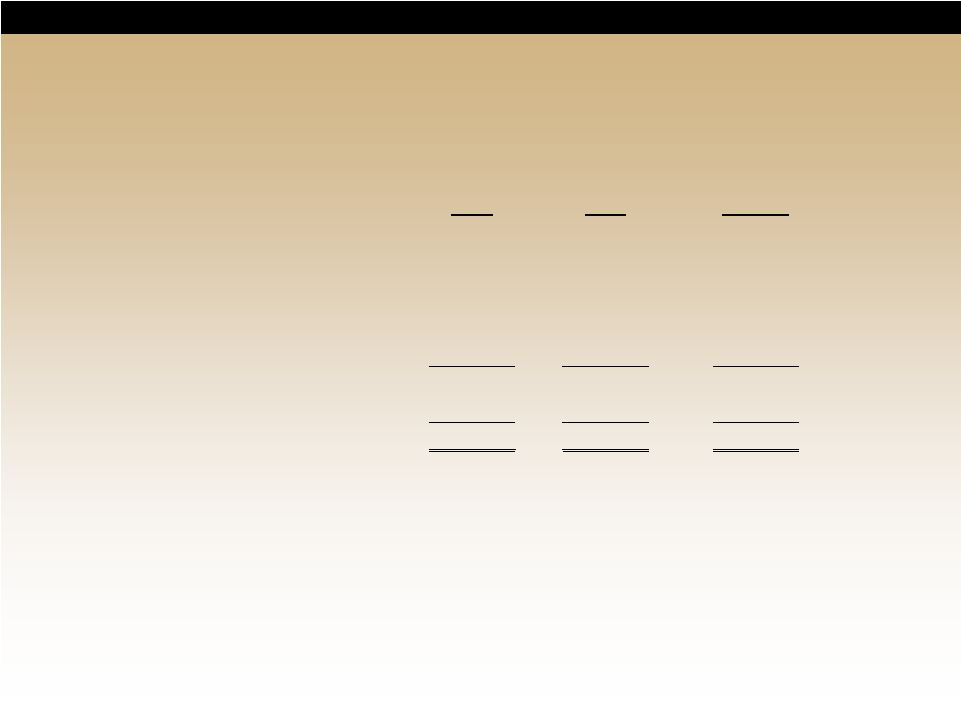 Over/
2014
2013
(Under)
Net interest income
62.3
$
45.4
$
16.9
$
Provision (benefit) for credit losses
(3.9)
(0.1)
(3.8)
Gain on litigation settlements, net
36.6
-
36.6
Other income
5.1
3.7
1.4
Other expenses
19.1
17.4
1.7
Income before assessment
88.8
31.8
57.0
AHP
8.9
3.2
5.7
Net income
79.9
$
28.6
$
51.3
$
Net interest margin (bps)
37
31
6
Earned dividend spread
10.90%
3.89%
7.01%
Three months ended March 31
Financial Highlights –
Statement of Income
(in millions)
3
,
---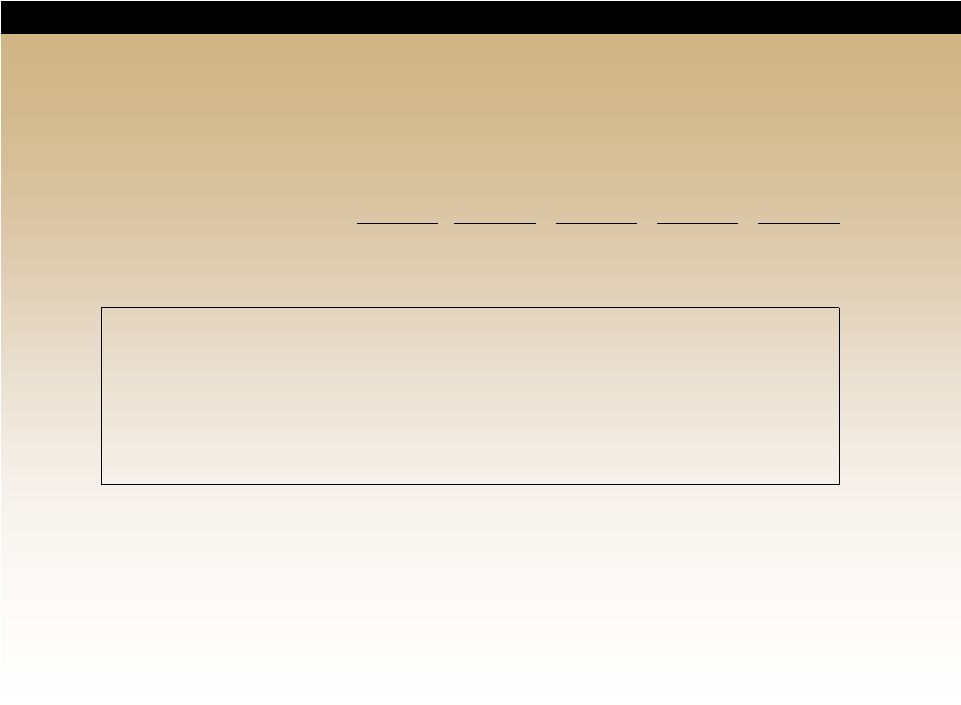 Quarterly Net Income
1Qtr 14
4Qtr 13
3Qtr 13
2Qtr 13
1Qtr 13
Net income
79.9
$
43.7
$
43.5
$
32.0
$
28.6
$
Derivative and hedging activity
(9.2)
$
16.1
$
5.4
$
7.1
$
1.6
$
Net gains (losses) on trading
securities
9.8
(5.1)
0.2
0.1
0.2
Gain on litigation
settlements, net
36.6
-
-
1.5
-
Net gains on early
extinguishment of debt
-
-
9.6
-
-
(in millions)
4
---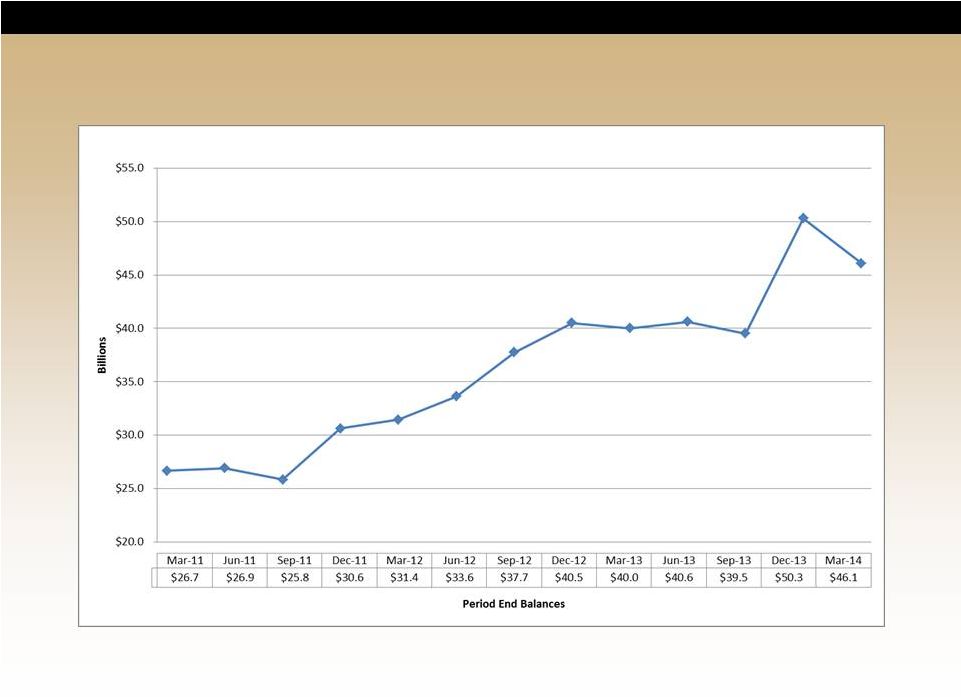 Quarterly Advance Trend
5
---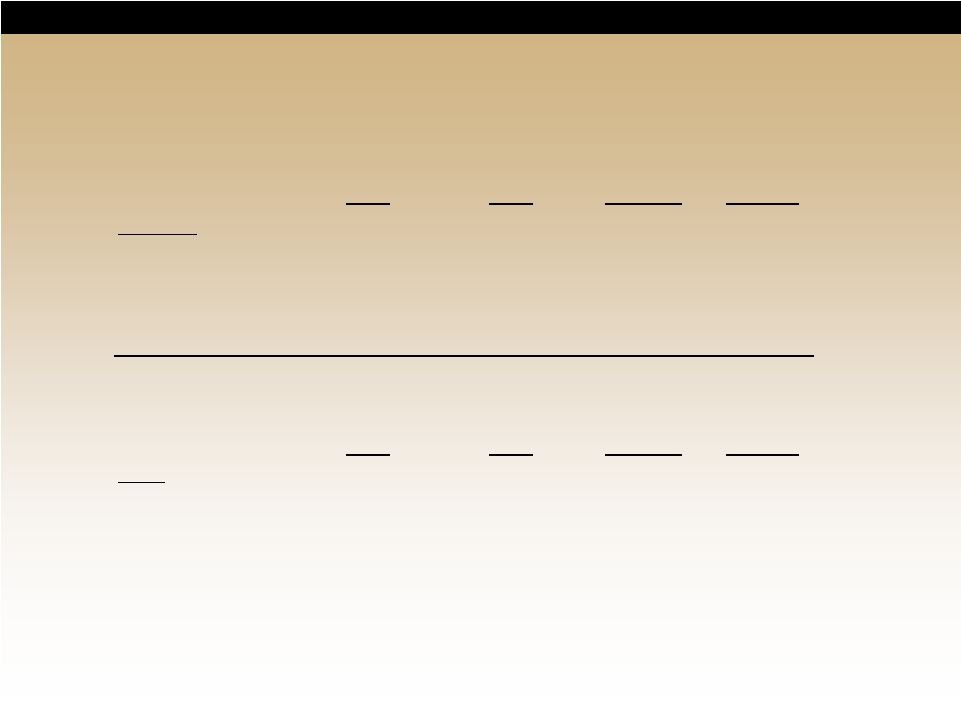 Financial Highlights –
Selected Balance Sheet
2014
2013
Amount
Average:
Total assets
68,085
$
59,297
$
8,788
$
15
%
Advances
47,320
36,380
10,940
30
Total investments
16,939
18,718
(1,779)
(10)
March 31,
Dec 31,
2014
2013
Amount
Spot:
Advances
46,064
$
50,248
$
(4,184)
$
(8)
%
PLMBS (par)
2,102
2,210
(108)
(5)
Capital stock
2,681
2,962
(281)
(9)
Retained earnings
749
686
63
9
Percent
Over/(Under)
Over/(Under)
Percent
Three months ended March 31,
(in millions)
(in millions)
6
---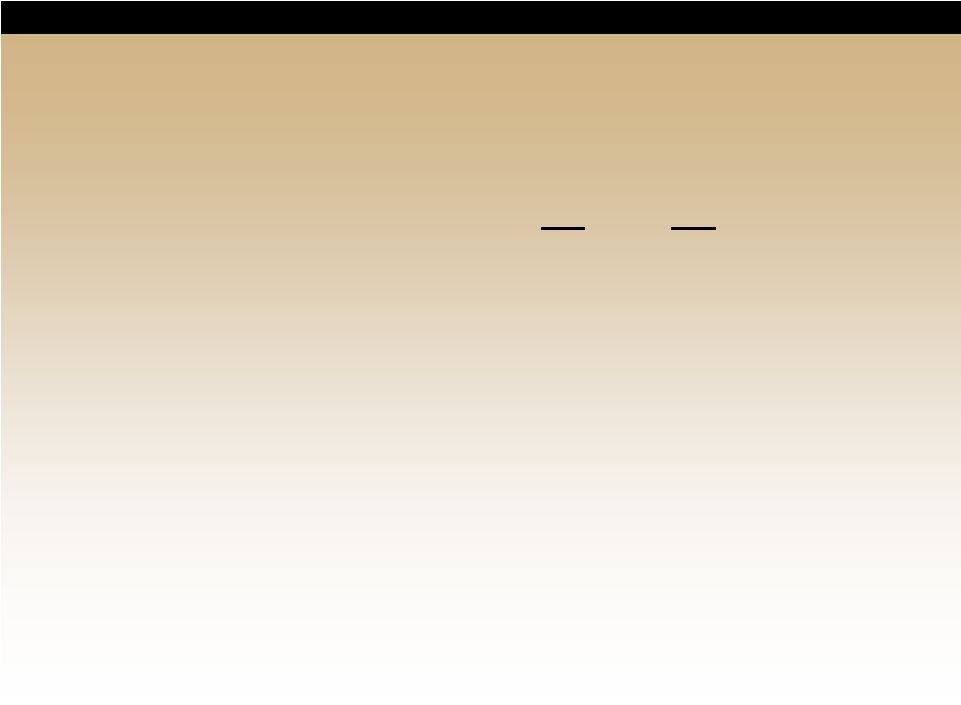 (in millions)
March 31,
Dec 31,
2014
2013
Permanent capital
3,432
$
3,648
$
Excess permanent capital
over RBC requirement
2,447
$
2,595
$
Capital ratio (4% minimum)
5.3%
5.2%
Leverage ratio (5% minimum)
8.0%
7.7%
Market value/capital stock (MV/CS)
135.7%
128.0%
Capital Requirements
7
---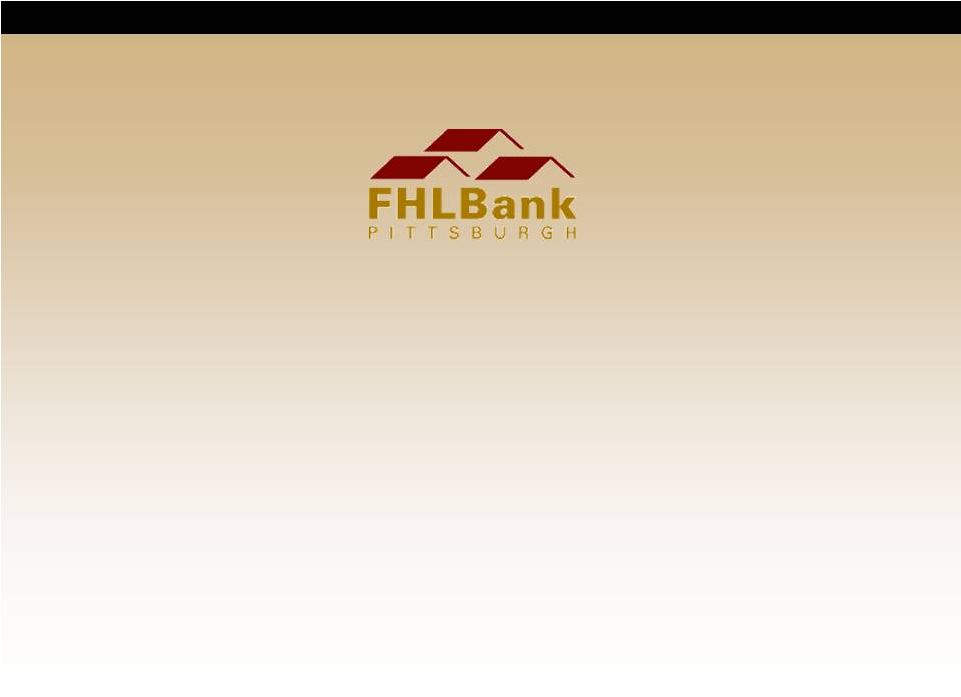 Member Audio/Web
Conference
May 2, 2014