Attached files
Stock Symbol: EVCP
"Creating a Greener Future"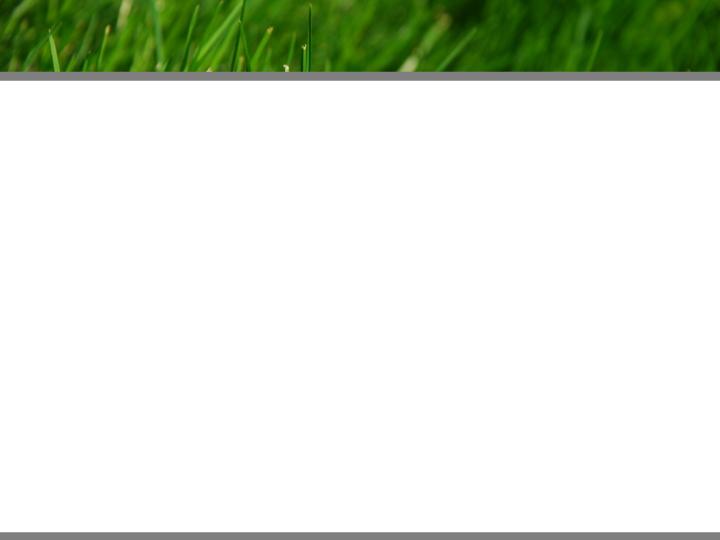 Safe Harbor Statement
This presentation contains "forward-looking statements" within the meaning
of the "safe-harbor" provisions of the Securities Litigation Reform Act of 1995.
Such statements involve known and unknown risks, uncertainties and other
factors that could cause the actual results of the Company to differ materially
from the results expressed or implied by such statements, including changes
from anticipated levels of sales, future national or regional economic and
competitive conditions, changes in relationships with customers, access to
capital, difficulties in developing and marketing new products, marketing
existing products, customer acceptance of existing and new products, and
other factors. Accordingly, although the Company believes that the
expectations reflected in such forward-looking statements are reasonable,
there can be no assurance that such expectations will prove to be correct.
The Company has no obligation to update the forward-looking information
contained in this presentation.
2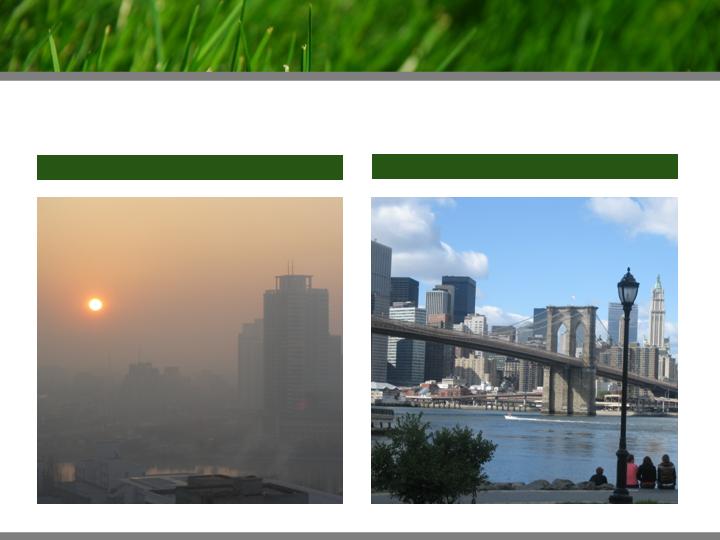 3
China is the World's Largest Polluter
A Sunny Day in the U.S
A Sunny Day in China
CleanTech Innovations tackles pollution through energy savings and pollution
reduction products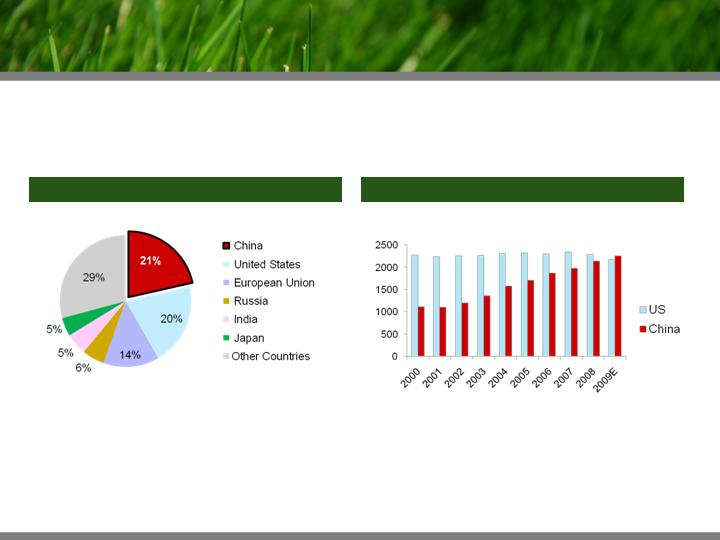 4
China Must Invest in Cleaner Sources of Energy
World CO2 Emissions: 28.4 billion metric tons
China CO2 Emissions: 6.1 billion metric tons
(1)
CDIAC data for 2006
(2)
Bloomberg.com
China
China, the world's largest polluter, may spend about $738 billion in the next decade
developing cleaner sources of energy. China overtook the U.S as the largest energy user
in 2009.
(in Millions Metric Tons)
Total Energy Consumption(2): U.S. VS China
China consumed 2,252 million metric tons of oil
equivalent in 2009, the most in the world
CO2 Emission by Country(1) %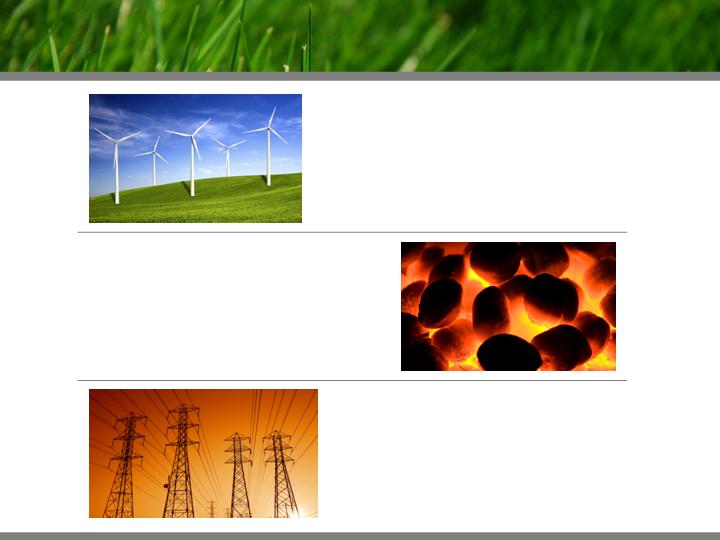 Our Products Contribute to a Greener Future
5
The Wind Power Industry:
We manufacture base towers
for wind turbines
The Utility Industry:
We produce essential products
for ultra high voltage grid
systems that improve efficiency
in electricity transmissions
The Steel Industry:
We produce critical components
for waste heat recycling systems
used in coke production, reducing
water and air pollution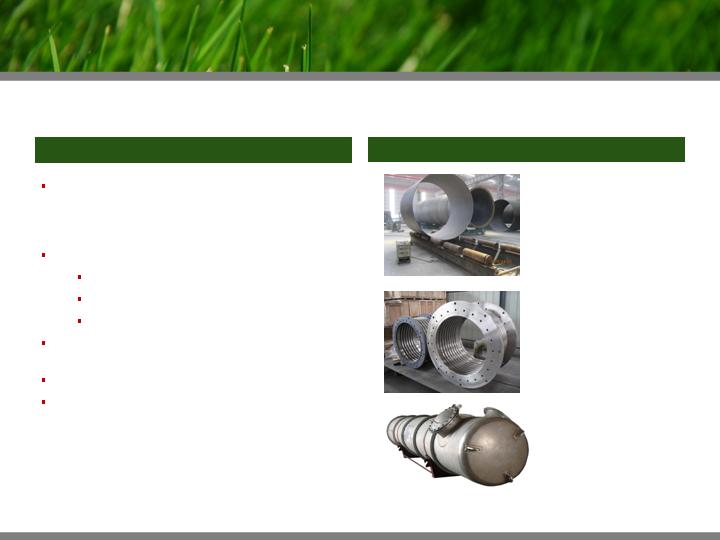 Corporate Overview
Leading designer and manufacturer of high
performance clean tech products that promote
renewable energy production, pollution reduction,
and energy conservation in China
3 main product lines:
wind turbine tower
bellows expansion joints
pressure vessels
Critical components for various industries:
coking, steel, petrochemical, thermoelectric, utility
Strong R&D: owns 2 patents and 3 pending
Experienced managers: management has 20
years of extensive industry experience
We provide clean solutions that generate renewable energy, reduce pollution, and
conserve energy for fast growing industries in China
Bellow
Expansion Joints
Wind Turbine
Tower
Pressure
Vessel
Three Main Products Lines
Company Overview
6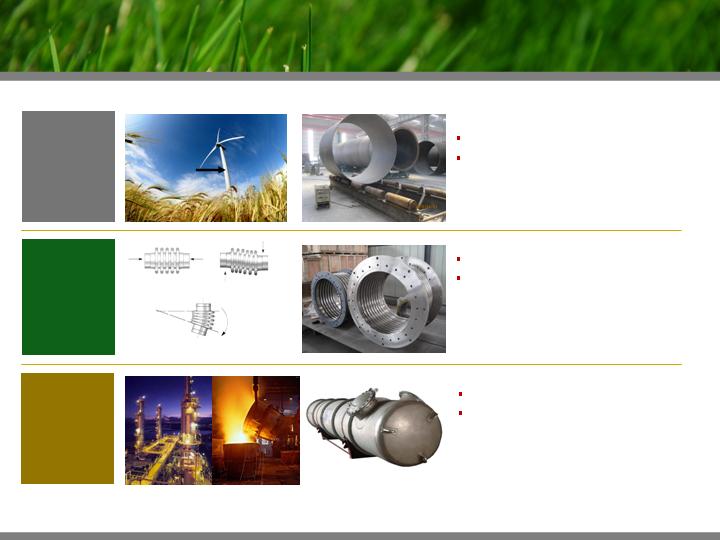 Wind
Towers
2010E sales: ~60%
Functions: Provide structural
support for wind turbine nacelle
and blades
2010E sales: ~20%
Functions: Key part of pipeline;
absorb expansion, contraction and
vibrations under high temperature,
high pressure, highly corrosive
conditions
2010E sales: ~20%
Functions: Used in petrochemical,
electrical, steel, aerospace, and
metallurgical industries as heat
exchangers, storage tanks,
separators, and industrial reactors
Bellow
Expansion
Joints
Pressure
Vessels
7
Diversified Revenue Mix
Tower
(up to 500 ft)
Axial
Lateral
Angular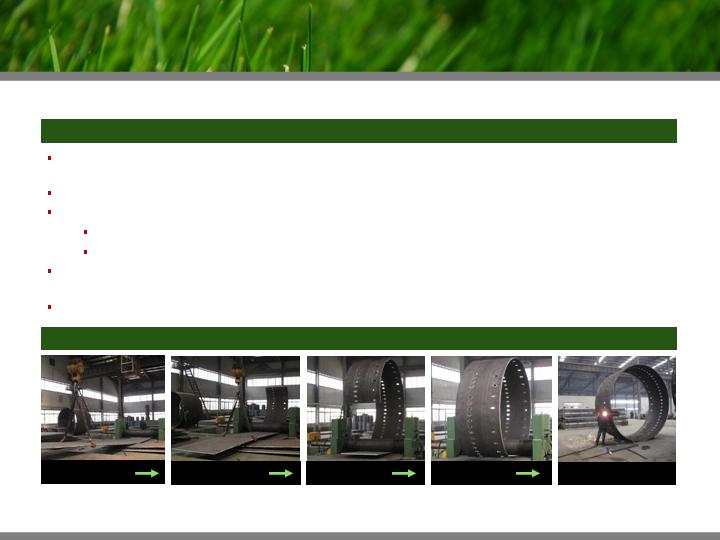 1. Wind Turbine Towers
8
China's wind industry is the fastest growing in the world
Product Expansion - Currently producing 1.5 MW on-shore wind towers, plans to produce 3MW and
5MW on-shore wind towers and 3MW off-shore wind towers
High Quality - Significant manufacturing experience in rolling and welding thick walled steel plates
Location Advantage
Manufacturing facility located in Tieling, one of the top regions for wind farms in China
Sole tower manufacturer in Tieling city, has majority market share in the region
Reputable Customers – Supplies towers to China Huaneng and China Guodian, 2 of the 5 largest
state-owned utilities companies that dominate the wind industry in China
Stringent Testing – High tech non-destructive testing methods to ensure high product quality
Production of a Wind Turbine Tower at CleanTech Innovations
Step 1
Step 2
Step 3
Welding
Step 4
Company Strength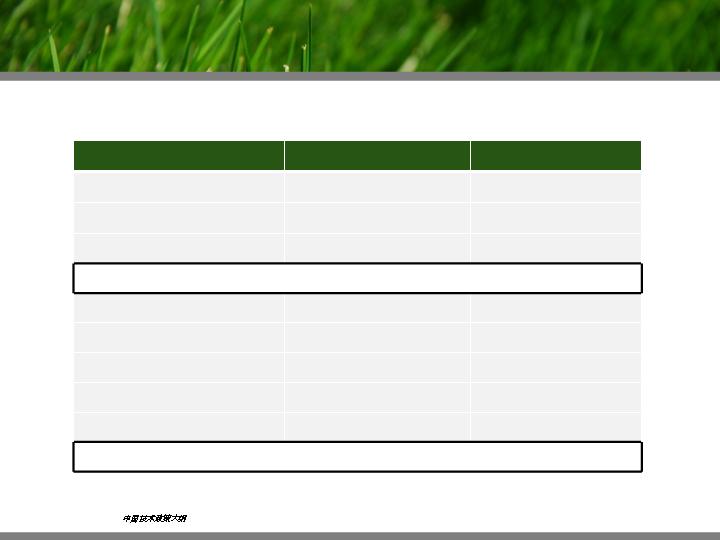 9
Wind - A Main Renewable Energy Source in China
1.5MW Wind Turbine
Coal Power Plant
Electricity Generated
3,942 MwH(1) (Annually)
3,942 MwH
$/KwH
$0.089(2)
$0.056(3)
Electricity Sales
$353,621
$218,936
CO2 Emitted Annually
0
3,443 metric tons(4)
Revenue from Carbon Credit
$34,427
$0
Total Revenue
$388,047
$218,936
Amount of Coal Used
0
1,314 tons(4)
Coal Cost in China
$77/ton(3)
$77/ton(3)
Costs of Coal Consumed
$0
($101,033)
Revenue Net of Fuel Costs
$388,047
$117,903
When using a wind turbine to generate 3,942 MwH of electricity rather than a coal power
plant, over 3,000 mt of CO 2 emission is prevented while generating 3 times more revenue
(1)
RenewableUK "Calculations for wind energy statistics"
(2)
Renewable Energy Law of the PRC
(3)
China Huaneng 2009 : average sale $/KwH, average per ton cost of coal
(4)
NDRC " "2005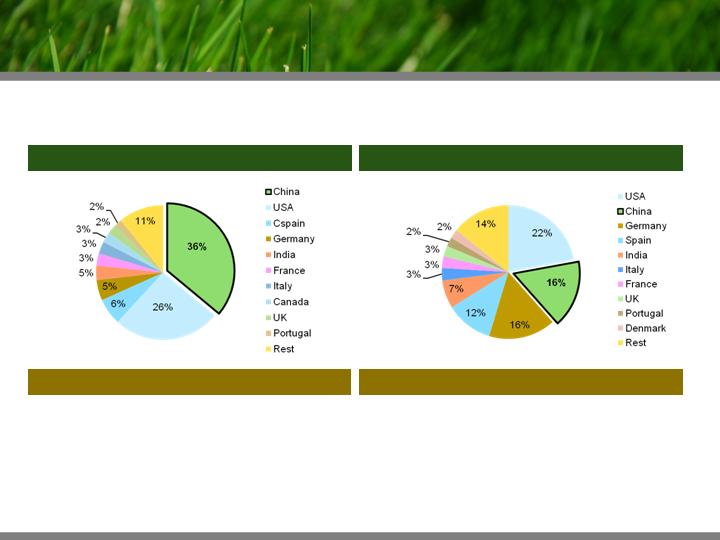 Wind Energy in the Global Markets
10
Worldwide New Capacity Installed in 2009(1) - 38GW
Total Worldwide Capacity in 2009(1) - 159 GW
China
China
U.S
U.S
China New Capacity Installed in 2009 - 13.8GW
China Total Capacity Installed – 26GW
(1)
WWEA 2009
In 2009, China installed 13.8GW of new capacity, the most in the world (36% of total)
At the end of 2009, China had 26GW of total capacity, 2nd largest in the world (16%)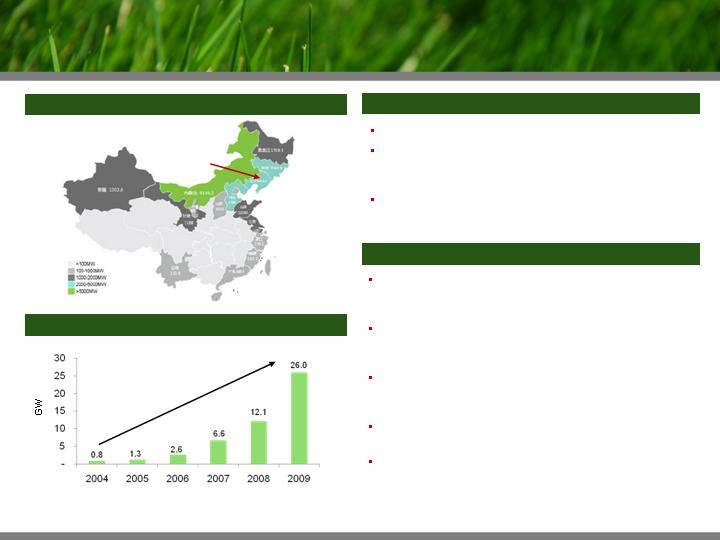 Wind Energy in the China Markets
11
(1)
WWEA 2009
(2)
Morgan Stanley "China Wind Energy" 6/8/2010
(3)
New Energy Finance Estimates
The Renewable Energy Law of PRC: Requires grid
operators to purchase power from local wind farms at a
fixed pricing of between 51 to 61 cents RMB per KWH
High Rate of Return: Stable and clear policies ensure
high teens rate of return on equity for wind farm
operators
Planned Projects: NDRC plan to install at least 10GW
of capacity each in Hebei, Western Jilin, and Inner
Mongolia – all are near CleanTech's manufacturing site
Limited Natural Resources: China has limited fossil
fuel reserves and must invest in renewable energy
Ease of Project Approval: Unlike the U.S, China has
experienced little opposition from local land owners
towards new projects
Demand Drivers
Top Wind Farm Regions in China
Tieling,
Liaoning
CAGR: 102%
Total Capacity Installed in China(1) - 26 GW
Costs ~$1 billion USD to install 1 GW of wind capacity
China installed 14GW in 2009 and may install a record
18GW(3) in 2010, resulting in about $18 billion spent on
wind energy this year.
China is projected to install 275-300GW by 2020(2) ,
resulting in roughly $250 billion to be spent on wind
projects
Opportunities in the China Market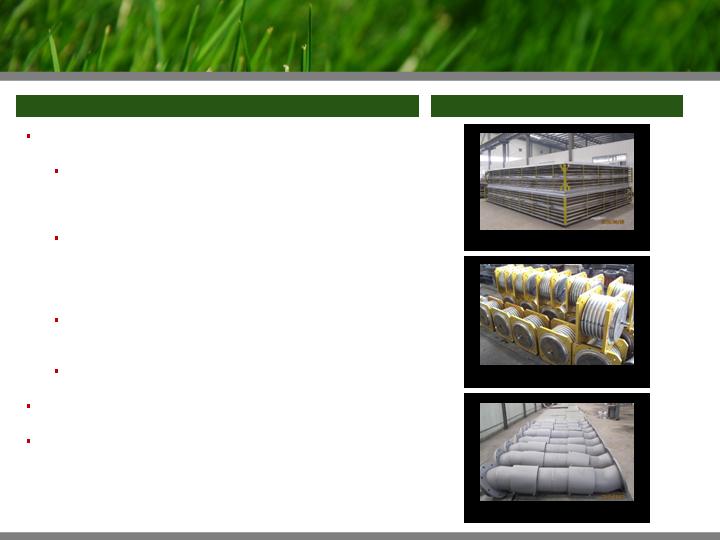 2. Metal Expansion Joints
12
Company Strength
Our Products are Necessary Components in Clean
Solution Systems:
Coke Dry Quench – We are the first domestic
manufacturer able to produce CDQ joints of equal quality
to Nippon Steel (previously dominated the China market).
Currently there are no strong competitors
Ultra High Voltage Transmission – Our joints are
installed in gas insulated switchgear, an integral part of
ultra high voltage systems. GIS rated over 1 million volts
are only produced by a handful of companies worldwide
such as ABB, Toshiba, and Siemens.
Coke Ovens – Our connecting bend pipes replaced rigid
elbows which rupture easily, thus preventing dangerous
leaks and explosions
Other Metal Expansion Joints –Increase operating
efficiency and safety
Stringent Testing – Utilize X-Ray, ultrasonic, pneumatic,
hydraulic, and SF6 gas leakage test
High Performance – Withstand harsh operating conditions of
high temperature, high pressure, and highly corrosive
environments
Company Products
Disk Spring Joints for GIS
High Temp Bellow Joints for CDQ
Connecting Bend Pipes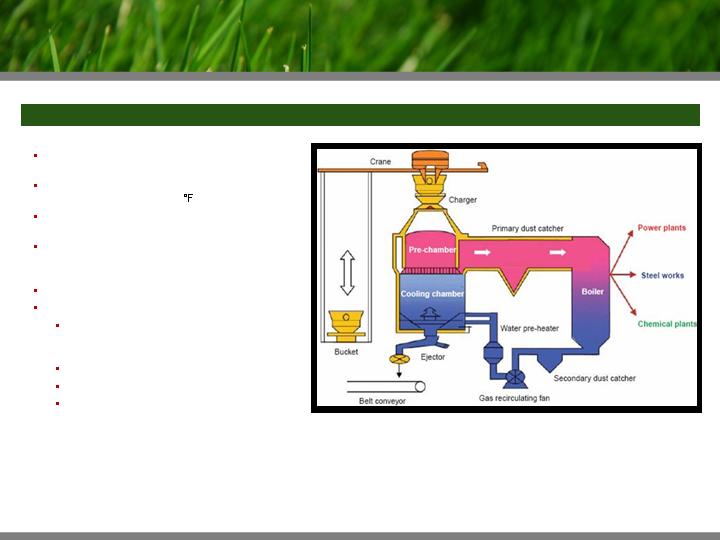 CDQ System Reuses Waste Energy
13
Coke Dry Quench System is More Economical than Wet Quench system
Coking process is an integral part of steel
production
Coking process involves baking coal at high
temperatures of over 2,000
Traditionally, water is used to cool the coke,
releasing pollutants while wasting water and heat
The Coke Dry Quench (CDQ) system is an advanced
technology that blows gas in an enclosed system to
cool the hot coke
The hot gas is then reused to create electricity
As a result of CDQ:
Waste heat energy is recycled to generate
electricity, saving money and reducing carbon
emissions
Water is not wasted
Water is not contaminated with toxic pollutants
Air pollutants are not released
High Temperature CDQ Expansion Joints are critical components in the system that can
withstand expansion, contraction, and lateral movements due to high temperature, high
pressure and highly corrosive conditions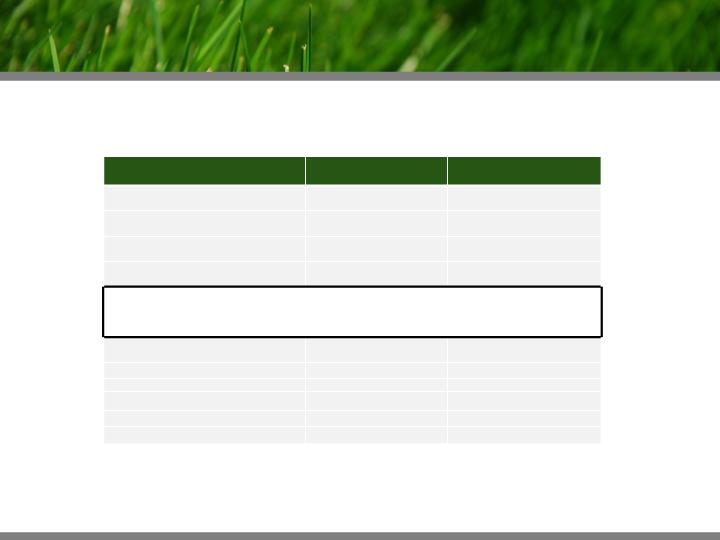 14
CDQ Systems Reduce Costs and Pollutants
Coke Dry Quenching
Coke Wet Quenching
Electricity from Waste Heat
167 GwH/Yr(1)
0 GwH/Yr(1)
Electricity Savings
$9,260,630 (2)
0
Water Used
0
3,723,000 tons(3)
Cost of Water
0
($1,092,826) (4)
Total Benefit/(Costs):
$9,260,630
($1,092,826)
C02 Emitted
4,328 metric tons(1)
134,646 metric tons(1)
Toxic Particles Released(1)
Hydroxybenzene
None
33 mg/m3
Cyanide
None
4 mg/m3
Sulfide
None
7 mg/m3
Ammonia
None
14 mg/m3
Coke Dust
5 mg/m3
13 mg/m3
(1)
United Nations Framework Convention on Climate Change: Baotou Iron & Steel CDQ and Waste Heat Utilization for Electricity Generation
Project , 03/08/2007. Assumption: Using two CDQ systems: each with 25t/hr of coal capacity and 15 MW electricity generating capacity
(2)
Huaneng 2009 average sale ($0.055 /KwH )
(3)
"CDQ-Modern coking technology" by Anhui Vocational College of Metallurgy and Technology
(4)
http://price.h2o-china.com/
By installing 2 CDQ systems, a steel mill can save over $9 million in electricity, almost
4 million tons of water and prevent emission of over 100,000 mt CO 2 annually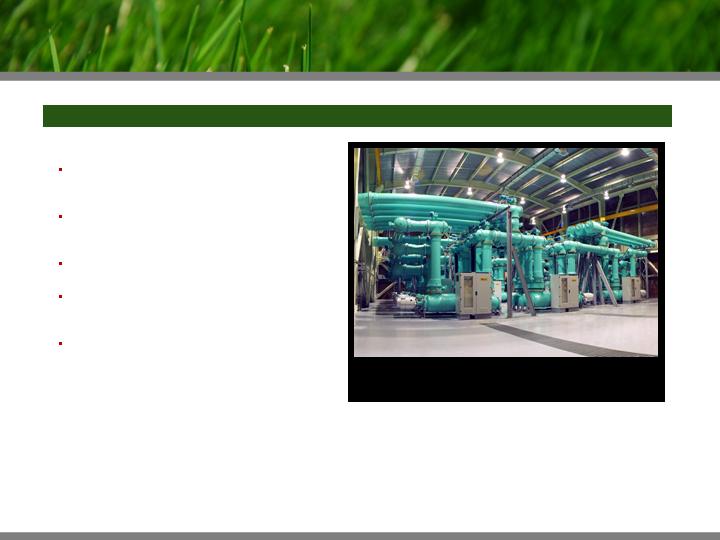 Higher Voltage is More Energy Efficient
15
Ultra High Voltage Systems Lead to Higher Energy Efficiency
Disk Spring Bellows Expansion Joints are needed inside the Gas Insulated
Switchgear to balance the thrust generated from internal pressure
Higher voltage systems allow more efficient
transportation of electricity and reduce the
amount of energy lost during transmission
By increasing the voltage from 500KV to
1000KV, the amount of energy lost in the
transmission process is reduced by 4 times
Higher voltage results in less power lines,
towers, and substations
Gas Insulated Switchgear is a critical part
of the ultra high voltage systems (up to and
above 1,000KV)
China is in the process of upgrading the
grid system to the higher voltage system
Transmission efficiency is improved by 4X
when voltage is doubled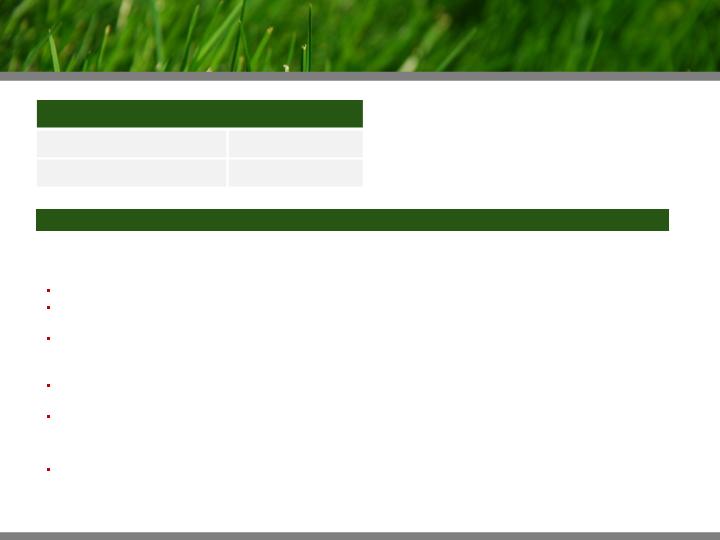 Markets – Bellow Expansion Joint
16
(1)
China Bellow Industry Investment Analyst and Research Report 2010 by Zero Power Intelligence Co. ,LTD.
Overall – Metal Expansion Joints improve efficiencies, safety, and performance of the underlining systems
Coke Dry Quenching
11th Five Year Plan – Mandates the use of CDQs and the reutilization of exhaust heat in broader scope
Consolidation of China's Steel Industry – Larger and better capitalized plants are more conscious about energy
consumption and environmental impact
Cost Savings – Implementation of CDQ system pays back for itself in a few years, providing incentives for steel mills to
install CDQs based purely on project economics
Gas Insulated Switchgear
High Growth in Generation Capacity – China's power generating capacity increased from 443GW at the end of 2004
to an estimated 860GW at the end of 2009
Adoption of Ultra High Voltage Transmission – Long distances between energy source and energy consumption site
require efficient ultra high voltage transmission
Coke Oven
Stricter Safety Requirements – Underground coke oven gas is flammable and explosive; our connecting bend pipes
significantly reduce risk of explosion due to greater quality and flexibility. By using our products instead of rigid elbows
companies can minimize expenses due to work stoppage and work place casualties
Demand Drivers
Metal Bellow Expansion Joints
Market Size (1) (China 2009)
$3 billion USD
Expected CAGR Growth(1)
10%
Management expects the growth rate
for CDQ and GIS joints to be
significantly higher than the overall
bellow expansion joint markets due to
their low penetration rate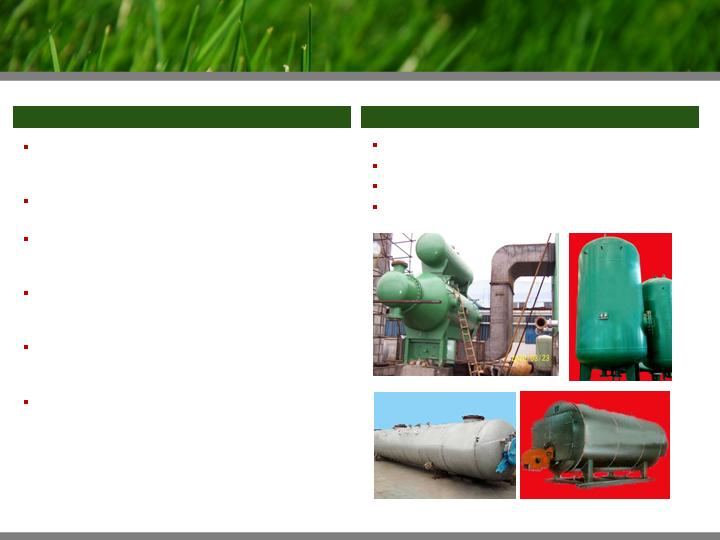 3. Pressure Vessels
17
Company Strength
Pressure Vessel License – Owns Class III A2
grade permit to manufacture products with
pressure rating of 0.1 MPA to 10 MPA
High Performance – Able to withstand high
temperature, pressure, and corrosion
Wide Product Offerings/Customization –
Various styles, shapes, and sizes built to
customer specification
Wide Industry Applications – Petroleum
refining, petrochemical, steel, electricity,
aerospace, and metallurgy industries
Stringent Testing – Utilize X-Ray, ultrasonic,
pneumatic, and hydraulic testing to ensure
quality
Product Safety – High product quality helps
to eliminate industrial accidents and associated
expenses
Heat exchangers
Storage tanks
Separators
Industrial reactors
Main Products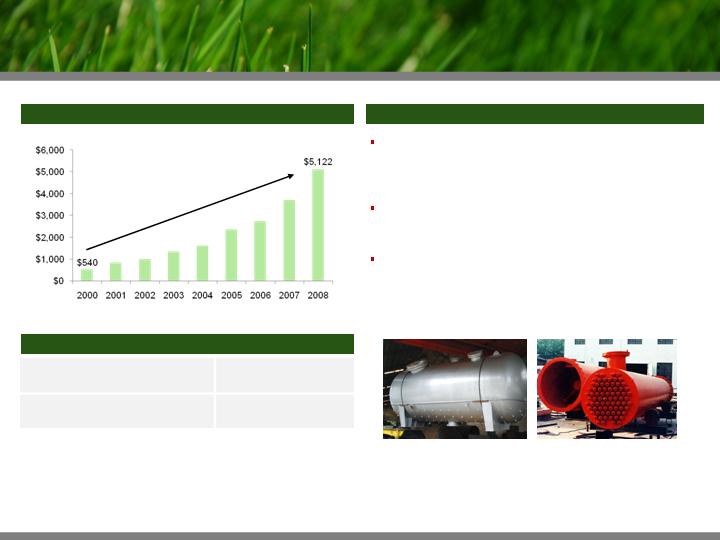 Markets – Metal Pressure Vessels
18
Pressure Vessels Market Size in China(1)
CAGR: 32.5%
(In Millions )
(1)
Source: China National Statistic Bureau Report 2008
(2)
China Metal Pressure Vessel Investment Analyst and Research Report (2010) by Zero Power Intelligence Co. ,LTD
Rapid Growth of Industries: High GDP growth
leads to rapid growth in China's petroleum refining,
metallurgy, and electric generation industries,
creating demand for pressure vessels
Emphasis on Higher Efficiency: Increasing
demand for Class III pressure vessels that can
operate at higher temperature and pressure settings
Stricter Safety Requirements: Buyers place
higher emphasis on the integrity and safety of
pressure vessels, which operate in harsh conditions
Demand Drivers
Market Size - China 2009(2)
$6.6 billion USD
CAGR Growth (Next 5 Yrs) (2)
25%
2009 China Market Size and Future Growth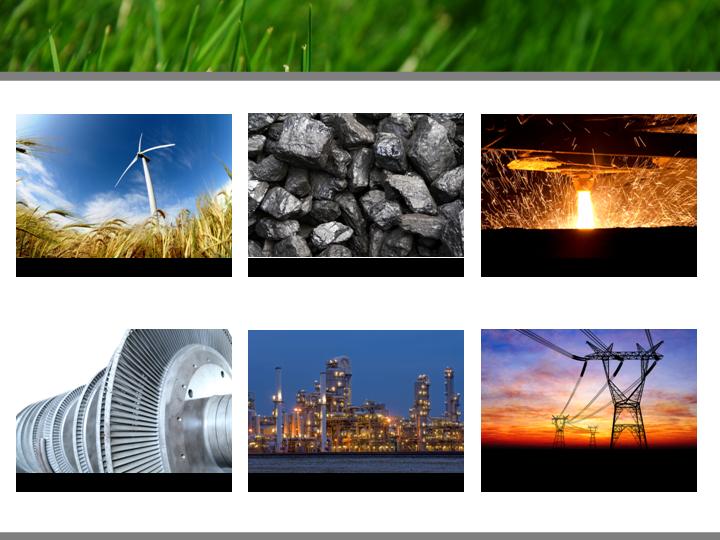 19
Broad Industry Applications
Wind Power
Thermoelectric Power
Coke Production
Petroleum Refinery
Steel Production
Electric Transmission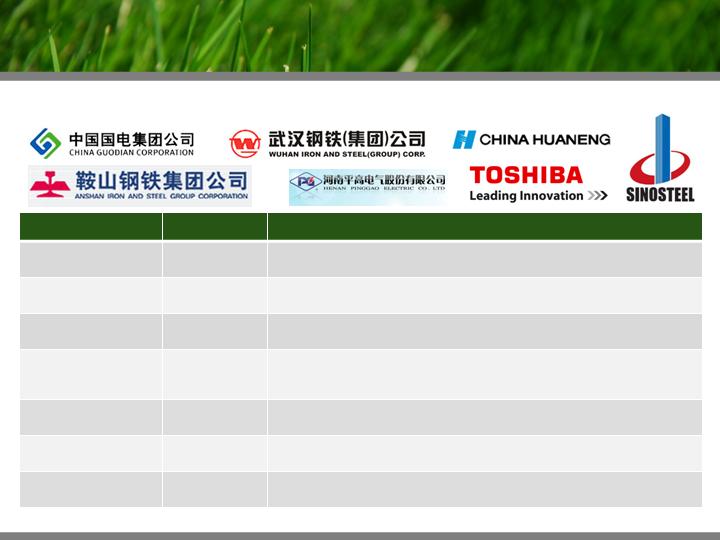 Strong & Reliable Customer Base
Repeat business from industry leaders due to our high quality products
20
Top Clients
Revenue
Description
China Guodian
$15 bn USD
One of the five largest power producers in China; engages in development,
investment, operation and management of power plants and power generation
China Huaneng
$11.2 bn USD
One of the five largest power producers in China; engages in development,
construction and operation of large power plants
Henan Pinggao
$344 mm USD
Pinggao Electric is engaged in research, development and manufacturing of
high voltage and ultra high voltage switchgear in China
Toshiba
$73.2 bn USD
Diversified manufacturer and marketer of electrical products, including
electronic components and materials, power systems, industrial and social
infrastructure systems, and household appliances.
Sinosteel
$24.7 bn USD
Engages in developing and processing of metallurgical mineral resources,
trading and logistics of metallurgical raw materials
Anshan Iron
$10.0 bn USD
The second largest steel maker in China by output with a focus on high-end
products targeted for the auto, computer, and telecommunications industries
Wuhan Iron
$7.9 bn USD
China's first supergiant iron and steel producer with 90,000 staff and 20 million
tons of iron and steel production per year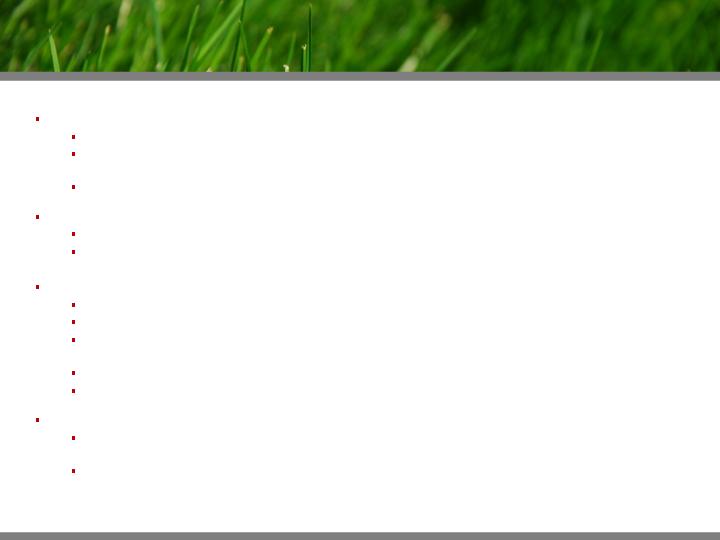 Competitive Advantages
Cutting Edge R&D
Developed innovative products that significantly improved efficiency, safety, and performance
First domestic manufacturer in China to offer CDQ high temp bellow expansion joint of equal quality to
those offered by Nippon Steel which had previously dominated the space
Developed various new products that render older products obsolete
Low Costs
Sources directly from steel mills at large discounts to competitors, bypassing distributors
Approved for special high technology tax rate of 15%
Advanced Manufacturing Capabilities
Expertise in bending and welding thick steel plates; every welder is trained, licensed, and experienced
Utilizes welding equipments made by Panasonic and American Miller
Exceeds the requirements set by National Supervising and Testing Center with respect to appearance,
precision, rigidity, leakage, and stress
Class III A2 grade permit – highest specifications set by government
Products undergo stringent tests for defects
Protection Through Patents and Intellectual Properties
Owns patent for connecting bend pipes; in patent application process for CDQ high temp bellow
expansion joints and disk spring sleeve bellows expansion joint
Exclusively licensed to use a production method patent for lead free soft solder with mischmetal
21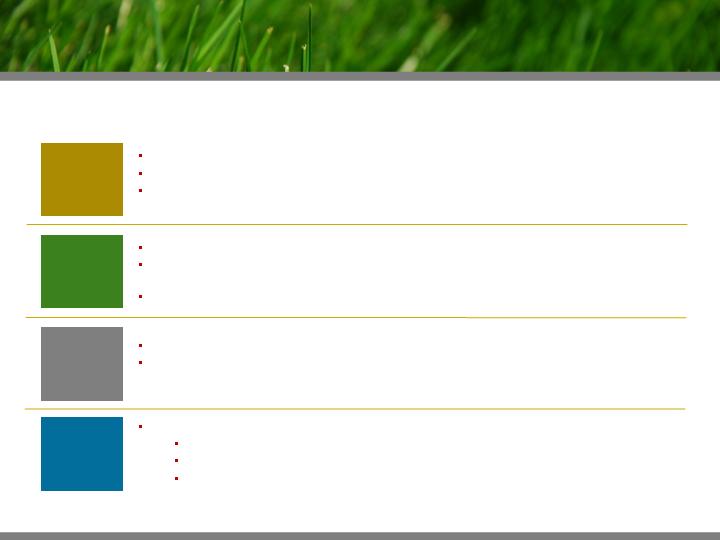 Strong Organic Growth Strategies
22
Wind
Towers
Expand alongside China's rapid growth in the wind industry
Grow existing relationships with China's top 5 utility companies
Aggressively bid for planned projects in the home province as well as bordering provinces of
Inner Mongolia, Jilin, and Hebei
CDQ Bellows: Capture market share with high quality and low prices
GIS Bellows: Work with companies such as ABB, Toshiba, Siemens, and Henan Pinggao to capture
large market share
Connecting Pipes: Capture market share by replacing existing rigid coke oven elbows
Leverage growth in the petroleum refining, metallurgy, and electricity generation industries
Introduce new product lines that can withstand higher levels of temperature, pressure, and
corrosivity
Metal
Expansion
Joints
Pressure
Vessels
Utilize technological know-how for developing new products that promote:
Renewable energy generation
Reduction of air, water, and land pollution
Increased efficiency in underlining systems
New
Products
Continue to leverage the fast growing markets and capture market share by offering
innovative, high quality products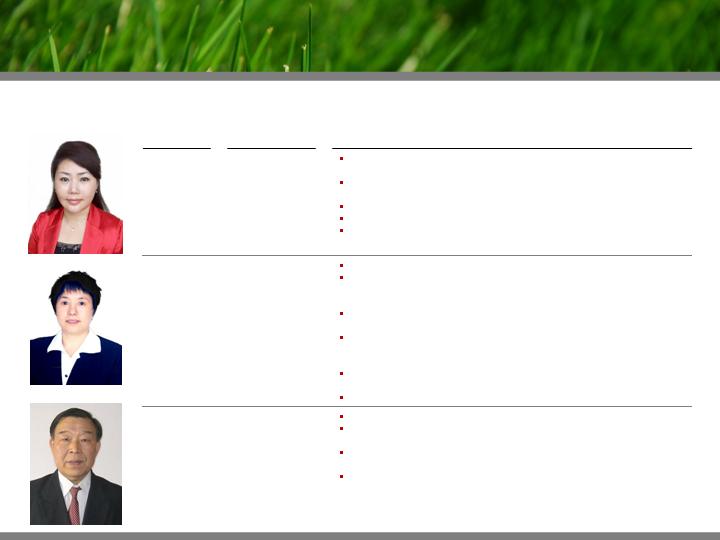 Results Driven Management Team
Name
Title
Experience
Bei Lu
Founder,
Chairman and
CEO
Founder of the company, appointed Director, Chairman and CEO in
September 2007
Served as General Manager of Shenyang Xinxingjia Bellows Manufacture
Co., Ltd. from September 1993 to July 2007
Selected as National Excellent Professional Manager
Designed many patented products in the bellows expansion joint industry
Bachelor's degree from Shenyang University of Technology in 1992
Guifu Li
Chief Financial
Officer, CPA
Joined in March 2010 as Chief Financial Officer
Served as CFO of Shenyang Astron Mining Industries Ltd, a subsidiary of
Astron Limited (publicly traded Australian mining company) from August
2008 to August 2009
Served as Vice President of Liaoning Energy Conservation Material
Company from March 2001 to December 2003
Served as Financial Controller of Shenyang Economic and Technological
Development Zone Thermoelectric Company from January 2004 to July
2008
Served as accountant and CFO of Shenyang Cable Co., Ltd from
September 1970 to February 2001
Graduated from Dongbei University of Finance and Economics in 1976
Lige Zheng
Chief Operating
Officer
Joined in June 2008 as Chief Operating Officer
Served as Vice President of Dalian Baifute Cable Company from June
2005 to June 2008
Served as Vice General Manager at Shenyang Cable Co., Ltd. from
January 1974 to June 2005,
Graduated from Shenyang College of Finance and Economics in 1986
Strong industry experience - founders & managers own 65% of the Company
23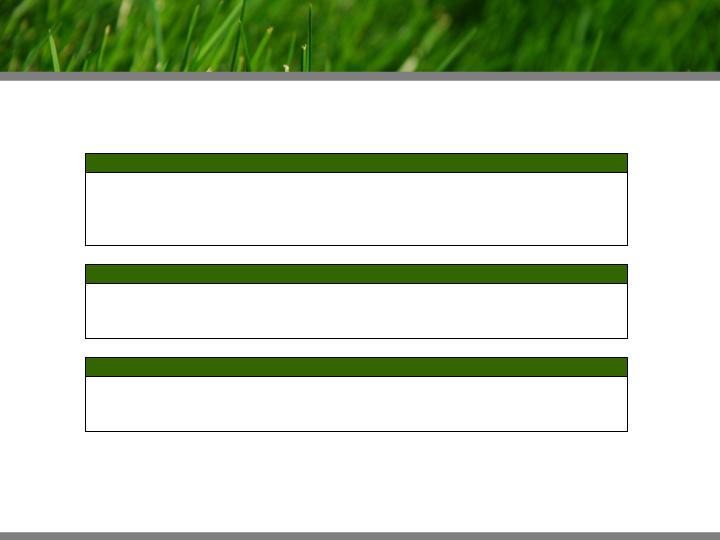 Capital Structure and Financials
Total Management Commitment:
Entire management team and insiders (67% of shares outstanding) entered into 3 year
share lockup agreements restricting share sales
Completed oversubscribed and upsized $10 Million PIPE Financing in July 2010 led
by Apollo Management and Witter Asset Management
24
CAPITAL STRUCTURE:
Basic shares outstanding:
22,463,333
Fully diluted shares outstanding:
23,296,666
Total Management/Insider shares (3 year lockup):
15,122,000
Management/Insider %
67.32%
FINANCIALS:
2009A
2010E
2011E
Revenue:
$2,730,954
$21,960,672
$60,270,863
Net Income:
$831,365
$4,277,593
$11,611,591
VALUATION:
2009A
2010E
2011E
EPS(fully diluted):
$0.04
$0.18
$0.50
EPS Increase:
-
415%
171%