Attached files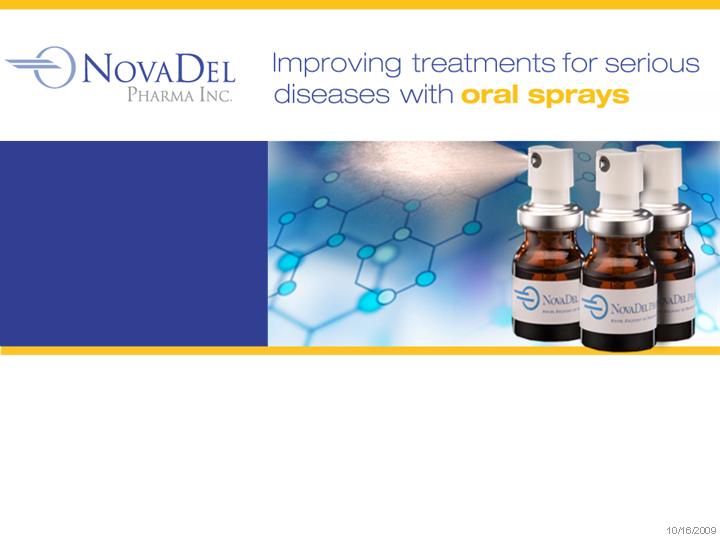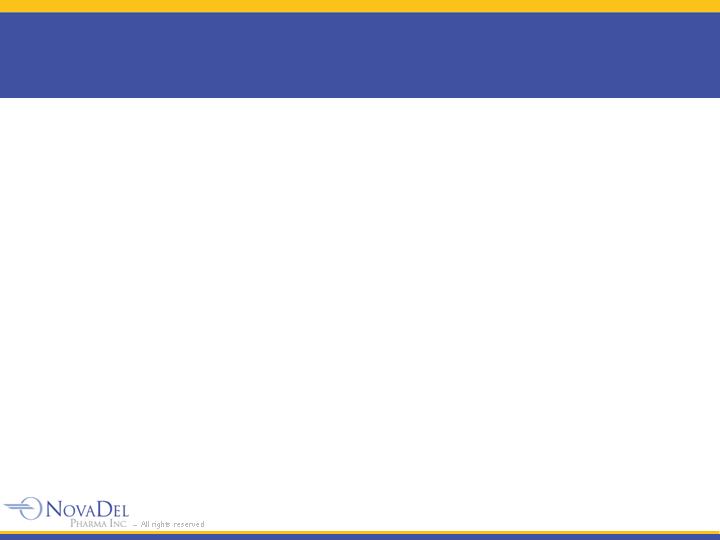 Safe Harbor Statement
Except for historical information contained herein, this document may contain forward-looking statements
within the meaning of the Private Securities Litigation Reform Act of 1995. These statements involve
known and unknown risks and uncertainties that may cause the Company's actual results or outcomes to
be materially different from those anticipated and discussed herein including, but not limited to, the
successful completion of its pilot pharmacokinetic feasibility studies, the ability to develop products
(independently and through collaborative arrangements), the ability to commercialize and obtain FDA and
other regulatory approvals for products under development and the acceptance in the marketplace for oral
spray products. The filing of an NDA with the FDA is an important step in the approval process in the
United States. Acceptance for filing by the FDA does not mean that the NDA has been or will be approved,
nor does it represent an evaluation of the adequacy of the data submitted. Further, the Company operates
in industries where securities may be volatile and may be influenced by regulatory and other factors
beyond the Company's control. In addition, our inability to maintain or enter into, and the risks resulting
from our dependence upon, collaboration or contractual arrangements necessary for the development,
manufacture, commercialization, marketing, sales and distribution of any of our products could materially
impact the Company's actual results. Important factors that the Company believes might cause such
differences are discussed in the risk factors detailed in the Company's most recent Annual Report on Form
10-K and Registration Statements, filed with the Securities and Exchange Commission. In assessing
forward-looking statements contained herein, if any, the reader is urged to carefully read all cautionary
statements contained in such filings. For more detailed information regarding NovaDel's financial results
and its product pipeline, please review the Company's SEC filings on Form 10-Q and 10-K at the Investor
Relations section of www.novadel.com.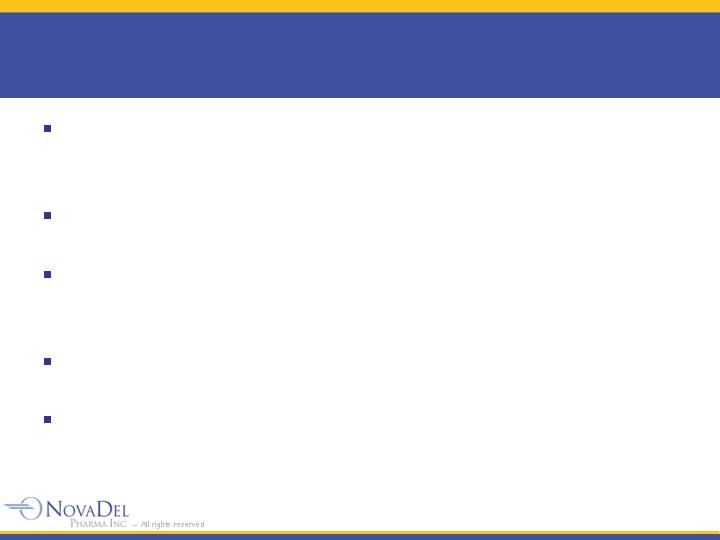 Investment Highlights
NovaMist™: Proprietary oral spray technology for
systemic delivery
Strong pipeline with multiple products
Products primarily satisfy medical need for faster
onset of action
Targeting large, growing dollar markets
Series of value creating events over the next year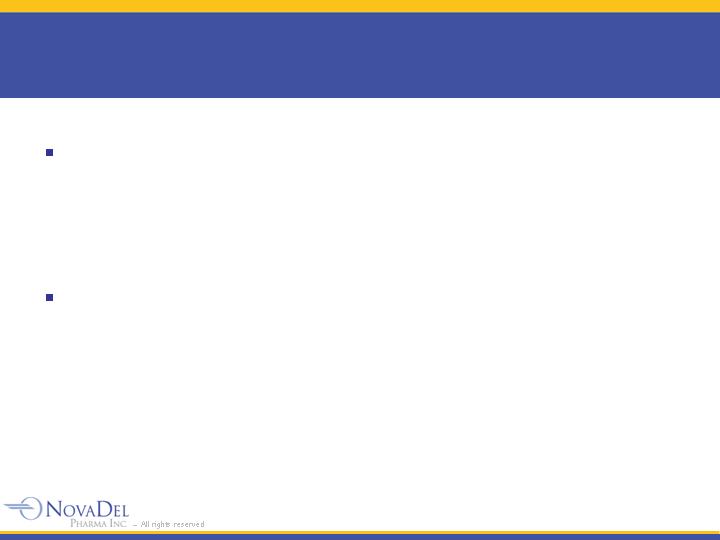 Executive Team
Steven B. Ratoff - Chairman, Interim Chief Executive
Officer:
Venture Partner, ProQuest Investments; Director, Torrey Pines Therapeutics;
Former Chairman/Interim CEO, CIMA Labs; Senior VP/CFO Pharma Group,
Bristol-Myers Squibb. B.S. Business Administration, Boston University; M.B.A.
University of Michigan. CPA
David H. Bergstrom, Ph.D.- Chief Operating Officer:
Senior VP/GM, Cardinal Health; Vice President, Guilford Pharmaceuticals.
Senior management positions: Hoechst Marion Roussel; Hoechst-Roussel
Pharmaceuticals; CIBA-Geigy. Ph.D. in Pharmaceutics University of Utah;
M.S. in Pharmaceutical Chemistry University of Michigan; B.S. in Pharmacy
Ferris State University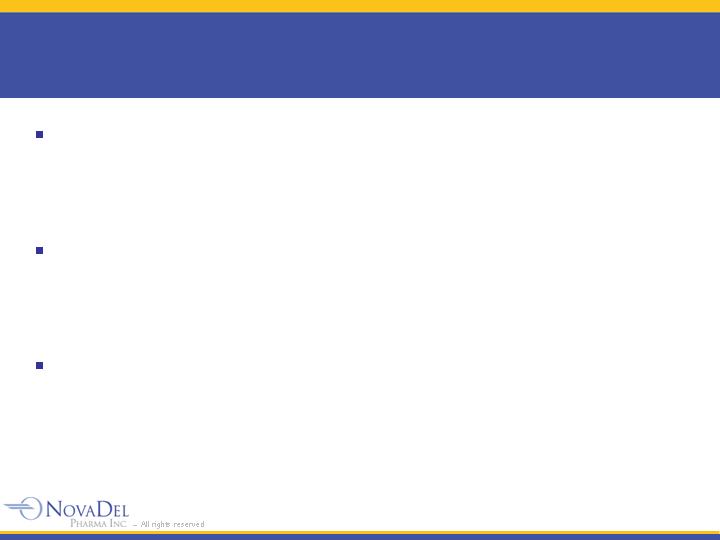 Business Strategy
Progress NovaMist™ pipeline focusing on differentiated
products based on advantages of faster onset of action
and lower potential dose
Minimize development risk and time-to-market by
improving the performance of approved pharmaceutical
products
Maximize value by partnering products once key clinical
milestones are achieved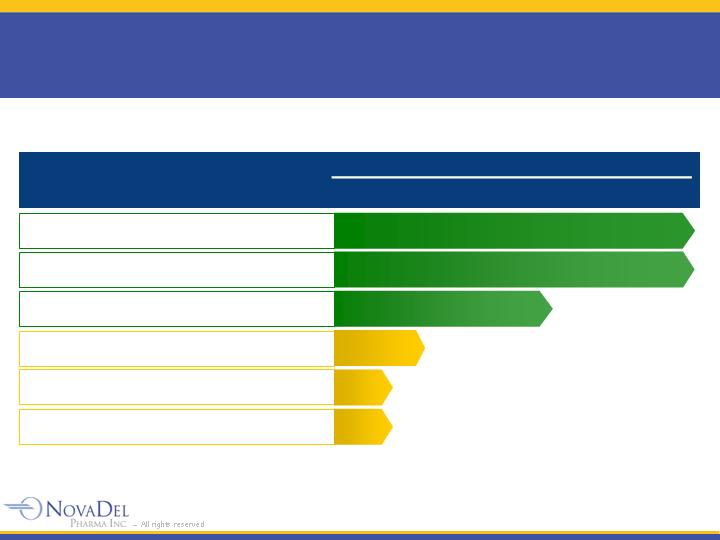 NovaMist™ Pipeline
Product
Indication
Drug
Preclinical
Phase 1
Phase 2/3
NDA
Approved
Status
NitroMist™
Angina pectoris
nitroglycerin
Zolpimist™
Insomnia
zolpidem
Zensana™
Nausea/Vomiting
ondansetron
Zolpimist™
Middle-of-the-
Night Awakening
zolpidem
NVD-401
Erectile Dysfunction
sildenafil
NVD-301
Pre-Procedure
Anxiety
midazolam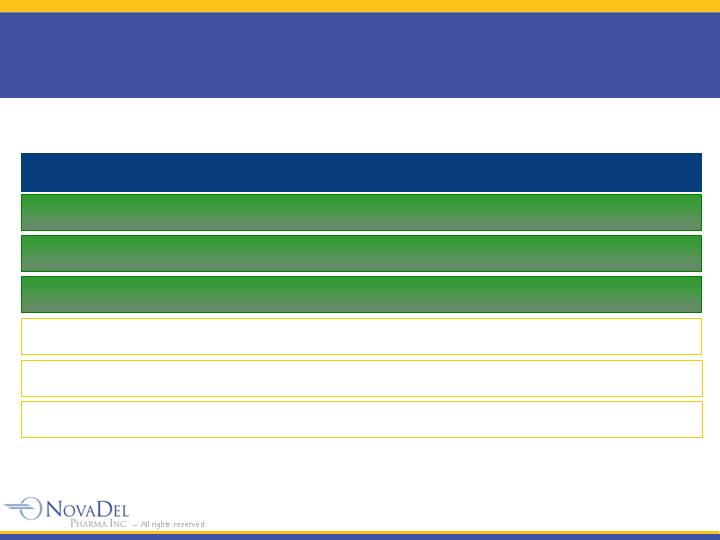 Commercial Environment
Product
Indication
Drug
Market
Size (US)
Existing Products
Future Products
NitroMist™
Angina pectoris
nitroglycerin
~ $0.2 B
Nitrolingual™ pumpspray
Generic sublingual tablets
Transdermal patches
Zolpimist™
Insomnia
zolpidem
Ambien® /Ambien CR
Generic zolpidem
Lunesta®
Sublinox™
Silenor™
Indiplon MR
> $1.5 B
Zensana™
Nausea/Vomiting
ondansetron
Zofran® Aloxi® Kytril®
Emend® Anzemet®
Generic ondansetron
APF530 Aloxi tablet
Sancuso™
Generic granisetron
> $1.5 B
Zolpimist™
Middle-of-the-
Night Awakening
zolpidem
Intermezzo™
Indiplon IR
est. > $0.5 B
NVD-401
Erectile Dysfunction
sildenafil
Viagra® Levitra®
Cialis®
Generic sildenafil
~ $1.6 B
NVD-301
Pre-Procedure
Anxiety
midazolam
Versed®
Generic midazolam
(intravenous, oral syrup)
est. > $0.5B
Nasal spray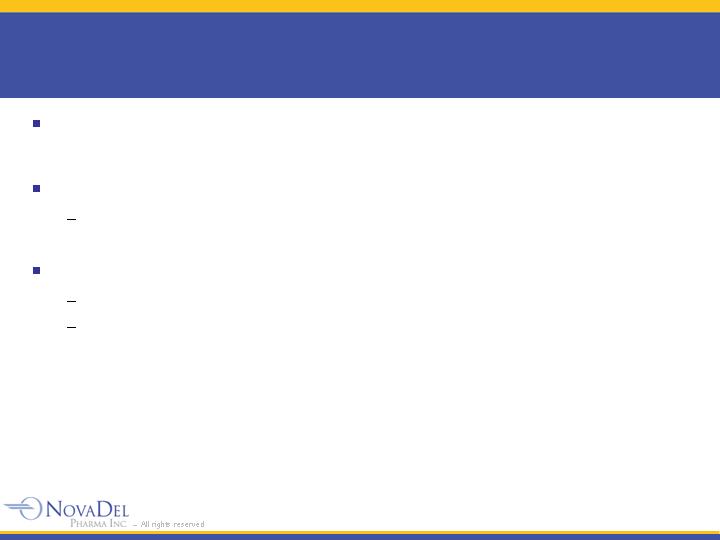 NitroMist™
(nitroglycerin oral spray)
Nitroglycerin is the leading short-acting nitrate for the
treatment of angina pectoris
Target Label
Relief of acute relief of an attack or acute prophylaxis of angina pectoris
due to coronary artery disease
Target Product Advantages
Ease of use
Little or no waste due to shelf-life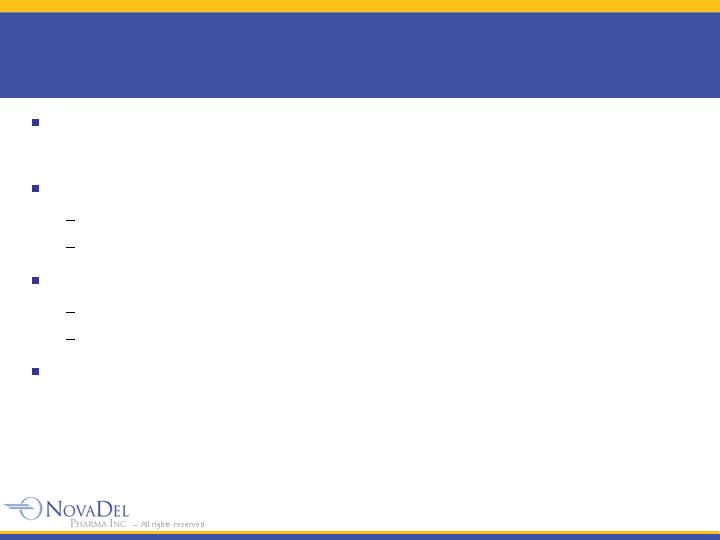 Zensana™
(ondansetron oral spray)
Active ingredient in Zofran® , the world's leading 5-HT3
antagonist for CINV/RINV
Target Label
Prevention of nausea and vomiting associated with cancer therapy
Prevention of postoperative nausea and/or vomiting
Target Product Advantages
More reliable dosing/adherence by avoiding loss of dose due to vomiting
No need to take with water
Licensed to Par Pharmaceuticals in the US; BioAlliance
in Europe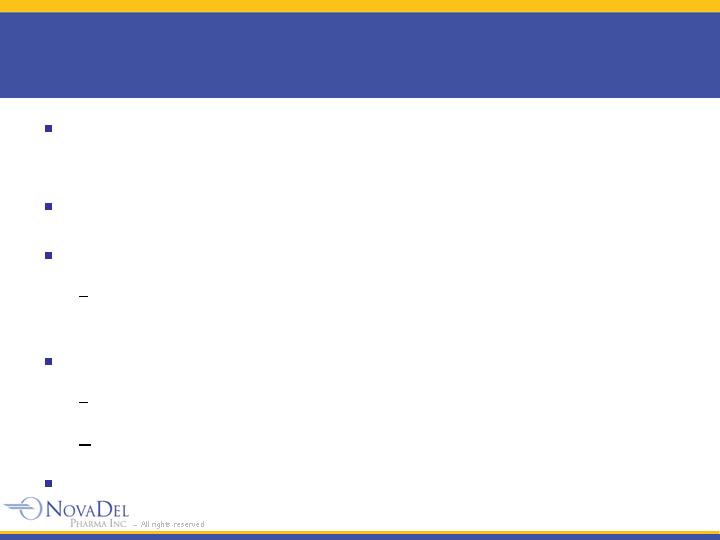 Zolpimist™
(zolpidem tartrate) Oral Spray
Active ingredient in Ambien® /Ambien CR®/Stilnox ®,
the world's leading hypnotic for treatment of insomnia
Approved by the FDA December 2008
Label
The short-term treatment of insomnia characterized by difficulties with
sleep initiation
Product Advantages
Faster rise in blood levels
No need to take with water
Low-dose clinical program opportunity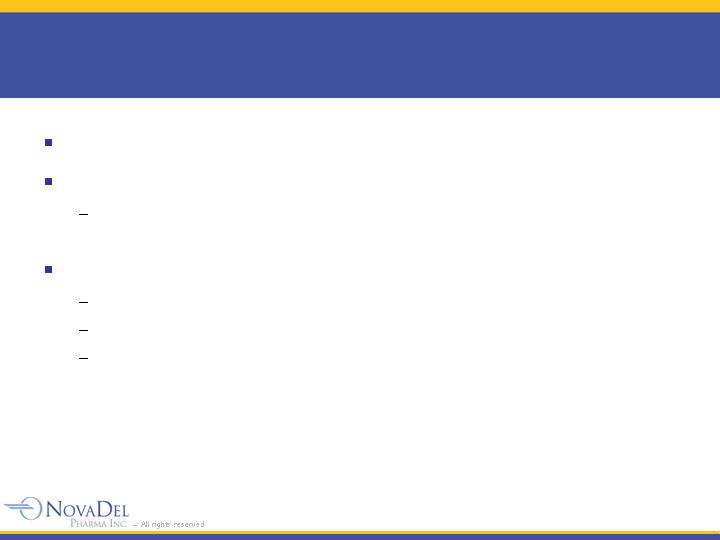 Zolpimist™- MOTN
(zolpidem tartrate) Oral Spray
Takes advantage of the low-dose program
Target Label
Short-term treatment of middle-of-the night (MOTN) awakenings with an
expectation of 4 hours of sleep
Target Product Advantages
Faster onset of action
Distinct labeling for MOTN
No need to take with water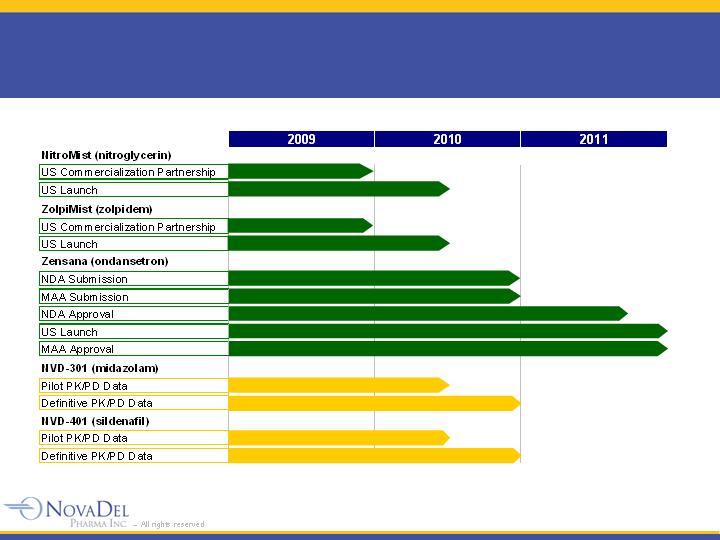 Milestones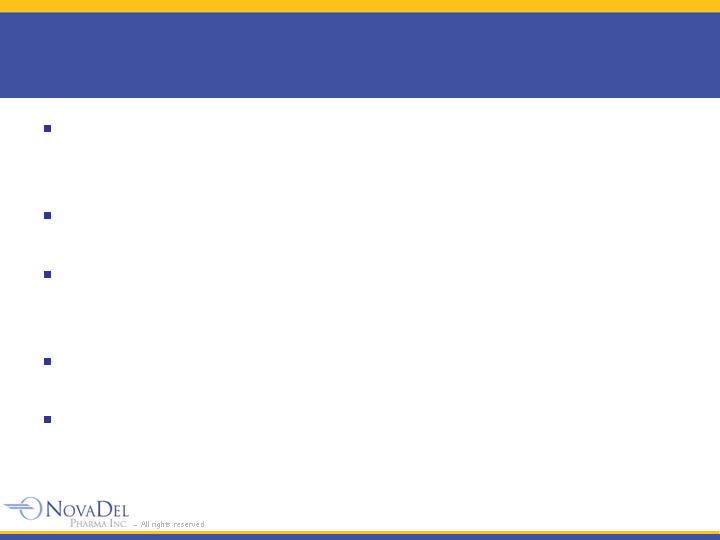 Summary
NovaMist™: Proprietary oral spray technology for
systemic delivery
Strong pipeline with multiple products
Products primarily satisfy medical need for faster
onset of action
Targeting large, growing dollar markets
Series of value creating events over the next year