UNITED STATES
SECURITIES AND EXCHANGE COMMISSION
Washington, D.C. 20549
FORM 8-K
CURRENT REPORT
Pursuant to Section 13 OR 15(d) of The Securities Exchange Act of 1934
Date of Report (Date of earliest event reported): March 13, 2018
TRIBUS ENTERPRISES, INC.
(Exact name of registrant as specified in its charter)
| | | |
| --- | --- | --- |
| Washington | 000-55799 | 82-1104757 |
| (State or other jurisdiction | (Commission | (IRS Employer |
| of incorporation) | File Number) | Identification Number) |
| | |
| --- | --- |
| 3808 N. Sullivan Rd. Building 13-D, Spokane Valley, WA | 99216 |
| (Address of principal executive offices) | (Zip Code) |
Registrant's telephone number, including area code: (509) 992-4743
(Former name or former address, if changed since last report)
Check the appropriate box below if the Form 8-K filing is intended to simultaneously satisfy the filing obligation of the registrant under any of the following provisions:
| | |
| --- | --- |
| ☐ | Written communications pursuant to Rule 425 under the Securities Act |
| | |
| --- | --- |
| ☐ | Soliciting material pursuant to Rule 14a-12 under the Exchange Act |
| | |
| --- | --- |
| ☐ | Pre-commencement communications pursuant to Rule 14d-2(b) under the Exchange Act |
| | |
| --- | --- |
| ☐ | Pre-commencement communications pursuant to Rule 13e-4(c) under the Exchange Act |
Item 8.01 Other Events.
The following press release was issued March 14, 2018:
Tribus Enterprises in the Process of Seeking Funding to Start Manufacturing Operations

Tribus Enterprises, Inc. is poised to make waves by launching a new product in the tool industry.
Tribus Enterprises was founded in 2017 as a new startup company to manufacture and take to market new hand tools that will reduce labor, time and frustrations in the mechanic industry. We are innovators with intriguing designs and creative technologies that increase the mechanics productivity. Our flagship product is a new patent pending, Ratcheting Tubing Wrench, which eliminates mechanic's frustrations with the current tool options that are available. An industry problem of laborious, manual manipulation of tubing fasteners will be solved with our Ratcheting Tubing Wrench. Our design was created to excel when used in tight spaces on tubing fasteners.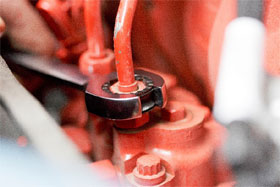 For additional information on investing in Tribus and our innovative, revolutionary products please visit:
http://tribususa.investorroom.com/investor-information
Mechanics and technicians experience frustrations when working in tight spaces on tubing fasteners such as: • Brake lines • Transmission lines • Fuel lines. Today's available tools are adequate but subpar. Currently with the available tool selection for these unique, but common scenarios, the process to manipulate tubing fasteners is very labor intensive and time consuming. At this time the conventional tubing wrench has to be repeatedly engaged, turned, disengaged, and reset until the fastener is loosened or completely tightened, a process which can take a lot of time. Inefficient tools result in increased costs per job to the customer, increased labor time, and increased mechanics flat rate.
Tribus Enterprises' patent pending wrench competes with the traditional tubing wrench design which is outdated and hasn't been redesigned in over 50 years. The traditional tubing wrench does not offer a solution for tight spaces that are found in many industries. The Ratcheting Tubing Wrench achieves as little as a 2° ratchet pitch compared to the standard 60° arc of motion that the traditional tubing wrench requires. With this technology, what used to take a mechanic several minutes to complete now takes mere seconds saving time, effort, and frustrations. http://tribususa.investorroom.com/video-gallery
The industries that will benefit from Tribus Enterprises' Ratcheting Tubing Wrench include:
| | | |
| --- | --- | --- |
| | ● | Bus and Truck Maintenance |
Routinely, additional industries are identified that the wrench will help to streamline efficiency and productivity. http://tribususa.investorroom.com/demographics
Investment Opportunity
As of September 20, 2017, Tribus Enterprises, Inc. received its Notice of Effectiveness from the U.S. Securities and Exchange Commission (SEC) for its registration on Form S-1. Currently Tribus Enterprises offering allows the company to sell up to 8 million shares of Common Stock valued at 25¢ per share. The minimum investment for Common Stock is $1,000.00 and is easily accessible to all interested investors. Common Stock shares can be immediately sold or traded once this offering closes, a stock ticker symbol from FINRA (Financial Industry Regulatory Authority) is received, and the company is listed on the OTC QB Exchange.
For more information on Tribus Enterprises, Inc. please visit:
http://TribusUSA.InvestorRoom.com
To review our S-1 documentation please refer to the following website:
Tribus Enterprises - SEC Filings
If you would like to know more about Tribus Enterprises and the Founding Members, please visit:
www.TribusUSA.com
SIGNATURES
Pursuant to the requirements of the Securities and Exchange Act of 1934, the Registrant has duly caused this report to be signed on its behalf by the undersigned hereunto duly authorized.
Dated: March 20, 2018
Tribus Enterprises, Inc.
/s/ Kendall Bertagnole
Kendall Bertagnole