UNITED STATES
SECURITIES AND EXCHANGE COMMISSION
WASHINGTON, D.C. 20549
FORM 8-K
CURRENT REPORT
Pursuant to Section 13 or 15(d) of the Securities Exchange Act of 1934
Date of Report (date of earliest event reported): March 7, 2014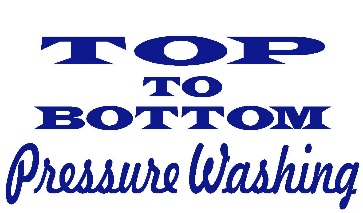 TOP TO BOTTOM PRESSURE WASHING, INC.
(Exact name of small business issuer as specified in its charter)
Florida
(State or other jurisdiction of incorporation)
| | |
| --- | --- |
| | |
| | |
| 000-55011 | 35-2470359 |
| (Commission File Number) | (IRS Employer Identification No.) |
6371 Business Blvd, Suite 200, Sarasota, Florida 34240
(Address of principal executive offices and zip code)
(941) 926-9700
(Registrant's telephone number including area code)
(Former name or former address, if changed since last report)
Check the appropriate box below if the Form 8-K filing is intended to simultaneously satisfy the filing obligation of registrant under any of the following provisions:
[ ] Written communications pursuant to Rule 425 under the Securities Act (17 CFR 230.425)
[ ] Soliciting material pursuant to Rule 14a-12 under the Exchange Act (17 CFR 240.14a-12)
[ ] Pre-commencement communications pursuant to Rule 14d-2(b) under the Exchange Act (17 CFR 240.14d-2(b))
[ ] Pre-commencement communications pursuant to Rule 13e-4(c) under the Exchange Act (17 CFR 240.13e-4(c))
Page 1 of 1
SECTION 5 – CORPORATE GOVERNANCE AND MANAGEMENT
Item 5.02 Departure of Directors or Principal Officers; Election of Directors; Appointment of Principal Officers
On March 7, 2014, Ms. Tina M. Donnelly accepted the Board of Director's offer to appoint her as Corporate Secretary. She brings extensive accounting experience to the position.
The Company has not entered into, nor does it have any currently proposed plans to enter into, any transactions in which Ms. Donnelly will have a direct or indirect material interest. In addition, there are no family relationships between Ms. Donnelly and any other Director or executive officer of the Company.
Ms. Donnelly has not entered into a compensation agreement with the Company in connection with her appointment as Corporate Secretary.
Background of Ms. Tina M. Donnelly:
Since June 12, 2012, Ms. Donnelly, age 38, has been employed by AF Ocean Investment Management Company as its Accounting Supervisor. She has over fifteen (15) years of accounting experience. Her skills include working with financial professionals such as C.P.A.'s and Public Company Accounting Oversight Board (PCAOB) Auditors. She is responsible for preparing financials and coordinating with PCAOB Auditors for AF Ocean Investment Management Company [OTC:AFAN], ChinAmerica Andy Movie Entertainment Media Company [OTC:CAME], Sichuan Leaders Petrochemical Company [OTC:SLPC], and Top to Bottom Pressure Washing Inc. [OTC:TOPW]. Prior to June 12, 2012, Ms. Donnelly ran the accounting departments for the following private companies: Wave, LLC, Tags4Fun, LLC, and Sarasota Business Rentals.
SIGNATURES
Pursuant to the requirements of the Securities Exchange Act of 1934, the Registrant has duly caused this report to be signed on its behalf by the undersigned hereunto duly authorized.
TOP TO BOTTOM PRESSURE WASHING, INC.

Dated: March 10, 2014

By:

/s/ Andy Z. Fan

Name: Andy Z. Fan

Title: President
Page 2 of 1