Attached files
Exhibit 99.1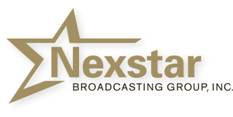 News Announcement
Nexstar Broadcasting Group Announces Secondary Offering of Common Stock by
Selling Stockholders
Irving, TX — February 6, 2013 — Nexstar Broadcasting Group, Inc. (NASDAQ: NXST) (the "Company") today announced that selling stockholders, funds affiliated with ABRY Partners, LLC, intend to offer 3.0 million shares of Class A common stock of the Company for sale in an underwritten offering. In addition, the selling stockholders have granted the underwriter a 30-day option to purchase up to an additional 450,000 shares of Class A common stock on the same terms and conditions. BofA Merrill Lynch is acting as sole underwriter of the offering.
The offering consists entirely of secondary shares to be sold by the selling stockholders. The Company will not sell any shares in the offering and will not receive any proceeds from the offering. Closing of the offering is expected to occur on or about February 12, 2013, subject to customary closing conditions.
A shelf registration statement (including prospectus) relating to the shares has been declared effective by the Securities and Exchange Commission ("SEC"). Before you invest, you should read the prospectus and other documents filed with the SEC for more complete information about the Company and this offering. You may get these documents for free by visiting EDGAR on the SEC Web site at www.sec.gov. Alternatively, copies of the preliminary prospectus supplement and final prospectus supplement, when available, may be obtained from BofA Merrill Lynch, 222 Broadway, New York, New York, 10038, Attention: Prospectus Department or email dg.prospectus_requests@baml.com.
This press release shall not constitute an offer to sell or the solicitation of an offer to buy any securities nor will there be any sale of these securities in any state or other jurisdiction in which such offer, solicitation or sale would be unlawful prior to registration or qualification under the securities laws of any such state or other jurisdiction. The offering of these securities will be made only by means of the prospectus supplement and the accompanying prospectus.
---
About Nexstar Broadcasting Group, Inc.
Nexstar Broadcasting Group is a leading diversified media company that leverages localism to bring new services and value to consumers and advertisers through its traditional media, e-MEDIA, digital and mobile media platforms. Nexstar owns, operates, programs or provides sales and other services to 67 television stations and 11 related digital multicast signals reaching 39 markets or approximately 11.6% of all U.S. television households.
Assuming completion of all announced transactions, Nexstar will own, operate, program or provide sales and other services to 72 television stations and related digital multicast signals reaching 41 markets or approximately 12.1% of all U.S. television households
Forward-Looking Statements
Certain statements in this news release are forward-looking statements within the meaning of the Private Securities Litigation Reform Act of 1995. Generally, forward-looking statements are not based on historical facts but instead represent only our current beliefs regarding future events. All forward-looking statements are, by their nature, subject to risks, uncertainties and other factors that could cause actual results, performance or achievements to differ materially from those expressed or implied in such forward-looking statements. Investors are cautioned not to place undue reliance on these forward-looking statements. Such statements may be identified by words such as "expects," "anticipates," "intends," "projects," "estimates," "plans," "may increase," "may fluctuate" and similar expressions or future or conditional verbs such as "will," "should," "would," "may" and "could." Unless required by law, we undertake no obligation to update or revise any forward-looking statements, whether as a result of new information, future events or otherwise. For more details on factors that could affect these expectations, please see our filings with the Securities and Exchange Commission.
| | | |
| --- | --- | --- |
| | | |
| Contact: | | |
| Thomas E. Carter | | Joseph Jaffoni |
| Chief Financial Officer | | JCIR |
| Nexstar Broadcasting Group, Inc. | | (212) 835-8500 or nxst@jcir.com |
| (972) 373-8800 | | |
###
2