UNITED STATES
SECURITIES AND EXCHANGE COMMISSION
Washington, D.C. 20549
FORM 8-K
CURRENT REPORT
PURSUANT TO SECTION 13 OR 15(d) OF THE
SECURITIES EXCHANGE ACT OF 1934
Date of Report (Date of earliest event reported): February 5, 2013
TRANSOCEAN LTD.
(Exact name of registrant as specified in its charter)
Switzerland

 

000-53533

 

98-0599916

(State or other jurisdiction of

incorporation or organization)

 

(Commission

File Number)

 

(I.R.S. Employer

Identification No.)
10 Chemin de Blandonnet

1214 Vernier, Geneva

Switzerland

 

CH-1214

(Address of principal executive offices)

 

(zip code)
Registrant's telephone number, including area code: +41 (22) 930-9000
(Former name or former address, if changed since last report)
Check the appropriate box below if the Form 8-K filing is intended to simultaneously satisfy the filing obligation of the registrant under any of the following provisions (see General Instruction A.2. below):
o            Written communications pursuant to Rule 425 under the Securities Act (17 CFR 230.425)
o            Soliciting material pursuant to Rule 14a-12 under the Exchange Act (17 CFR 240.14a-12)
o            Pre-commencement communications pursuant to Rule 14d-2(b) under the Exchange Act (17 CFR 240.14d-2(b))
o            Pre-commencement communications pursuant to Rule 13e-4(c) under the Exchange Act (17 CFR 240.13e-4(c))
---
Item 7.01 Regulation FD Disclosure
Steven L. Newman, President and Chief Executive Officer of Transocean Ltd. (the "Company"), will address attendees at the Credit Suisse 2013 Energy Summit in Vail, Colorado on Tuesday, February 5, 2013 at 10:25 a.m. MST.
A live broadcast of the presentation and a subsequent replay are publicly assessable through the Company's website. To view the presentation live or after the broadcast, individuals may visit www.deepwater.com, select the "Investor Relations" link and select "News and Events" and then select "Presentations."
The information set forth in this Item 7.01 includes "forward-looking statements." All statements that are not historical facts are forward-looking statements within the meaning of Section 27A of the Securities Act of 1933 and Section 21E of the Securities Exchange Act of 1934. In many cases, we cannot predict risks and uncertainties that are beyond our control. Should one or more risk or uncertainty materialize, or should underlying assumptions prove incorrect, the Company's actual results may vary materially from those implied or expressed by any forward-looking statement. You should not place undue reliance on forward-looking statements. Each forward-looking statement speaks only as of the date of the particular statement, and the Company undertakes no obligation to publicly update or revise any forward-looking statement, except as required by law.
The Company's presentation is attached hereto as Exhibit 99.1.
Item 9.01. Financial Statements and Exhibits
(d) Exhibits.
The exhibit to this report furnished pursuant to item 7.01 is as follows:
Exhibit No.

  

Description

99.1

  

Company Presentation
---
SIGNATURES
Pursuant to the requirements of the Securities Exchange Act of 1934, the Registrant has duly caused this report to be signed on its behalf by the undersigned hereunto duly authorized.
 

TRANSOCEAN LTD.

 

 

 

 

Date: February 5, 2013

By

/s/ Jill S. Greene

 

 

Jill S. Greene

 

 

Authorized Person
---
Index to Exhibits
Exhibit
Number    Description
99.1        Company Presentation
---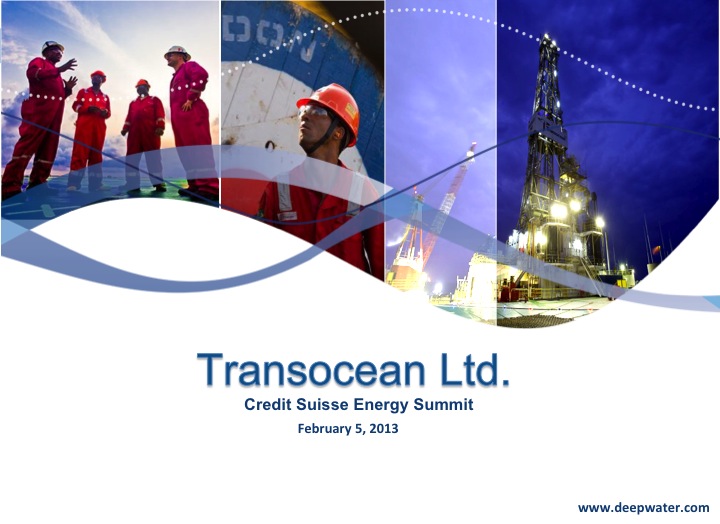 ---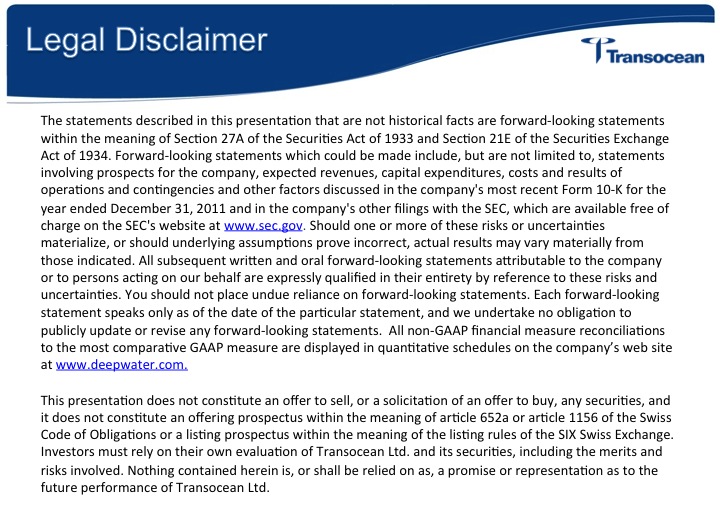 ---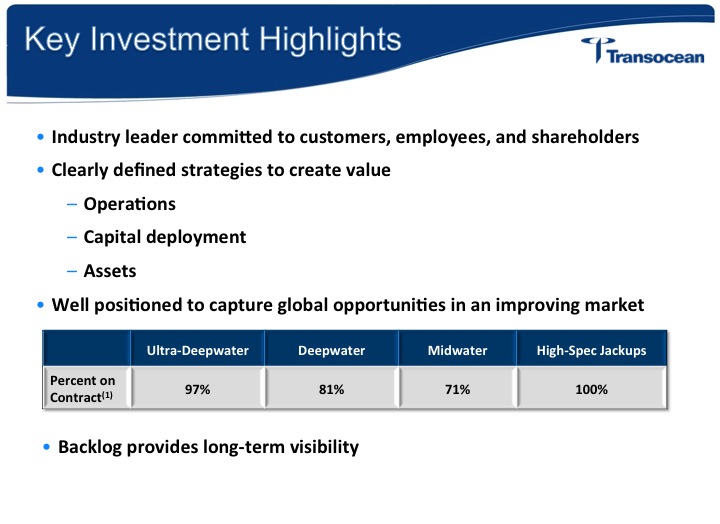 ---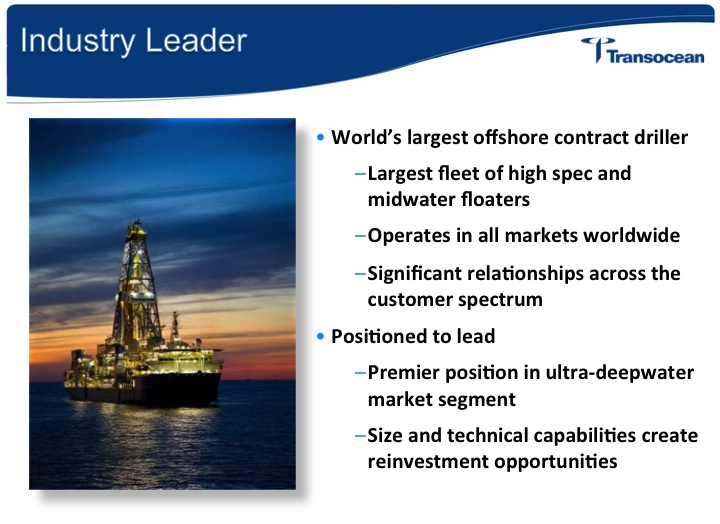 ---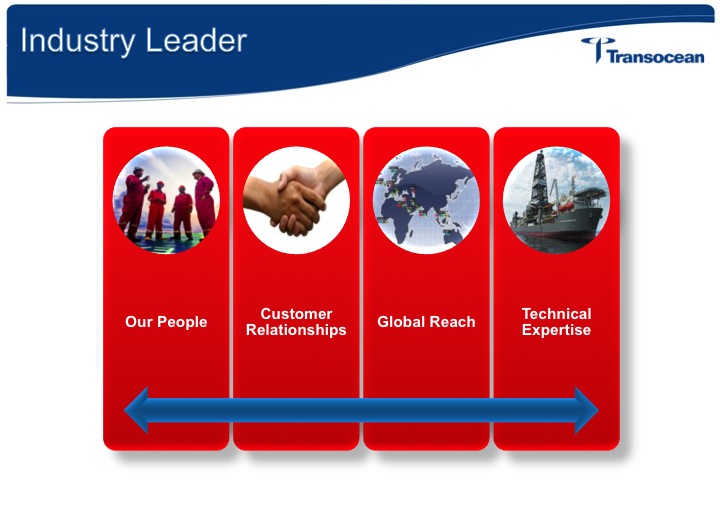 ---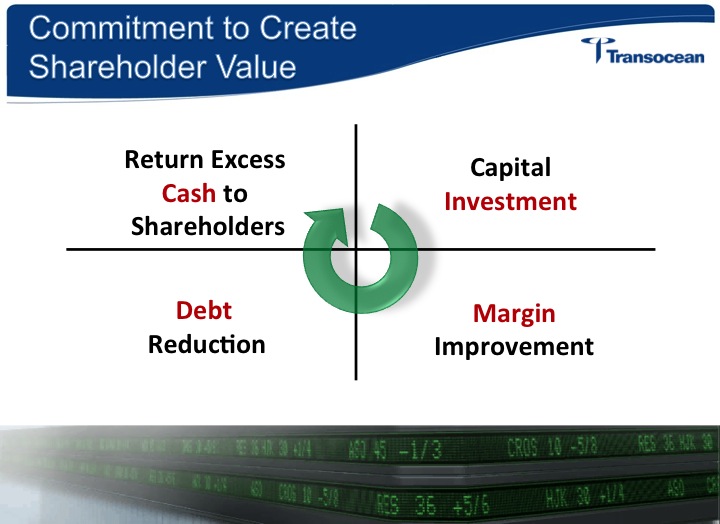 ---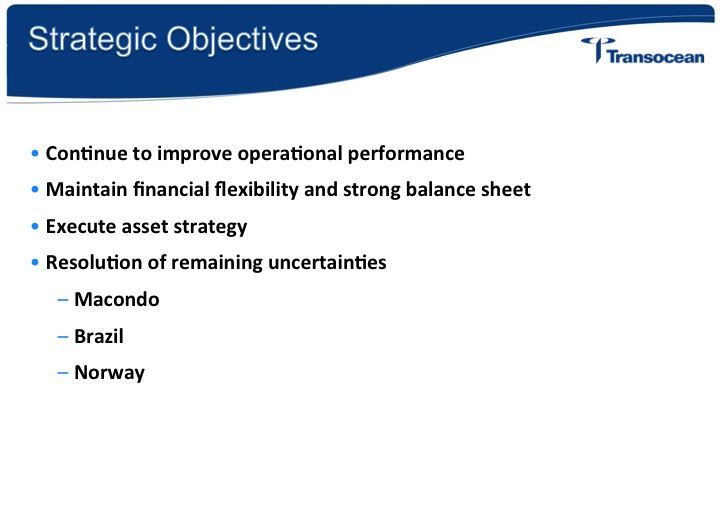 ---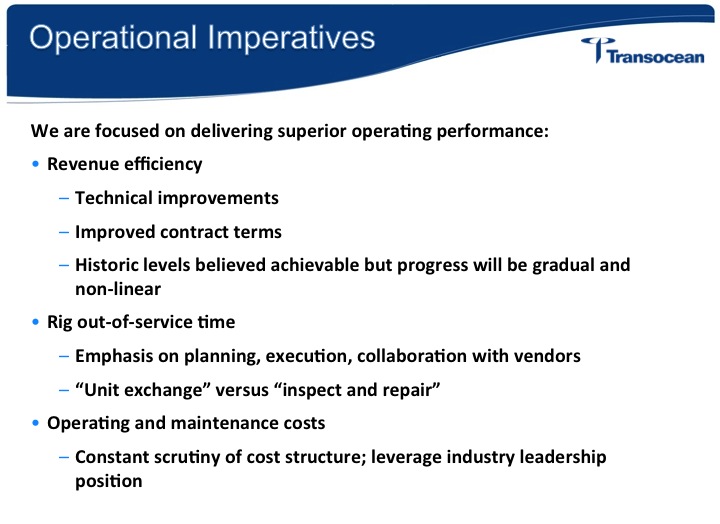 ---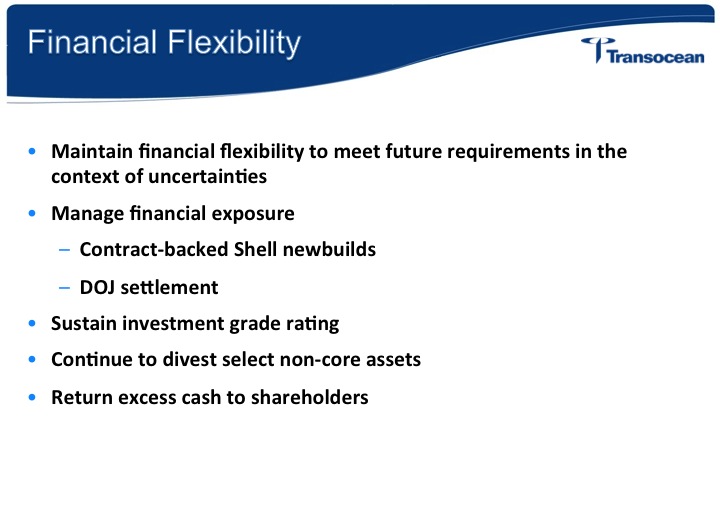 ---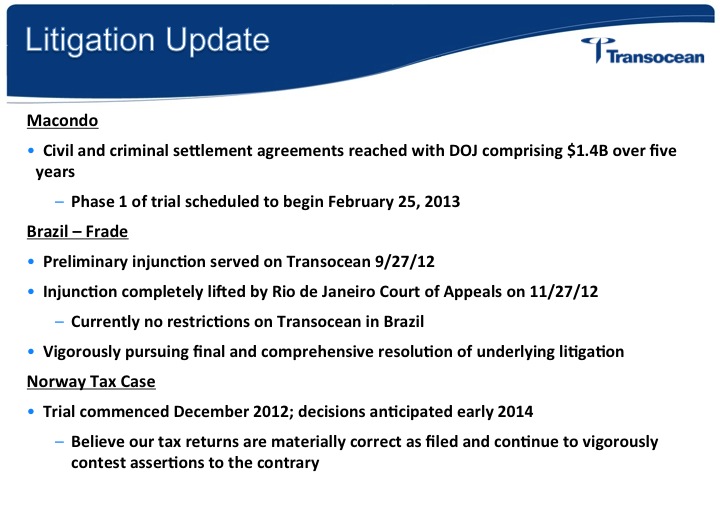 ---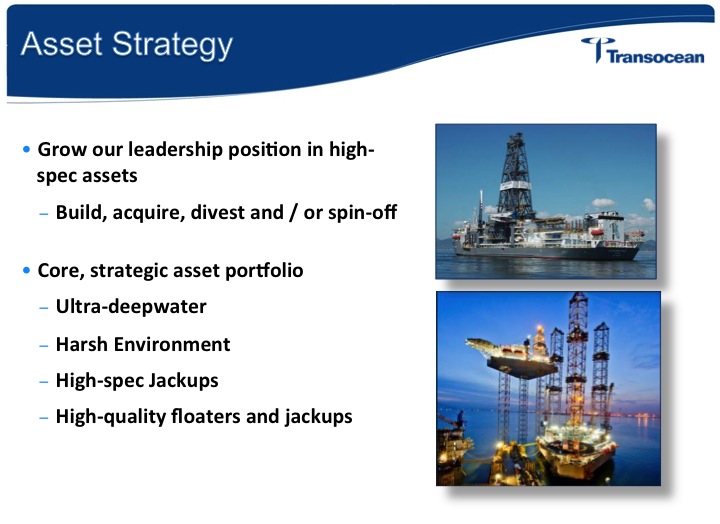 ---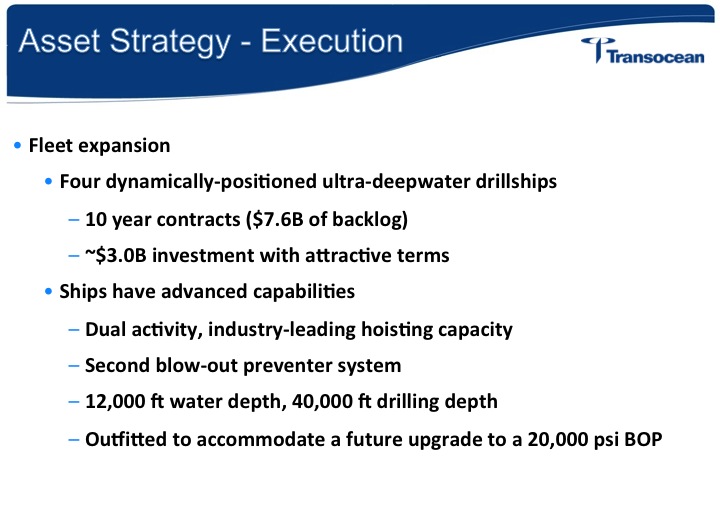 ---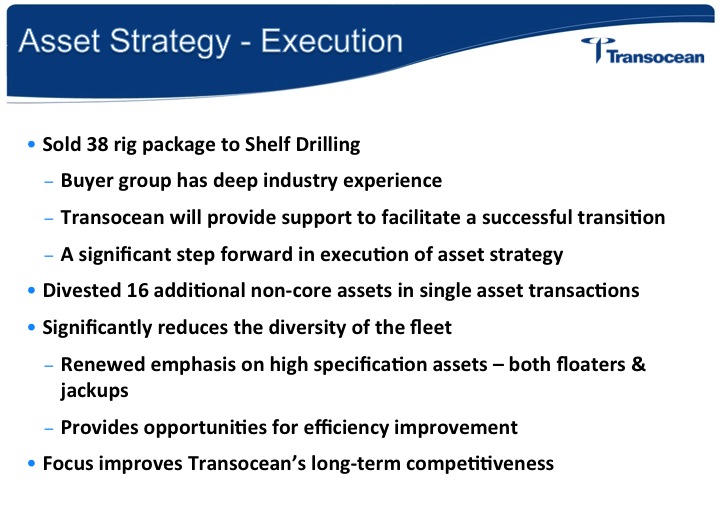 ---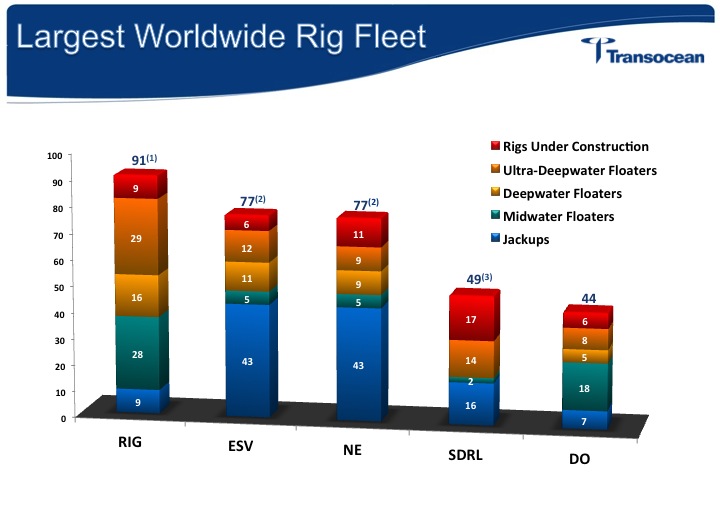 ---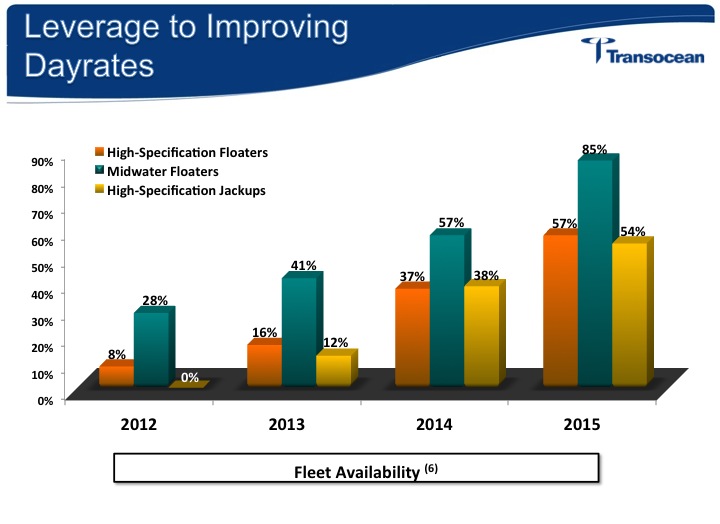 ---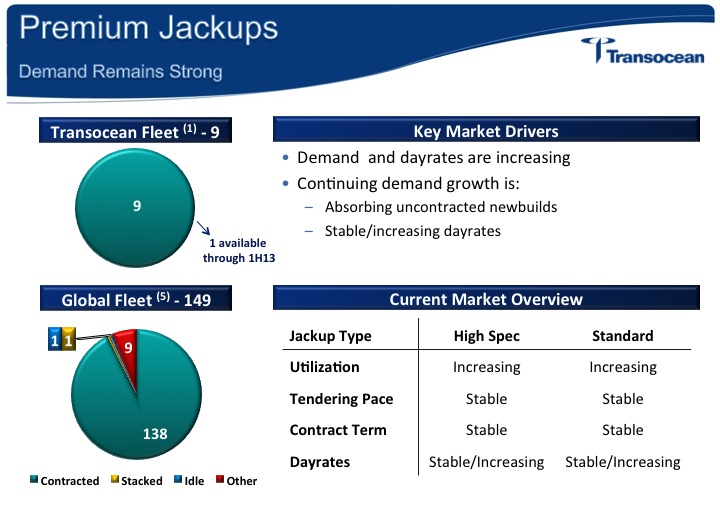 ---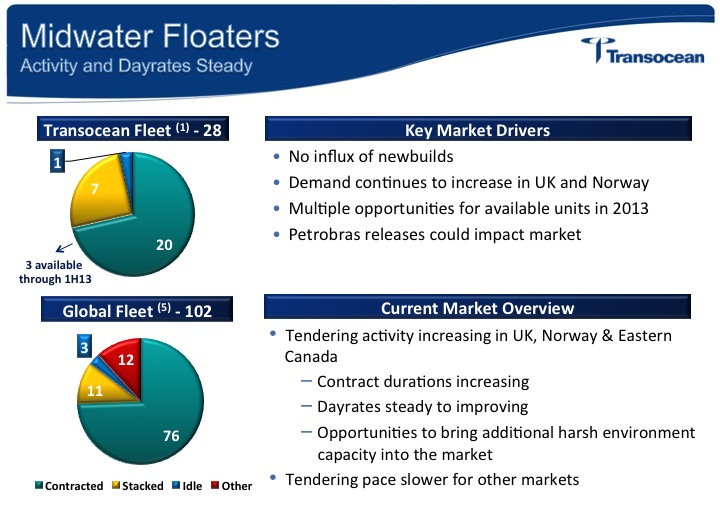 ---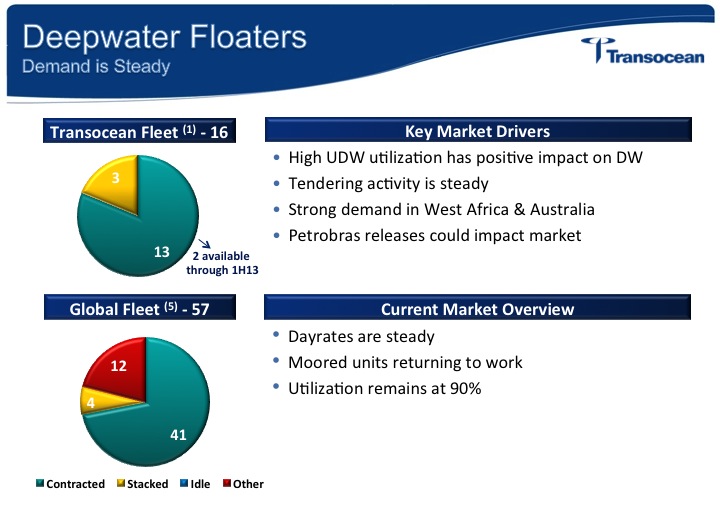 ---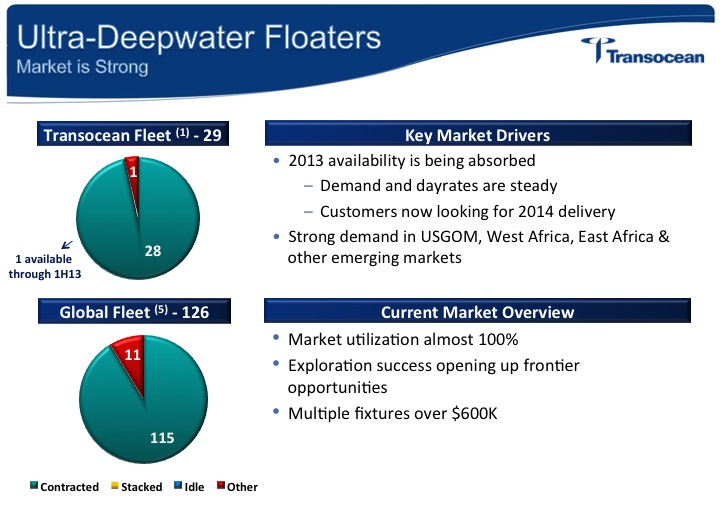 ---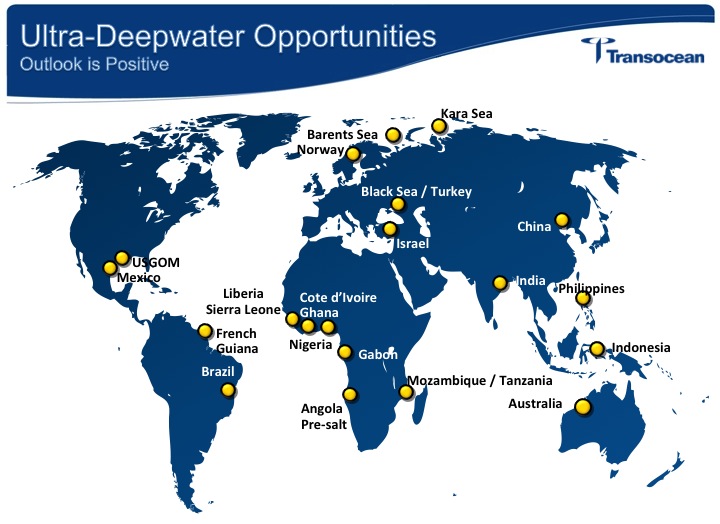 ---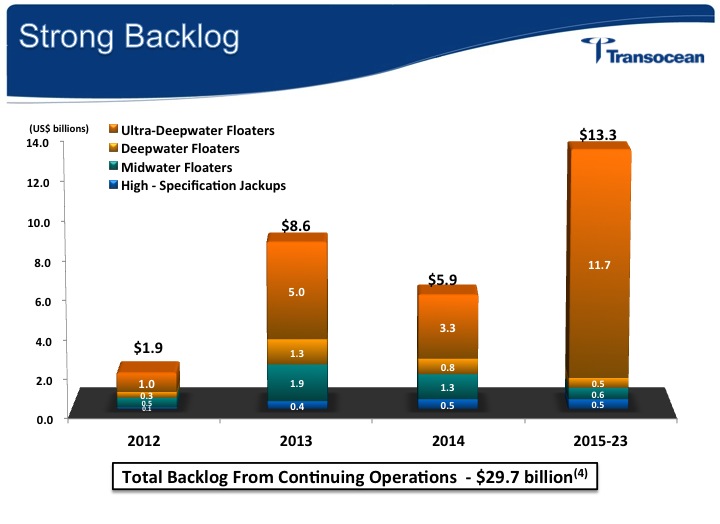 ---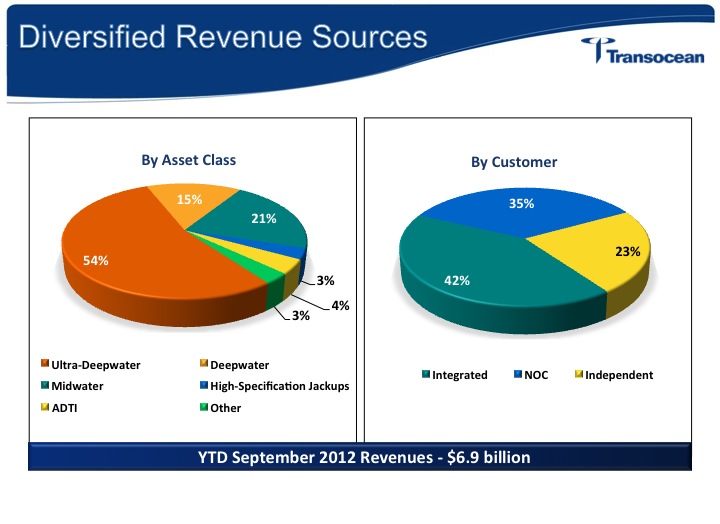 ---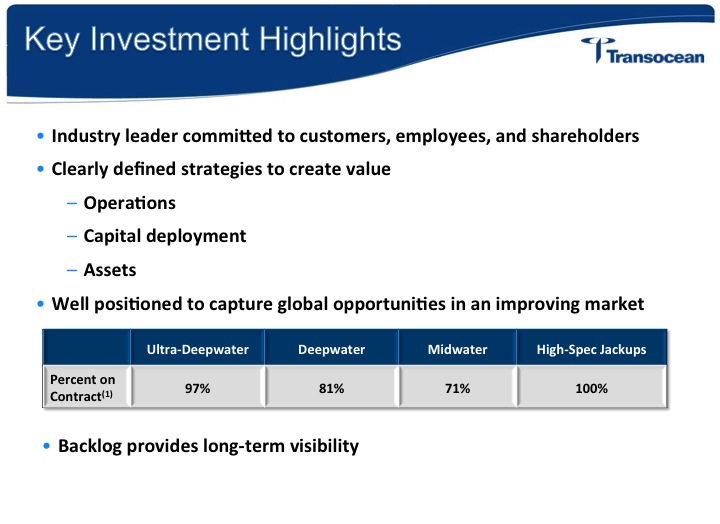 ---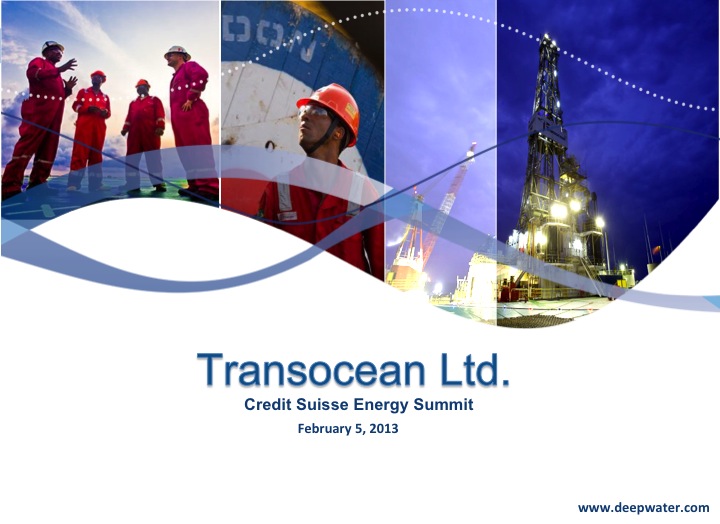 ---