Attached files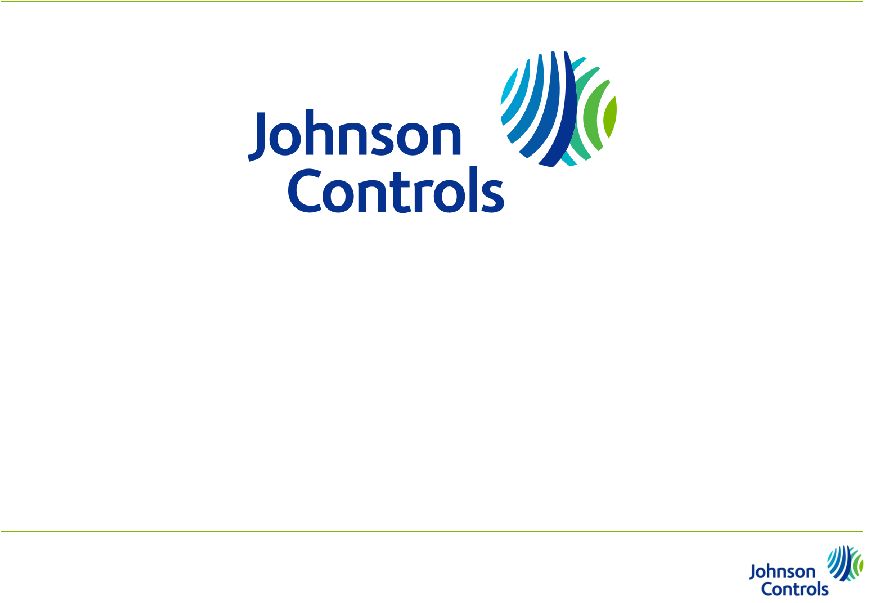 January 18, 2013
Quarterly update
FY 2013 first quarter
Exhibit 99.2
--- Forward-looking statements
2
Johnson Controls, Inc. has made statements in this document that are forward-looking and, therefore, are subject to risks and
uncertainties. All statements in this document other than statements of historical fact are statements that are, or could be, deemed
"forward-looking statements" within the meaning of the Private Securities Litigation Reform Act of 1995. In this document, statements
regarding future financial position, sales, costs, earnings, cash flows, other measures of results of operations, capital expenditures or
debt levels and plans, objectives, outlook, targets, guidance or goals are forward-looking statements. Words such as "may," "will,"
"expect," "intend," "estimate," "anticipate," "believe," "should," "forecast," "project" or "plan" or terms of similar meaning are also
generally intended to identify forward-looking statements. Johnson Controls cautions that these statements are subject to numerous
important risks, uncertainties, assumptions and other factors, some of which are beyond Johnson Controls' control, that could cause
Johnson Controls' actual results to differ materially from those expressed or implied by such forward-looking statements. These
factors include the strength of the U.S. or other economies, automotive vehicle production levels, mix and schedules, energy and
commodity prices, availability of raw materials and component products, currency exchange rates, and cancellation of or changes to
commercial contracts, as well as other factors discussed in Item 1A of Part I of Johnson Controls' most recent Annual Report on
Form 10-K for the year ended September 30, 2012 and Johnson Controls' subsequent Quarterly Reports on Form 10-Q.
Shareholders, potential investors and others should consider these factors in evaluating the forward-looking statements and should
not place undue reliance on such statements. The forward-looking statements included in this document are only made as of the
date of this document, and Johnson Controls assumes no obligation, and disclaims any obligation, to update forward-looking
statements to reflect events or circumstances occurring after the date of this document.
--- Agenda
Introduction
Glen Ponczak, Vice President, Global Investor Relations
Overview
Steve Roell, Chairman and Chief Executive Officer
Business results and financial review
Bruce McDonald, Executive Vice President and Chief Financial Officer
Q&A
3
---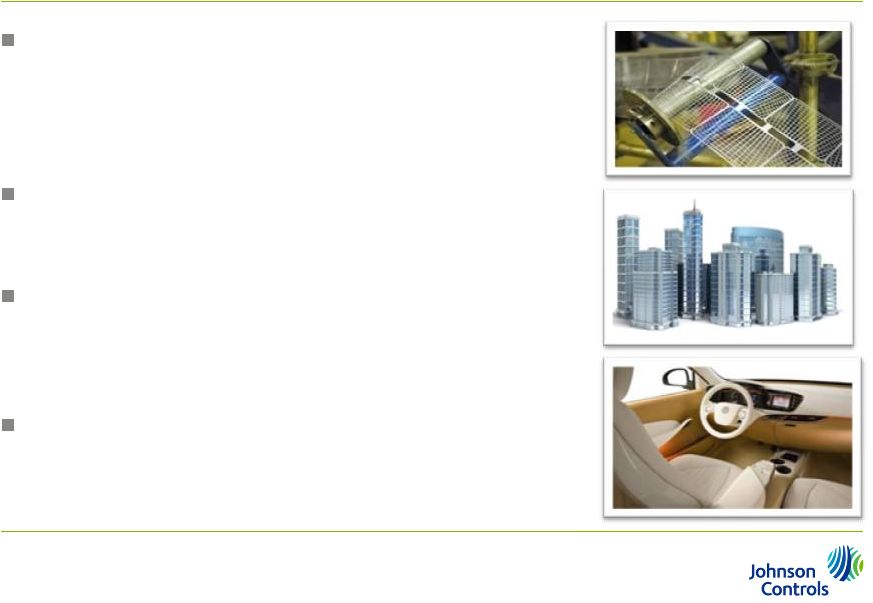 2013 first quarter
Macro environment
Mixed automotive industry production
–
Higher production (11%) in North America
–
Lower production (-9%) in Europe
–
Higher production in China (3%)
Warm early winter temperatures
–
North America aftermarket battery demand still
below "normal"
levels
Lower U.S., European commercial HVAC demand;
China still positive
–
U.S.: Positives in November ABI data; highest
since 2007
Mixed consumer confidence levels across various
geographies
4
---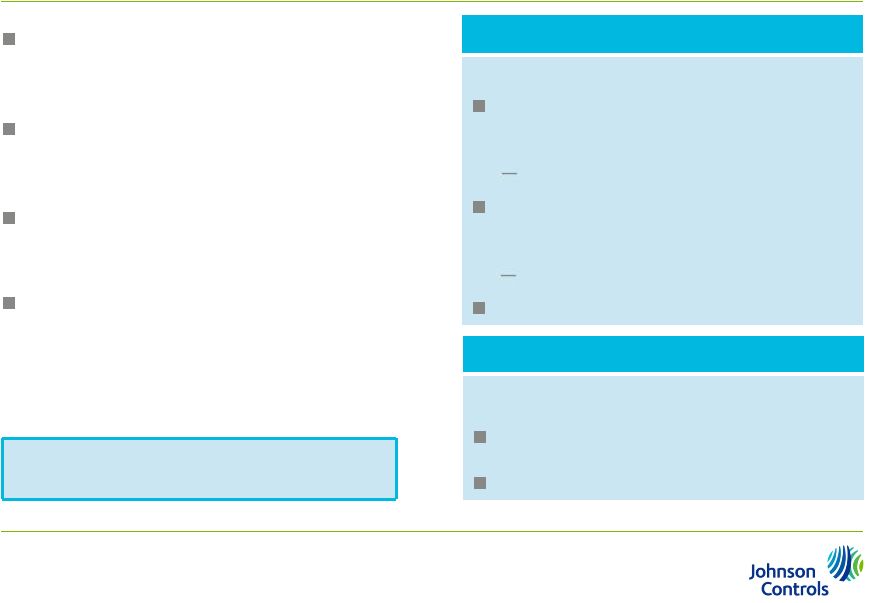 Sales: $10.4 billion
vs. $10.4 billion in Q1 2012
Segment income: $541 million
vs. $621 million in Q1 2012
Net income: $354 million
vs. $424 million in Q1 2012
EPS: $0.52 per diluted share
vs. $0.62 in Q1 2012
5
2013 second quarter outlook
EPS: $0.40 -
$0.42
Western European automotive
production down 14%
Short-term delays in flexing labor
Restructuring initiatives gathering
momentum
Large cost impact in the quarter
Significant launch activity
2013 full year outlook
No change to fiscal 2013 guidance
Segment income +10%
EPS $2.60 -
$2.70
2013 first quarter
Q1 results are consistent with the
guidance provided in October, 2012
---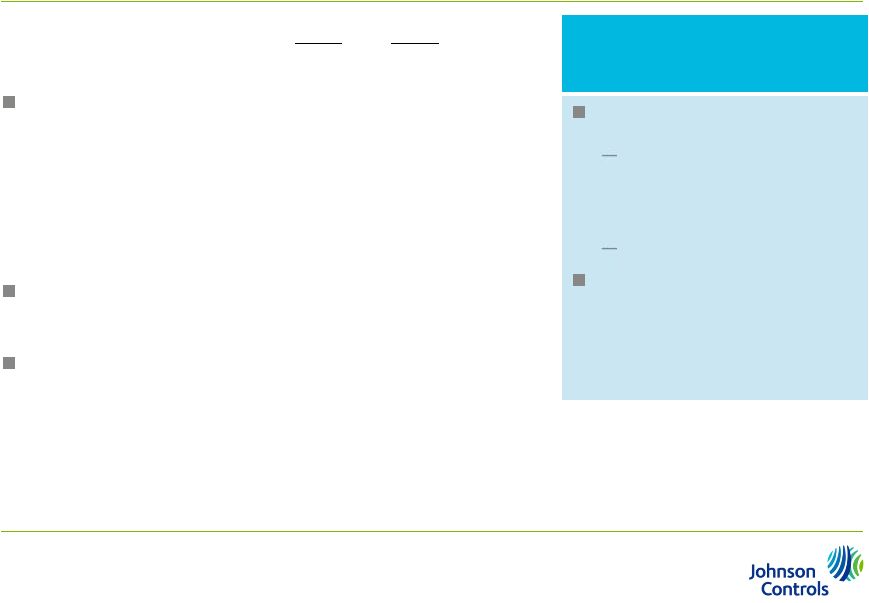 2013 first quarter
Building Efficiency
2013
2012
Net sales
$3.5B
$3.5B
Soft demand in North America, Europe
–
Asia up 7%; GWS up 4%
–
North America down 7%
–
Europe down 10%
Segment income
$172M
$145M
+19%
Benefit of pricing initiatives and SG&A reductions
–
80 bps improvement in segment income margins
Favorable net contract settlements
6
Commercial backlog
and orders
(at December 31, 2012)
$5.1B, level with year-ago
Backlog up in Asia,
down in North America
and Europe
Solutions down 17%
Orders down 9%
–
Double-digit increase in
Asia more than offset
by other geographic
regions
---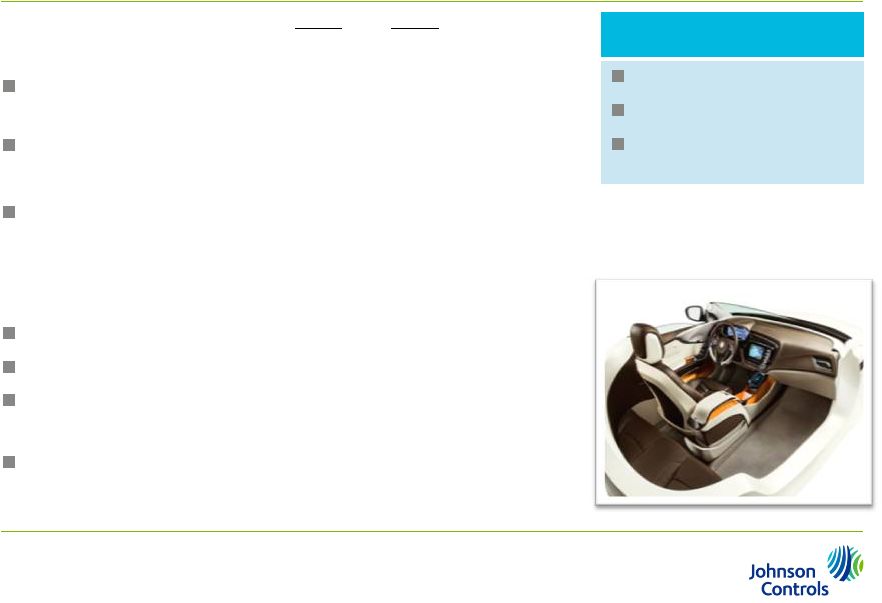 2013 first quarter
Automotive Experience
2013
2012
Net sales
$5.2B
$5.3B
Higher seating and interiors volumes in North America
offset by lower demand in Europe
Electronics down 8%
–
Higher exposure to Europe
China sales (mostly non-consolidated): up 21% to $1.4
billion
Segment income
$101M
$201M
-50%
Higher engineering, product development costs
Operational inefficiencies
Lower production volumes in Europe, impact
of flexing labor
Profitability improvement in Interiors
–
Benefitting from restructuring initiatives
7
Fiscal Q1 production
North America up 11%
Europe down 9%
China up 3%
---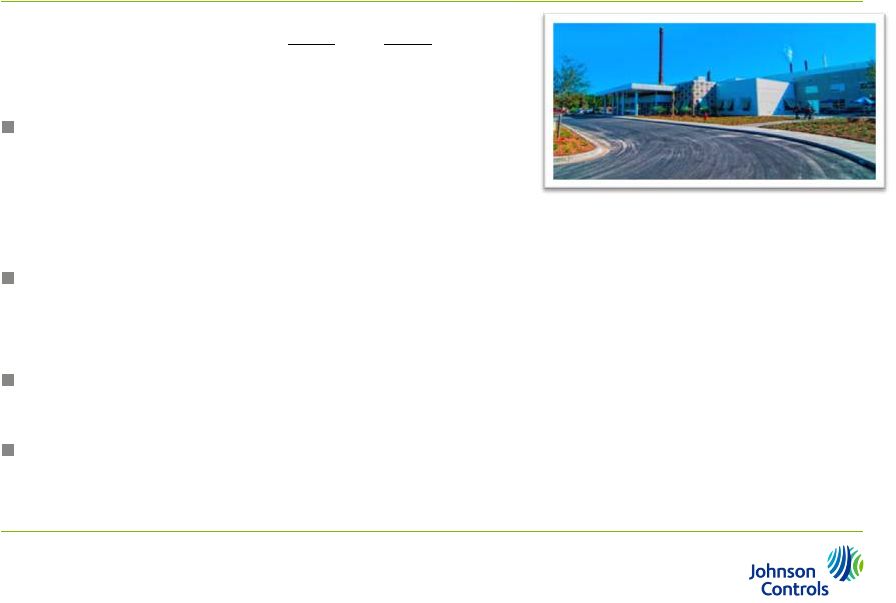 2013 first quarter
Power Solutions
2013
2012
Net sales
$1.7B
$1.6B +4%
Total unit shipments up 3%
–
Higher OE demand in North America, Asia
–
Aftermarket demand in North America
lower than 2012
Increased market share in Europe
Segment income
$268M
$275M
-3%
Benefits of higher volume, increased vertical integration
and improved pricing
2012 quarter included non-recurring gain
8
Florence, South Carolina
Recycling Facility
---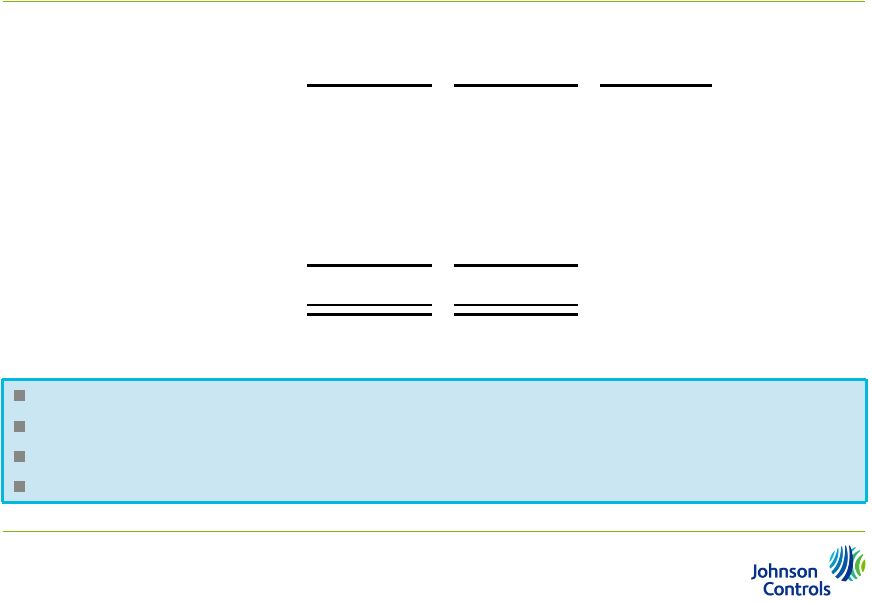 2013 first quarter
Financial highlights
9
(in millions)
2013
(reported)
2012
(revised)
%
change
Sales
$10,422
$10,417
NM
Gross profit
% of sales
1,508
14.5%
1,536
14.7%
-2%
SG&A expenses
1,052
1,035
2%
Equity income
85
120
-29%
Segment income
$541
$621
-13%
5.2%
6.0%
Sales
–
Excluding
FX,
sales
up
1%
(Euro/dollar
average
exchange
rate
at
$1.30
in
Q1
2013
vs.
$1.35
in
Q1
2012)
Gross
profit
–
Operational
challenges
and
volume
declines
in
European
automotive
business
SG&A
–
Impact
of
investment
in
innovation
and
emerging
markets
Equity
income
–
Non-recurring
gain
in
2012
---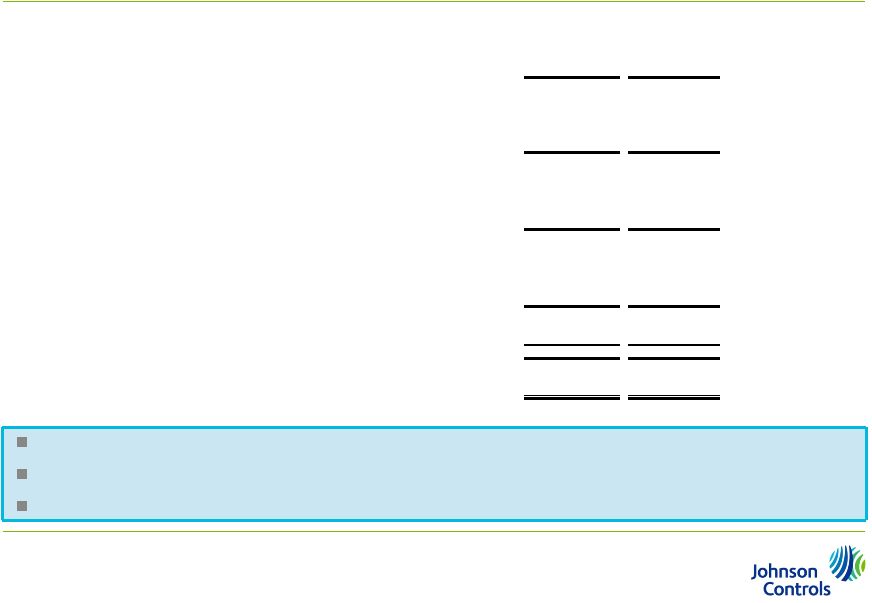 2013 first quarter
Financial highlights
10
(in millions, except earnings per share)
2013
(reported)
2012
(revised)
Segment income
$541
$621
Financing
charges
-
net
61
49
Income before taxes
480
572
Income tax provision
96
113
Net income
384
459
Income attributable to non-controlling interests
30
35
Net income attributable to JCI
$354
$424
Diluted earnings per share
$0.52
$0.62
Financing
Income tax provision
Non-controlling interests
–
Higher debt levels associated with December 2011 bond issuance
–
Underlying 2013 tax rate of 20%, consistent with 2012
–
Increased ownership in Automotive JVs