Attached files
Exhibit 99.3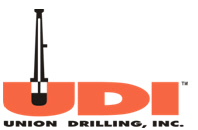 September 25, 2012
Dear Union Drilling Customer,
Today, Union Drilling, Inc. announced that it has entered into an agreement to be acquired by Sidewinder Drilling Inc., based in Houston.  I want to explain what this means to you as one of our valued customers, and to take this opportunity to express my appreciation for your relationship with Union Drilling.
Our operations will continue without interruption.  We will provide you with the same high quality service you have come to expect from Union Drilling and I can assure you that safety at the drilling site is Sidewinder's top priority as well. Union Drilling's areas of operation complement, but do not overlap Sidewinder's rigs, which are contracted for work in the Eagle Ford and the Bakken. As a result, the combined company will be positioned to offer drilling services in all of the most active basins in the country and based upon discussions with Sidewinder's CEO, Jon Cole, I do not anticipate any significant changes to the divisional personnel with whom you interact on a day-to-day basis. I will make every effort to introduce you personally to Jon and members of his senior management team in the coming weeks.
The closing of the transaction is expected in the fourth quarter of 2012. We will continue to work with Sidewinder's transition team and keep you informed of our progress.  In the meantime, should you have any questions or concerns, please contact us or visit our website at www.uniondrilling.com.  We look forward to providing you the same safe and efficient drilling services you have come to expect under our new owner, Sidewinder Drilling.
Sincerely,
 /s / Chris Strong  
Chris Strong
President & CEO
Additional Information
The tender offer described in this news release has not yet been commenced.  This news release and the description contained herein is neither an offer to purchase nor a solicitation of an offer to sell shares of Union Drilling.  At the time the tender offer is commenced, Sidewinder and Fastball intend to file a Tender Offer Statement on Schedule TO containing an offer to purchase, a form of letter of transmittal and other documents relating to the tender offer and Union Drilling intends to file a Solicitation/Recommendation Statement on Schedule 14D-9 with respect to the tender offer.
Investors and Union Drilling stockholders are urged to read the tender offer statement and related materials (including the offer to purchase and letter of transmittal) and the related solicitation/recommendation statement, because they will contain important information that should be read prior to making a decision to tender shares.  Stockholders of Union Drilling will be able to obtain a free copy of these documents (when they become available) and other documents filed by Union Drilling, Sidewinder or Fastball with the Securities and Exchange Commission ("SEC") at the website maintained by the SEC at www.sec.gov. Additional information regarding Union Drilling directors and executive officers is also included in Union Drilling's proxy statement for its 2012 annual meeting of stockholders and is included in the Annual Report on Form 10-K for the fiscal year ended December 31, 2011.  In addition, stockholders will be able to obtain a free copy of the tender offer documents (when they become available) from the information agent named in the offer to purchase or from Sidewinder.
In connection with the potential one-step merger, Union Drilling would file a proxy statement with the Securities and Exchange Commission. Additionally, Union Drilling would file other relevant materials with the Securities and Exchange Commission in connection with the proposed acquisition of Union Drilling by Fastball. Union Drilling and its respective directors, executive officers and other members of their management and employees, under the Securities and Exchange Commission rules, may be deemed to be participants in the solicitation of proxies of Union Drilling stockholders in connection with the proposed merger. Information concerning the interests of Union Drilling's participants in the solicitation, which may, in some cases, be different than those of Union Drilling's stockholders generally, will be set forth in the proxy statement relating to the merger when it becomes available.
Forward Looking Information
Investors are cautioned that statements in this press release that are not strictly historical statements, including, without limitation, statements regarding expectations about the tender offer or future business plans, prospective performance and opportunities, regulatory approvals, the expected timing of the completion of the transaction and the ability to complete the transaction considering the various closing conditions, are forward-looking statements within the meaning of the federal securities laws and are subject to risks, uncertainties and assumptions.  These forward-looking statements may be identified by the use of words such as "expect," "anticipate," "believe," "estimate," "potential," "should" or similar words.  The actual results of the transaction could vary materially as a result of a number of factors, including: uncertainties as to how many of Union Drilling's stockholders will tender their stock in the offer; the possibility that competing offers will be made; and the possibility that various closing conditions for the transaction may not be satisfied or waived. Other factors that may cause actual results to differ materially include those set forth in the reports that Union Drilling files from time to time with the Securities and Exchange Commission, including its Annual Report on Form 10-K for the fiscal year ended December 31, 2011 and quarterly and current reports on Form 10-Q and 8-K, including general economic and business conditions and industry trends, the continued strength or weakness of the contract land drilling industry in the geographic areas in which Union Drilling operates, decisions about onshore exploration and development projects to be made by oil and gas companies, the highly competitive nature of Union Drilling's business, Union Drilling's future financial performance, including availability, terms and deployment of capital, the continued availability of qualified personnel, and changes in, or Union Drilling's failure or inability to comply with, government regulations, including those relating to workplace safety and the environment. These forward-looking statements reflect Union Drilling's expectations as of the date of this press release. Union Drilling undertakes no obligation to update the information provided herein.
2

---