Attached files
EXHIBIT 95.1
Federal Mine Safety and Health Act Information
Workplace safety is fundamental to our culture. Our operating subsidiaries empower their employees to be actively involved in continuous efforts to prevent accidents. By providing a work environment that rewards safety and encourages employee participation in the safety process, our mining operations strive to be the leaders in safety performance in our industry.
We are also a leader in developing and implementing new technologies to improve safety throughout the industry. For example, our subsidiary Matrix Design has developed two innovative technologies designed to improve safety in underground mining operations - a portable, wireless communication and electronic tracking system designed to allow surface personnel the ability to communicate with and locate underground mining personnel and a proximity detection system designed to improve the safety of continuous mining units used in underground operations. Matrix Design has completed installation of its communication and tracking system at all of our operating subsidiaries and has either installed or received orders to install this vital safety system at over half of the operating underground coal mines in the U.S. In addition, Matrix Design has installed and is conducting field tests on fifty-one of its proximity detection systems at nine of our operating subsidiaries' underground coal mines.
Our industry is focused on improving employee safety and its safety performance is continuously monitored, including through the mining industry standard of "non-fatal days lost", or "NFDL", which reflects both the frequency and severity of injuries incurred and, we believe, is a better measure of safety performance than compliance statistics. As indicated in the chart below, these efforts have resulted in significant safety improvements as the industry average NFDL as of the end of 2011, as reported(a) by MSHA, has decreased approximately 62% since 1998.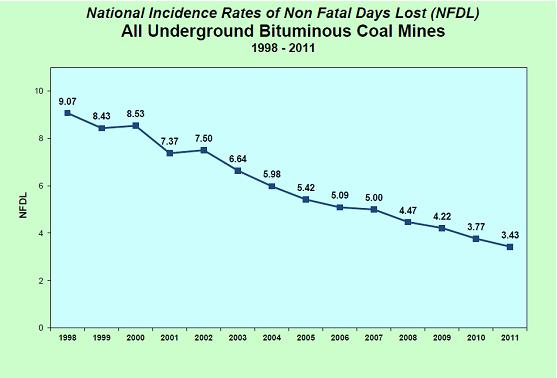 | | | |
| --- | --- | --- |
| | (a) | Data compiled for all U.S. underground bituminous coal mines and related surface facilities from the MSHA report "Mine Injury and Worktime, Quarterly Closeout Edition." Data for 1998 through 2010 reflects the "January – December, Final" report for each year. Data for 2011 reflects the "January – December, Preliminary" report. |
---
EXHIBIT 95.1
During this same time period, the combined NFDL rating of our operating subsidiaries has averaged approximately one-third lower than the industry average.
Our mining operations are subject to extensive and stringent compliance standards established pursuant to the FMSHA, as amended by the MINER Act (as amended, the "Mine Act"). MSHA monitors and rigorously enforces compliance with these standards, and our mining operations are inspected frequently. Citations and orders are issued by MSHA under Section 104 of the Mine Act for violations of the Mine Act or any mandatory health or safety standard, rule, order or regulation promulgated under the Mine Act. A Section 104(a) "Significant and Substantial" or "S&S" citation is generally issued in a situation where the conditions created by the violation do not cause imminent danger, but could significantly and substantially contribute to the cause and effect of a mine safety or health hazard. During the three months ended March 31, 2012, our mines were subject to 1,813 MSHA inspection days with an average of only 0.18 S&S citations written per inspection day.
We endeavor to comply at all times with all Mine Act regulations. However, the Mine Act has been construed as authorizing MSHA to issue citations and orders pursuant to the legal doctrine of strict liability, or liability without fault. If, in the opinion of an MSHA inspector, a condition exists that violates the Mine Act or regulations promulgated thereunder, then a citation or order will be issued regardless of whether we had any knowledge of, or fault in, the existence of that condition. Many of the Mine Act standards include one or more subjective elements, so that issuance of a citation often depends on the opinions or experience of the MSHA inspector involved and the frequency of citations will vary from inspector to inspector.
The number of citations issued also is affected by the size of the mine, in that the number of citations issued generally increases with the size of the mine. Our mines typically are larger in scale than most underground coal mines in the U.S. in terms of area, production and employee hours.
We take all allegations of violations of Mine Act standards seriously, and if we disagree with the assertions of an MSHA inspector, we exercise our right to challenge those findings by "contesting" the citation or order pursuant to the procedures established by the Mine Act and its regulations. During the three months ended March 31, 2012, our operating subsidiaries have contested approximately 24% of all citations and the majority of S&S citations issued by MSHA inspectors. These contest proceedings frequently result in the dismissal or modification of previously issued citations, substantial reductions in the penalty amounts originally assessed by MSHA, or both.
The Dodd–Frank Act requires issuers to include in periodic reports filed with the SEC certain information relating to citations or orders for violations of standards under the Mine Act. The following tables include information required by the Dodd–Frank Act for the three months ended March 31, 2012. The mine data retrieval system maintained by MSHA may show information that is different than what is provided herein. Any such difference may be attributed to the need to update that information on MSHA's system and/or other factors.
---
EXHIBIT 95.1
Subsidiary Name / MSHA

Identification Number (1)

Section 104(a)
S&S
Citations(2)
Section
104(b)
Orders (3)
Section 104(d)
Citations and
Orders (4)
Section
110(b)(2)
Violations (5)
Section
107(a)
Orders (6)
Total Dollar Value of MSHA
Assessments Proposed
(in thousands) (7)

Illinois Basin Operations

Webster County Coal, LLC (KY)

1502132

29
—
—
—
—
$
58.9

Warrior Coal, LLC (KY)

1505230

—
—
—
—
—
$
—

1512083

—
—
—
—
—
$
—

1513514

—
—
—
—
—
$
—

1516460

—
—
—
—
—
$
—

1517216

49
—
—
—
—
$
27.5

1517232

7
—
—
—
—
$
1.7

1517678

—
—
—
—
—
$
—

1517740

—
—
—
—
—
$
—

1517758

—
—
—
—
—
$
—

1514335

—
—
—
—
—
$
—

Hopkins County Coal, LLC (KY)

1502013

1
—
—
—
—
$
0.6

1511935

—
—
—
—
—
$
—

1517377

—
—
—
—
—
$
—

1517515

—
—
—
—
—
$
—

1518826

20
—
—
—
—
$
19.7

1517378

—
—
—
—
—
$
—

River View Coal, LLC (KY)

1503178

2
—
—
—
—
$
0.4

1519374

32
—
—
—
—
$
14.7

White County Coal, LLC (IL)

1102662

—
—
—
—
—
$
—

1103058

21
—
—
—
—
$
15.4

Alliance WOR Processing, LLC (IL)

1103242

—
—
—
—
—
$
—

Gibson County Coal, LLC (IN)

1202388

—
—
—
—
—
$
—

1202215

23
—
—
—
—
$
46.5

Sebree Mining, LLC

1519264

—
—
—
—
—
$
—

Central Appalachian Operations

Pontiki Coal, LLC (KY)

1508413

—
—
—
—
—
$
—

1509571

—
—
—
—
—
$
—

1514324

1
—
—
—
—
$
—

1518839

27
—
2
—
—
$
59.5

1518056

—
—
—
—
—
$
—

MC Mining, LLC (KY)

1508079

22
1
1
—
—
$
31.3

1517733

5
—
—
—
—
$
2.8

1519515

—
—
—
—
—
$
0.1

Northern Appalachian Operations

Mettiki Coal, LLC (MD)

1800621

—
—
—
—
—
$
—

1800671

3
—
—
—
—
$
0.6

Mettiki Coal (WV), LLC

4609028

24
—
—
—
—
$
13.1

Tunnel Ridge, LLC (PA/WV)

4608864

62
—
4
—
1
$
18.4

Other

4403236

—
—
—
—
—
$
—

4403255

—
—
—
—
—
$
—

4406630

—
—
—
—
—
$
—

4406867

—
—
—
—
—
$
—
---
EXHIBIT 95.1
Subsidiary Name / MSHA

Identification Number (1)

Total Number
of Mining
Related
Fatalities
Received
Notice of
Pattern of
Violations
Under
Section
104(e)
(yes/no) (8)
Received
Notice of
Potential to
Have Pattern
Under Section
104(e) (yes/no)
(8)
Legal Actions
Pending as of
Last Day of
Period
Legal Actions
Initiated
During Period
Legal Actions
Resolved
During Period

Illinois Basin Operations

Webster County Coal, LLC (KY)

1502132

—
No
No
29
4
4

Warrior Coal, LLC (KY)

1505230

—
No
No
—
—
—

1512083

—
No
No
—
—
—

1513514

—
No
No
—
—
—

1516460

—
No
No
—
—
—

1517216

—
No
No
25
4
9

1517232

—
No
No
1
—
1

1517678

—
No
No
—
—
—

1517740

—
No
No
—
—
—

1517758

—
No
No
—
—
—

1514335

—
No
No
2
—
—

Hopkins County Coal, LLC (KY)

1502013

—
No
No
2
1
—

1511935

—
No
No
—
—
—

1517377

—
No
No
—
—
—

1517515

—
No
No
—
—
—

1518826

—
No
No
17
4
2

1517378

—
No
No
—
—
—

River View Coal, LLC (KY)

1503178

—
No
No
2
—
—

1519374

—
No
No
25
5
2

White County Coal, LLC (IL)

1102662

—
No
No
—
—
—

1103058

—
No
No
38
5
3

Alliance WOR Processing, LLC (IL)

1103242

—
No
No
—
—
—

Gibson County Coal, LLC (IN)

1202388

—
No
No
—
—
—

1202215

—
No
No
19
3
4

Sebree Mining, LLC

1519264

—
No
No
—
—
—

Central Appalachian Operations

Pontiki Coal, LLC (KY)

1508413

—
No
No
—
—
—

1509571

—
No
No
1
—
—

1514324

—
No
No
2
—
—

1518839

—
No
No
29
5
3

1518056

—
No
No
—
—
—

MC Mining, LLC (KY)

1508079

—
No
No
31
3
4

1517733

—
No
No
—
—
—

1519515

—
No
No
—
—
—

Northern Appalachian Operations

Mettiki Coal, LLC (MD)

1800621

—
No
No
—
—
—

1800671

—
No
No
2
1
—

Mettiki Coal (WV), LLC

4609028

—
No
No
12
4
—

Tunnel Ridge, LLC (PA/WV)

4608864

—
No
No
1
—
—

Other

4403236

—
No
No
—
—
—

4403255

—
No
No
—
—
—

4406630

—
No
No
—
—
—

4406867

—
No
No
—
—
—
---
EXHIBIT 95.1
The number of legal actions pending as of March 31, 2012 that fall into each of the following categories is as follows:
Subsidiary Name / MSHA

Identification Number (1)

Contests
of
Citations
and
Orders
Contests of
Proposed
Penalties
Complaints for
Compensation
Complaints of
Discharge/
Discrimination/
Interference
Applications
for
Temporary
Relief
Appeals of Judges
Rulings

Illinois Basin Operations

Webster County Coal, LLC (KY)

1502132

5
24
—
—
—
3

Warrior Coal, LLC (KY)

1505230

—
—
—
—
—
—

1512083

—
—
—
—
—
—

1513514

—
—
—
—
—
—

1516460

—
—
—
—
—
—

1517216

7
18
—
—
—
—

1517232

—
1
—
—
—
—

1517678

—
—
—
—
—
—

1517740

—
—
—
—
—
—

1517758

—
—
—
—
—
—

1514335

—
2
—
—
—
—

Hopkins County Coal, LLC (KY)

1502013

—
2
—
—
—
—

1511935

—
—
—
—
—
—

1517377

—
—
—
—
—
—

1517515

—
—
—
—
—
—

1518826

3
14
—
—
—
—

1517378

—
—
—
—
—
—

River View Coal, LLC (KY)

1503178

—
2
—
—
—
—

1519374

8
17
—
—
—
—

White County Coal, LLC (IL)

1102662

—
—
—
—
—
—

1103058

—
38
—
—
—
—

Alliance WOR Processing, LLC (IL)

1103242

—
—
—
—
—
—

Gibson County Coal, LLC (IN)

1202388

—
—
—
—
—
—

1202215

2
17
—
—
—
—

Sebree Mining, LLC

1519264

—
—
—
—
—
—

Central Appalachian Operations

Pontiki Coal, LLC (KY)

1508413

—
—
—
—
—
—

1509571

—
1
—
—
—
—

1514324

—
2
—
—
—
—

1518839

6
23
—
—
2
1

1518056

—
—
—
—
—
—

MC Mining, LLC (KY)

1508079

1
30
—
—
—
2

1517733

—
—
—
—
—
—

1519515

—
—
—
—
—
—

Northern Appalachian Operations

Mettiki Coal, LLC (MD)

1800621

—
—
—
—
—
—

1800671

—
2
—
—
—
—

Mettiki Coal (WV), LLC

4609028

—
12
—
—
—
—

Tunnel Ridge, LLC (PA/WV)

4608864

—
1
—
—
—
—

Other

4403236

—
—
—
—
—
—

4403255

—
—
—
—
—
—

4406630

—
—
—
—
—
—

4406867

—
—
—
—
—
—
---
EXHIBIT 95.1
| | | |
| --- | --- | --- |
| | (1) | The statistics reported for each of our subsidiaries listed above are segregated into specific MSHA identification numbers. |
| | | |
| --- | --- | --- |
| | (2) | Mine Act section 104(a) S&S citations shown above are for alleged violations of mandatory health or safety standards that could significantly and substantially contribute to a coal mine health and safety hazard. It should be noted that, for purposes of this table, S&S citations that are included in another column, such as Section 104(d) citations, are not also included as Section 104(a) S&S citations in this column. |
| | | |
| --- | --- | --- |
| | (3) | Mine Act section 104(b) orders are for alleged failures to totally abate a citation within the period of time specified in the citation. |
| | | |
| --- | --- | --- |
| | (4) | Mine Act section 104(d) citations and orders are for an alleged unwarrantable failure (i.e. aggravated conduct constituting more than ordinary negligence) to comply with mandatory health or safety standards. |
| | | |
| --- | --- | --- |
| | (5) | Mine Act section 110(b)(2) violations are for failure to make reasonable efforts to eliminate a known violation of a mandatory safety or health standard that substantially proximately caused, or reasonably could have been expected to cause, death or serious bodily injury. |
| | | |
| --- | --- | --- |
| | (6) | Mine Act section 107(a) orders are for alleged conditions or practices which could reasonably be expected to cause death or serious physical harm before such condition or practice can be abated and result in orders of immediate withdrawal from the area of the mine affected by the condition. |
| | | |
| --- | --- | --- |
| | (7) | Amounts shown include assessments proposed by MSHA during the three months ended March 31, 2012 on all citations and orders, including those citations and orders that are not required to be included within the above chart. |
| | | |
| --- | --- | --- |
| | (8) | Mine Act section 104(e) written notices are for an alleged pattern of violations of mandatory health or safety standards that could significantly and substantially contribute to a coal mine safety or health hazard, or the potential to have such a pattern. |