Attached files
Exhibit 99.1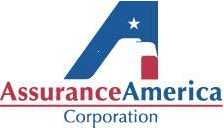 ASSURANCEAMERICA CORPORATION ANNOUNCES POSTPONEMENT OF THE
10,000-To-One REVERSE STOCK SPLIT
ATLANTA — January 5, 2012
Atlanta based ASSURANCEAMERICA CORPORATION (the "Company") announced today that it is postponing the 10,000-to-one reverse stock split (the "Reverse Stock Split") of the Company's common stock (the "Common Stock") described in the Schedule 13E-3 Transaction Statement filed by the Company with the Securities and Exchange Commission on November 4, 2011 and amended by Amendment No. 1 thereto on November 18, 2011 (as so amended, the "Schedule 13E-3"), as well all the going private transaction discussed therein.
Unusually high trading volume of the Common Stock since November 4, 2011 has resulted in a significant increase in the number of shares of Common Stock held by stockholders who hold fewer than 10,000 shares of Common Stock (and, therefore, has resulted in a significant increase in the number of shares to be repurchased by the Company in the Reverse Stock Split). Accordingly, consistent with the Schedule 13E-3, the Company's Board of Directors (the "Board") has determined to postpone the Reverse Stock Split and the going private transaction because the aggregate cash payments to stockholders necessary to complete the Reverse Stock Split is expected to significantly exceed the $500,000 which the Company was willing, and prepared, to pay.
The Board is evaluating its options and may determine to abandon the Reverse Stock Split and the going private transaction, or amend the terms thereof, if the Board determines doing so is in the best interests of the Company and its stockholders. The Board expects to make such determination in the next forty five days.
AssuranceAmerica focuses on the non-standard automobile insurance marketplace, primarily in Alabama, Arizona, Florida, Georgia, Indiana, Louisiana, Mississippi, South Carolina, and Texas. Its principal operating subsidiaries are AssuranceAmerica Managing General Agency, LLC ("MGA") and AssuranceAmerica Insurance Company ("Carrier").
This press release includes statements that may constitute "forward-looking" statements. These statements are made pursuant to the safe harbor provisions of the Private Securities Litigation Reform Act of 1995. Forward-looking statements inherently involve risks and uncertainties that could cause actual results to differ materially from the forward-looking statements, as discussed in the Company's filings with the U.S. Securities Exchange Commission (SEC). Historical results are not indicative of future performance.
Contact:
Mark Hain, 770-952-0200 Ext. 6259
Executive VP, General Counsel, Secretary
or
Sheree Williams, 770-952-0200 Ext. 6212
Chief Financial Officer