Attached files
Exhibit 99.1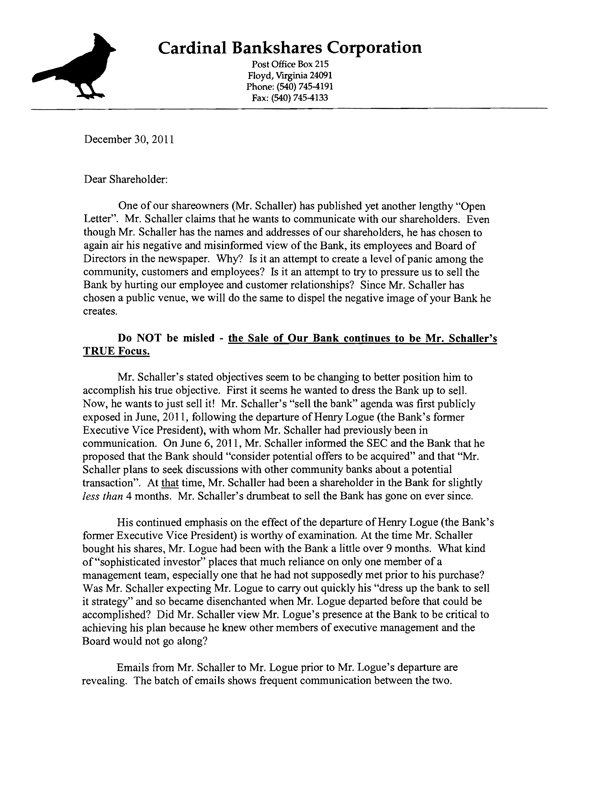 Cardinal Bank shares Corporation Post Office Box 215 Floyd, VIrginia 24091 Phone: (540) 745-4191 Fax: (540) 745-4133 December 30, 2011 Dear Shareholder: One of our shareowners (Mr. Schaller) has published yet another lengthy "Open Letter". Mr. Schaller claims that he wants to communicate with our shareholders. Even though Mr. Schaller has the names and addresses of our shareholders, he has chosen to again air his negative and misinformed view of the Bank, its employees and Board of Directors in the newspaper. Why? Is it an attempt to create a level of panic among the community, customers and employees? Is it an attempt to try to pressure us to sell the Bank by hurting our employee and customer relationships? Since Mr. Schaller has chosen a public venue, we will do the same to dispel the negative image of your Bank he creates. Do NOT be misled - the Sale of Our Bank continues to be Mr. Schaller's TRUE Focus. Mr. Schaller's stated objectives seem to be changing to better position him to accomplish his true objective. First it seems he wanted to dress the Bank up to sell. Now, he wants to just sell it! Mr. Schaller's "sell the bank" agenda was first publicly exposed in June, 2011, following the departure of Henry Logue (the Bank's former Executive Vice President), with whom Mr. Schaller had previously been in communication. On June 6, 2011, Mr. Schaller informed the SEC and the Bank that he proposed that the Bank should "consider potential offers to be acquired" and that "Mr. Schaller plans to seek discussions with other community banks about a potential transaction". At that time, Mr. Schaller had been a shareholder in the Bank for slightly less than 4 months. Mr. Schaller's drumbeat to sell the Bank has gone on ever since. His continued emphasis on the effect of the departure of Henry Logue (the Bank's former Executive Vice President) is worthy of examination. At the time Mr. Schaller bought his shares, Mr. Logue had been with the Bank a little over 9 months. What kind of "sophisticated investor" places that much reliance on only one member of a management team, especially one that he had not supposedly met prior to his purchase? Was Mr. Schaller expecting Mr. Logue to carry out quickly his "dress up the bank to sell it strategy" and so became disenchanted when Mr. Logue departed before that could be accomplished? Did Mr. Schaller view Mr. Logue's presence at the Bank to be critical to achieving his plan because he knew other members of executive management and the Board would not go along? Emails from Mr. Schaller to Mr. Logue prior to Mr. Logue's departure are revealing. The batch of emails shows frequent communication between the two.
---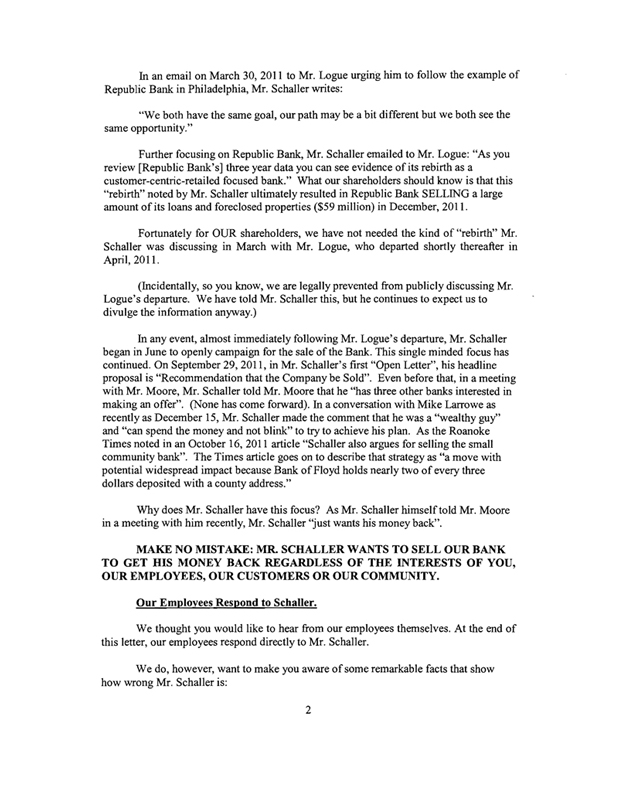 In an email on March 30, 2011 to Mr. Logue urging him to follow the example of Republic Bank in Philadelphia, Mr. Schaller writes: "We both have the same goal, our path may be a bit different but we both see the same opportunity." Further focusing on Republic Bank, Mr. Schaller emailed to Mr. Logue: "As you review [Republic Bank's] three year data you can see evidence of its rebirth as a customer-centric-retailed focused bank." What our shareholders should know is that this "rebirth" noted by Mr. Schaller ultimately resulted in Republic Bank SELLING a large amount of its loans and foreclosed properties ($59 million) in December, 2011. Fortunately for OUR shareholders, we have not needed the kind of "rebirth" Mr. Schaller was discussing in March with Mr. Logue, who departed shortly thereafter in April, 2011. (Incidentally, so you know, we are legally prevented from publicly discussing Mr. Logue's departure. We have told Mr. Schaller this, but he continues to expect us to divulge the information anyway.) In any event, almost immediately following Mr. Logue's departure, Mr. Schaller began in June to openly campaign for the sale of the Bank. This single minded focus has continued. On September 29,2011, in Mr. Schaller's first "Open Letter", his headline proposal is "Recommendation that the Company be Sold". Even before that, in a meeting with Mr. Moore, Mr. Schaller told Mr. Moore that he "has three other banks interested in making an offer". (None has corne forward). In a conversation with Mike Larrowe as recently as December 15, Mr. Schaller made the comment that he was a "wealthy guy" and "can spend the money and not blink" to try to achieve his plan. As the Roanoke Times noted in an October 16, 2011 article "Schaller also argues for selling the small community bank". The Times article goes on to describe that strategy as "a move with potential widespread impact because Bank ofFloyd holds nearly two of every three dollars deposited with a county address." Why does Mr. Schaller have this focus? As Mr. Schaller himself told Mr. Moore in a meeting with him recently, Mr. Schaller "just wants his money back". MAKE NO MISTAKE: MR. SCHALLER WANTS TO SELL OUR BANK TO GET HIS MONEY BACK REGARDLESS OF THE INTERESTS OF YOU, OUR EMPLOYEES, OUR CUSTOMERS OR OUR COMMUNITY. Our Employees Respond to Schaller. We thought you would like to hear from our employees themselves. At the end of this letter, our employees respond directly to Mr. Schaller. We do, however, want to make you aware of some remarkable facts that show how wrong Mr. Schaller is:
---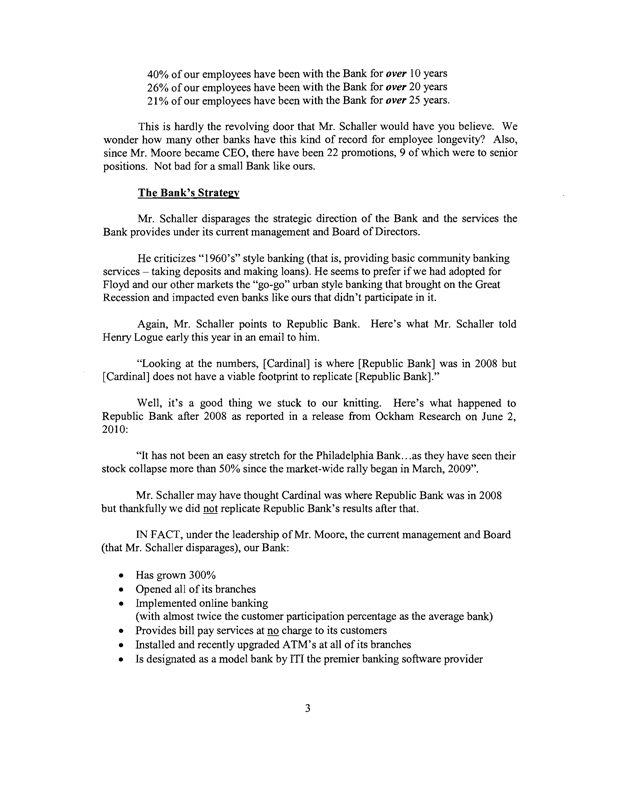 40% of our employees have been with the Bank for over 10 years 26% of our employees have been with the Bank for over 20 years 21 % of our employees have been with the Bank for over 25 years. This is hardly the revolving door that Mr. Schaller would have you believe. We wonder how many other banks have this kind of record for employee longevity? Also, since Mr. Moore became CEO, there have been 22 promotions, 9 of which were to senior positions. Not bad for a small Bank like ours. The Bank's Strategy Mr. Schaller disparages the strategic direction of the Bank and the services the Bank provides under its current management and Board ofDirectors. He criticizes "1960's" style banking (that is, providing basic community banking services - taking deposits and making loans). He seems to prefer ifwe had adopted for Floyd and our other markets the "go-go" urban style banking that brought on the Great Recession and impacted even banks like ours that didn't participate in it. Again, Mr. Schaller points to Republic Bank. Here's what Mr. Schaller told Henry Logue early this year in an email to him. "Looking at the numbers, [Cardinal] is where [Republic Bank] was in 2008 but [Cardinal] does not have a viable footprint to replicate [Republic Bank]." Well, it's a good thing we stuck to our knitting. Here's what happened to Republic Bank after 2008 as reported in a release from Ockham Research on June 2, 2010: "It has not been an easy stretch for the Philadelphia Bank ...as they have seen their stock collapse more than 50% since the market-wide rally began in March, 2009". Mr. Schaller may have thought Cardinal was where RepUblic Bank was in 2008 but thankfully we did not replicate Republic Bank's results after that. IN FACT, under the leadership ofMr. Moore, the current management and Board (that Mr. Schaller disparages), our Bank: Has grown 300% Opened all of its branches Implemented online banking (with almost twice the customer participation percentage as the average bank) Provides bill pay services at no charge to its customers Installed and recently upgraded ATM's at all of its branches Is designated as a model bank by ITI the premier banking software provider
---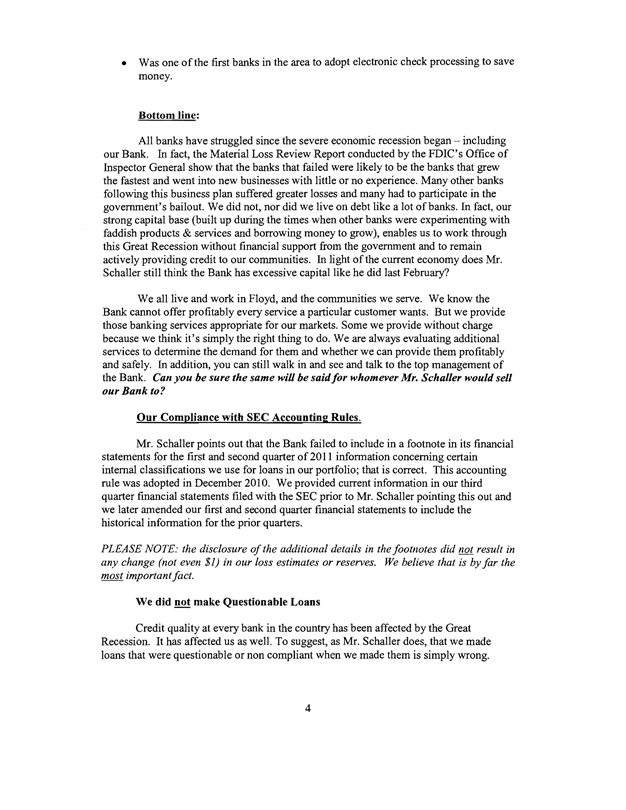 Was one of the first banks in the area to adopt electronic check processing to save money. Bottom line: All banks have struggled since the severe economic recession began including our Bank. In fact, the Material Loss Review Report conducted by the FDIC's Office of Inspector General show that the banks that failed were likely to be the banks that grew the fastest and went into new businesses with little or no experience. Many other banks following this business plan suffered greater losses and many had to participate in the government's bailout. We did not, nor did we live on debt like a lot of banks. In fact, our strong capital base (built up during the times when other banks were experimenting with faddish products & services and borrowing money to grow), enables us to work through this Great Recession without financial support from the government and to remain actively providing credit to our communities. In light of the current economy does Mr. Schaller still think the Bank has excessive capital like he did last February? We all live and work in Floyd, and the communities we serve. We know the Bank cannot offer profitably every service a particular customer wants. But we provide those banking services appropriate for our markets. Some we provide without charge because we think it's simply the right thing to do. We are always evaluating additional services to determine the demand for them and whether we can provide them profitably and safely. In addition, you can still walk in and see and talk to the top management of the Bank. Can you be sure the same will be said for whomever Mr. Schaller would sell our Bank to? Our Compliance with SEC Accounting Rules. Mr. Schaller points out that the Bank failed to include in a footnote in its financial statements for the first and second quarter of 2011 information concerning certain internal classifications we use for loans in our portfolio; that is correct. This accounting rule was adopted in December 2010. We provided current information in our third quarter financial statements filed with the SEC prior to Mr. Schaller pointing this out and we later amended our first and second quarter financial statements to include the historical information for the prior quarters. PLEASE NOTE: the disclosure ofthe additional details in the footnotes did not result in any change (not even $1) in our loss estimates or reserves. We believe that is by far the most important fact. We did not make Questionable Loans Credit quality at every bank in the country has been affected by the Great Recession. It has affected us as well. To suggest, as Mr. Schaller does, that we made loans that were questionable or non compliant when we made them is simply wrong.
---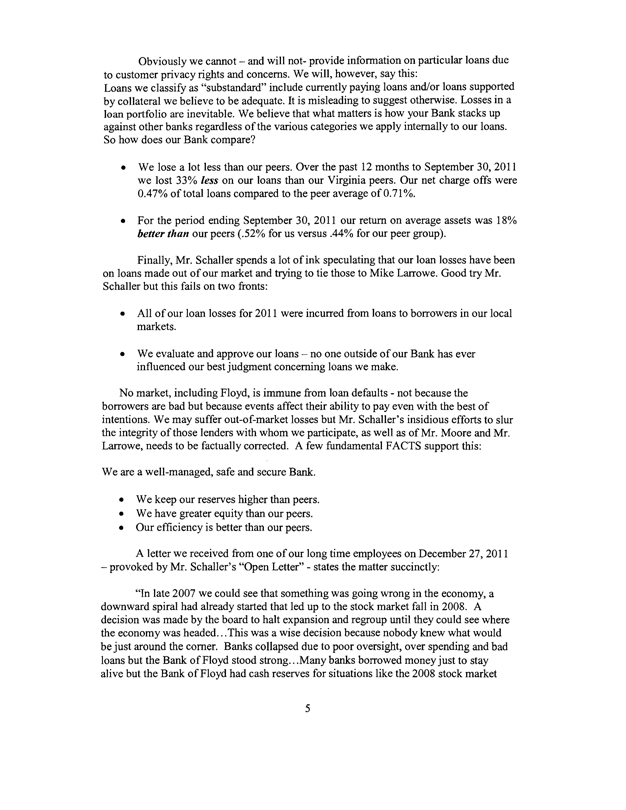 Obviously we cannot and will not- provide infonnation on particular loans due to customer privacy rights and concerns. We will, however, say this: Loans we classify as "substandard" include currently paying loans and/or loans supported by collateral we believe to be adequate. It is misleading to suggest otherwise. Losses in a loan portfolio are inevitable. We believe that what matters is how your Bank stacks up against other banks regardless ofthe various categories we apply internally to our loans. So how does our Bank compare? We lose a lot less than our peers. Over the past 12 months to September 30, 2011 we lost 33% less on our loans than our Virginia peers. Our net charge offs were 0.47% of total loans compared to the peer average of 0.71 %. For the period ending September 30, 2011 our return on average assets was 18% better than our peers (.52% for us versus .44% for our peer group). Finally, Mr. Schaller spends a lot of ink speCUlating that our loan losses have been on loans made out of our market and trying to tie those to Mike Larrowe. Good try Mr. Schaller but this fails on two fronts: All of our loan losses for 2011 were incurred from loans to borrowers in our local markets. We evaluate and approve our loans - no one outside of our Bank has ever influenced our best judgment concerning loans we make. No market, including Floyd, is immune from loan defaults - not because the borrowers are bad but because events affect their ability to pay even with the best of intentions. We may suffer out-of-market losses but Mr. SchaUer's insidious efforts to slur the integrity ofthose lenders with whom we participate, as well as ofMr. Moore and Mr. Larrowe, needs to be factually corrected. A few fundamental FACTS support this: We are a well-managed, safe and secure Bank. We keep our reserves higher than peers. We have greater equity than our peers. Our efficiency is better than our peers. A letter we received from one of our long time employees on December 27,2011 - provoked by Mr. Schaller's "Open Letter" - states the matter succinctly: "In late 2007 we could see that something was going wrong in the economy, a downward spiral had already started that led up to the stock market fall in 2008. A decision was made by the board to halt expansion and regroup until they could see where the economy was headed ...This was a wise decision because nobody knew what would be just around the comer. Banks collapsed due to poor oversight, over spending and bad loans but the Bank of Floyd stood strong ...Many banks borrowed money just to stay alive but the Bank of Floyd had cash reserves for situations like the 2008 stock market
---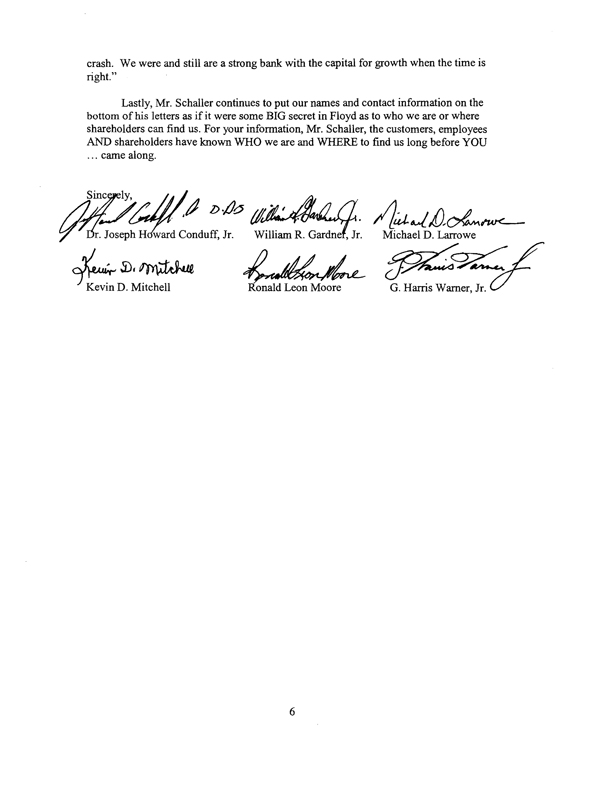 crash. We were and still are a strong bank with the capital for growth when the time is right." Lastly, Mr. Schaller continues to put our names and contact information on the bottom of his letters as if it were some BIG secret in Floyd as to who we are or where shareholders can find us. For your information, Mr. Schaller, the customers, employees AND shareholders have known WHO we are and WHERE to find us long before YOU ... came along. Sincerely, Dr. Joseph Howard Conduff, Jr. William R. Gardner, Jr. Michael D. Larrowe Kevin D. Mitchell Ronald Leon Moore G.Harris Warner, Jr.
---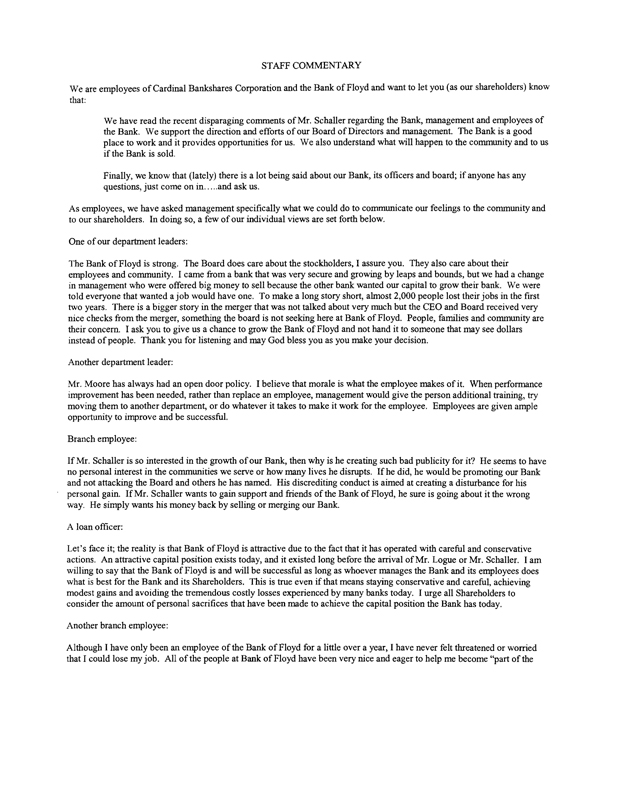 STAFF COMMENTARY We are employees of Cardinal Bankshares Corporation and the Bank of Floyd and want to let you (as our shareholders) know that: We have read the recent disparaging comments of Mr. Schaller regarding the Bank, management and employees of the Bank. We support the direction and efforts of our Board of Directors and management. The Bank is a good place to work and it provides opportunities for us. We also understand what will happen to the community and to us if the Bank is sold. Finally, we know that (lately) there is a lot being said about our Bank, its officers and board; if anyone has any questions, just come on in ..... and ask us. As employees, we have asked management specifically what we could do to communicate our feelings to the community and to our shareholders. In doing so, a few of our individual views are set forth below. One of our department leaders: The Bank of Floyd is strong. The Board does care about the stockholders, I assure you. They also care about their employees and community. I came from a bank that was very secure and growing by leaps and bounds, but we had a change in management who were offered big money to sell because the other bank wanted our capital to grow their bank. We were told everyone that wanted a job would have one. To make a long story short, almost 2,000 people lost their jobs in the first two years. There is a bigger story in the merger that was not talked about very much but the CEO and Board received very nice checks from the merger, something the board is not seeking here at Bank of Floyd. People, families and community are their concern. I ask you to give us a chance to grow the Bank of Floyd and not hand it to someone that may see dollars instead of people. Thank you for listening and may God bless you as you make your decision. Another department leader: Mr. Moore has always had an open door policy. I believe that morale is what the employee makes of it. When performance improvement has been needed, rather than replace an employee, management would give the person additional training, try moving them to another department, or do whatever it takes to make it work for the employee. Employees are given ample opportunity to improve and be successful. Branch employee: If Mr. Schaller is so interested in the growth of our Bank, then why is he creating such bad pUblicity for it? He seems to have no personal interest in the communities we serve or how many lives he disrupts. If he did, he would be promoting our Bank and not attacking the Board and others he has named. His discrediting conduct is aimed at creating a disturbance for his personal gain. If Mr. Schaller wants to gain support and friends of the Bank of Floyd, he sure is going about it the wrong way. He simply wants his money back by selling or merging our Bank. A loan officer: Let's face it; the reality is that Bank of Floyd is attractive due to the fact that it has operated with careful and conservative actions. An attractive capital position exists today, and it existed long before the arrival of Mr. Logue or Mr. Schaller. I am willing to say that the Bank of Floyd is and will be successful as long as whoever manages the Bank and its employees does what is best for the Bank and its Shareholders. This is true even if that means staying conservative and careful, achieving modest gains and avoiding the tremendous costly losses experienced by many banks today. I urge all Shareholders to consider the amount of personal sacrifices that have been made to achieve the capital position the Bank has today. Another branch employee: Although I have only been an employee of the Bank of Floyd for a little over a year, I have never felt threatened or worried that I could lose my job. All of the people at Bank of Floyd have been very nice and eager to help me become "part of the
---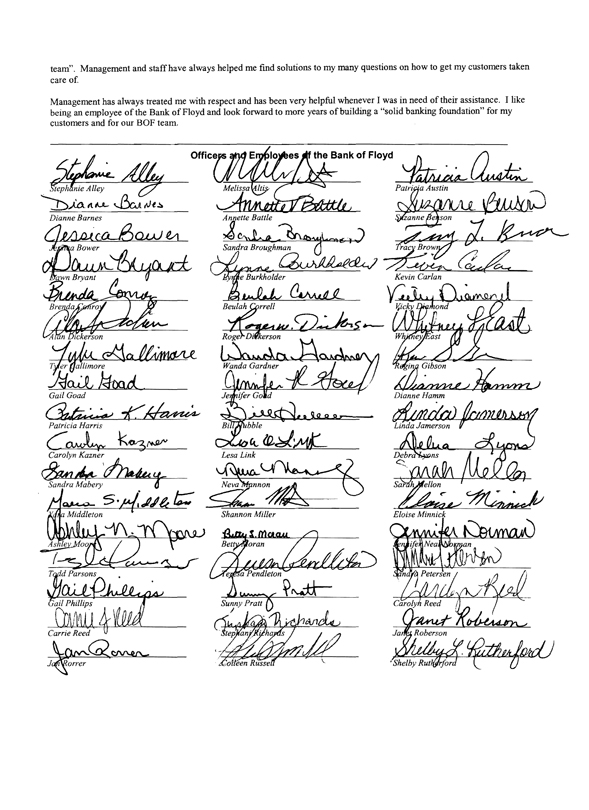 team". Management and staff have always helped me fmd solutions to my many questions on how to get my customers taken care of Management has always treated me with respect and has been very helpful whenever I was in need of their assistance. I like being an employee of the Bank of Floyd and look forward to more years ofbuilding a "solid banking foundation" for my customers and for our BOF team. Officers and Employees of the Bank Of Floyd Stephanie Alley Melissa Altis Particia Austin Dianne Barnes Annette Battle Suzanne Benson Jesica Bower Lynne Burkholder Kevin Carlan Dawn Bryant Sandra Broughman Tracy Brown Brenda Conroy Beulah Correll Vicky Diamond Alan Dickerson Roger Dickerson Whitney East Tyer Gallimore Wanda Gardner Regina Gibson Gail Goad Jennifer Gold Dianne Hamm Patricia Harris Bill Hubble Linda Jamerson Carolyn Kazner Lesa Link Debra Lyons Sandra Mabery Neva Mannon Sarah Mellon Yanas Middleton Shannon Miller Eloise Minnick Ashleyn Moor Betty Moran Jennifer Neal Norman Todd Parsons Tenesa Pendleton Sandra Peterson Gail Phillips Sunny Pratt Carolyn Reed Carrie Reed Stephani Richands Janet Roberson Jan Rorrer Colleen Russell Shelby Rutherford
---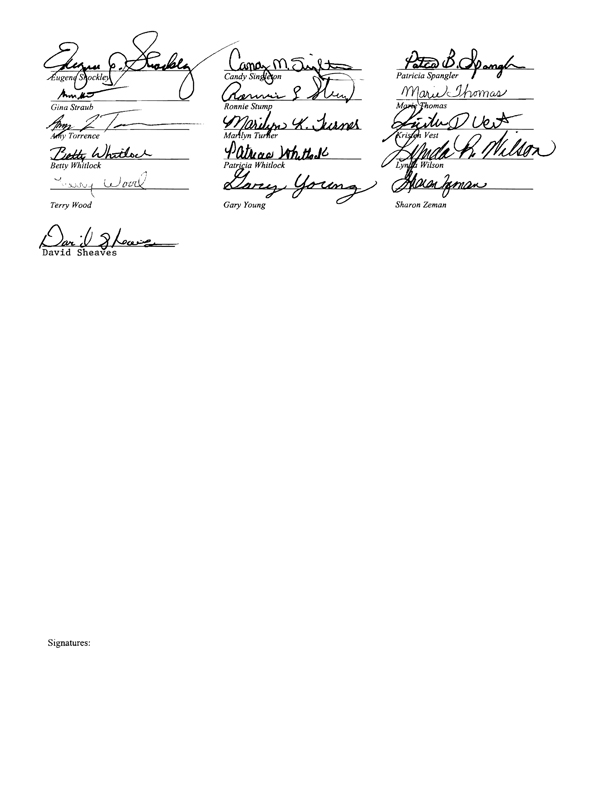 Eugene Shockley Candy Singleton Patricia Spangler Gina Straub Ronnie Stump Marie Thomas Amy Torrence Marilyn Turner Kristen Vest Betty Whitlock Patricia Whitlock Lynda Wilson Terry Wood Gary Young Sharon Zeman David Sheaves Signatures: