Attached files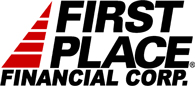 For release:  July 13, 2011
First Place Announces Progress on Earnings Restatement and Regulatory Agreement
Warren, Ohio - First Place Financial Corp. (Nasdaq:FPFC) (the "Company") announced today that it has made progress toward the restatement of its financial results stemming from adjustments to be made to the allowance for loan losses for First Place Bank, the Company's wholly-owned subsidiary (the "Bank").  The increase to the allowance will result in the restatement of the Company's financial statements for the fiscal years ended June 30, 2010 and 2009.
The Company intends to engage KPMG LLP, the Company's independent registered public accounting firm to complete an audit of the fiscal 2009 consolidated financial statements.  "We believe we will be able to issue our restated financial statements for 2010 and 2009 as well as our financial statements for the current year sometime this fall," stated Steven R. Lewis, President and Chief Executive Officer.
In addition, effective today, the Company and the Bank each consented to Cease and Desist Orders (the "Orders") with the Office of Thrift Supervision ("OTS"), representing agreements that primarily focus on the development and execution of a plan for strengthening the capital positions of both entities.  The Company has attached copies of the agreements to a Current Report on Form 8-K filed with the Securities and Exchange Commission ("SEC") today, July 13, 2011.
"Dealing with our problem assets over the past several years has been our number one priority and recently accelerating this process has required the extensive use of capital," stated Lewis.  "We have been working with our regulators on our capital plan that, among other things, identifies specific sources and methods for raising additional capital through the execution of both short and long-term initiatives," he continued.
The Bank's Cease and Desist Order, among other things, calls for the Bank to have and maintain a Tier 1 Capital ratio of at least 8.5% and a Total Risk-based Capital ratio of at least 12.0% by December 31, 2011.
"As a local community bank that has been in business for nearly 100 years, our goal is to successfully resolve these issues on a timely basis so we can continue to support the communities that have relied on us as their local partner throughout the years," stated Lewis.
The description of the Orders with the OTS set forth herein is qualified in its entirety by reference to the Orders, copies of which are attached as Exhibits 10.1 and 10.2 to the Company's Current Report on Form 8-K filed today with the SEC.  The Company's periodic reports as filed with the SEC can be accessed on the EDGAR section of the SEC's website at www.sec.gov.
Forward-Looking Statements
When used in this press release, in future press releases or other public or shareholder communications, in filings with the SEC or in oral statements made with the approval of an authorized executive officer, the words or phrases "will likely result," " are expected to," "will continue," "is anticipated," "estimate," "project," "believe," "should," "may," "will," "plan," or variations of such terms or similar expressions are intended to identify "forward-looking statements" within the meaning of the Private Securities Litigation Reform Act of 1995.  Such forward-looking statements involve known and unknown risks, uncertainties and other factors, which may cause our actual results to be materially different from those indicated.  Such statements are subject to certain risks and uncertainties, including changes in economic conditions in the market areas we conduct business, which could materially impact credit quality trends; changes in laws, regulations or policies of regulatory agencies; fluctuations in interest rates; demand for loans in the market areas we conduct business; and competition, that could cause actual results to differ materially from historical earnings and those presently anticipated or projected.  We caution readers not to place undue reliance on any such forward-looking statements, which speak only as of the date made.  We undertake no obligation to publicly release the result of any revisions that may be made to any forward-looking statements to reflect events or circumstances after the date of such statements or to reflect the occurrence of anticipated or unanticipated events.
About First Place Financial Corp.
First Place Financial Corp. is a $3.1 billion financial services holding company based in Warren, Ohio, with two wholly-owned subsidiaries: First Place Bank and First Place Holdings, Inc.  Through First Place Bank, the Company operates 41 retail locations, 2 business financial service centers and 22 loan production offices.  Wholly-owned subsidiaries of First Place Holdings, Inc. include First Place Insurance Agency, Ltd., and First Place Real Estate, Ltd.  First Place Holdings, Inc. also has a 75% interest in Title Works Agency, LLC.  Additional information about First Place Financial Corp. may be found on the Company's web site:  www.firstplacebank.com.