Attached files
Exhibit 99.1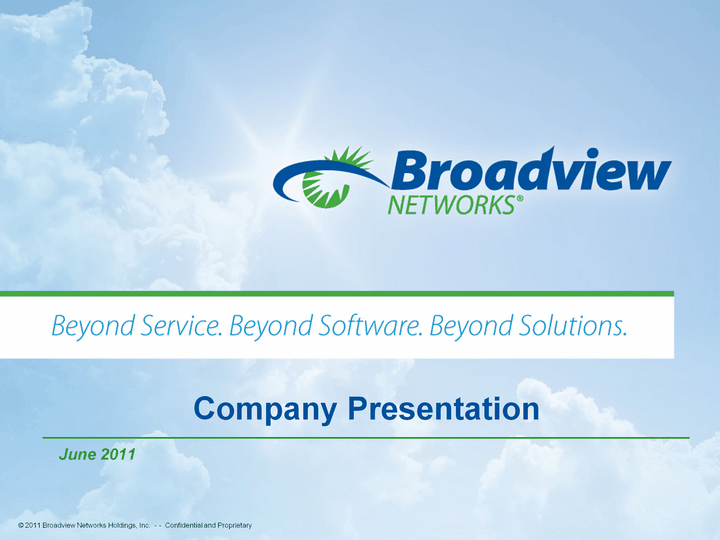 June 2011 Company Presentation (c) 2011 Broadview Networks Holdings, Inc. - - Confidential and Proprietary
---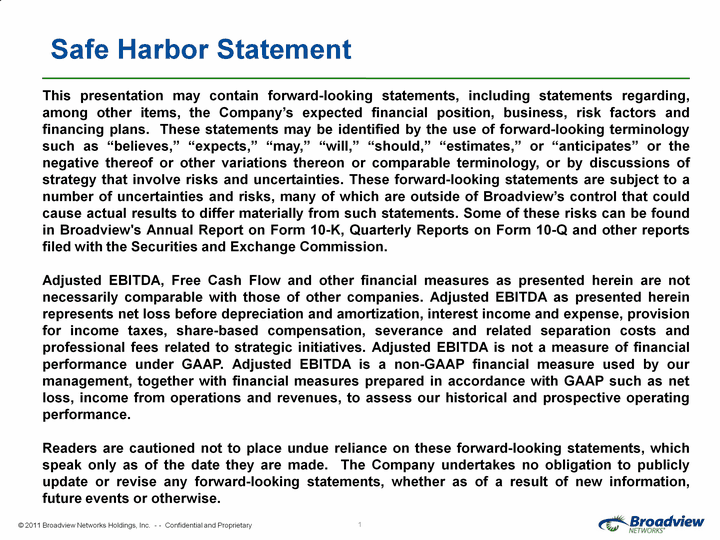 This presentation may contain forward-looking statements, including statements regarding, among other items, the Company's expected financial position, business, risk factors and financing plans. These statements may be identified by the use of forward-looking terminology such as "believes," "expects," "may," "will," "should," "estimates," or "anticipates" or the negative thereof or other variations thereon or comparable terminology, or by discussions of strategy that involve risks and uncertainties. These forward-looking statements are subject to a number of uncertainties and risks, many of which are outside of Broadview's control that could cause actual results to differ materially from such statements. Some of these risks can be found in Broadview's Annual Report on Form 10-K, Quarterly Reports on Form 10-Q and other reports filed with the Securities and Exchange Commission. Adjusted EBITDA, Free Cash Flow and other financial measures as presented herein are not necessarily comparable with those of other companies. Adjusted EBITDA as presented herein represents net loss before depreciation and amortization, interest income and expense, provision for income taxes, share-based compensation, severance and related separation costs and professional fees related to strategic initiatives. Adjusted EBITDA is not a measure of financial performance under GAAP. Adjusted EBITDA is a non-GAAP financial measure used by our management, together with financial measures prepared in accordance with GAAP such as net loss, income from operations and revenues, to assess our historical and prospective operating performance. Readers are cautioned not to place undue reliance on these forward-looking statements, which speak only as of the date they are made. The Company undertakes no obligation to publicly update or revise any forward-looking statements, whether as of a result of new information, future events or otherwise. Safe Harbor Statement 1
---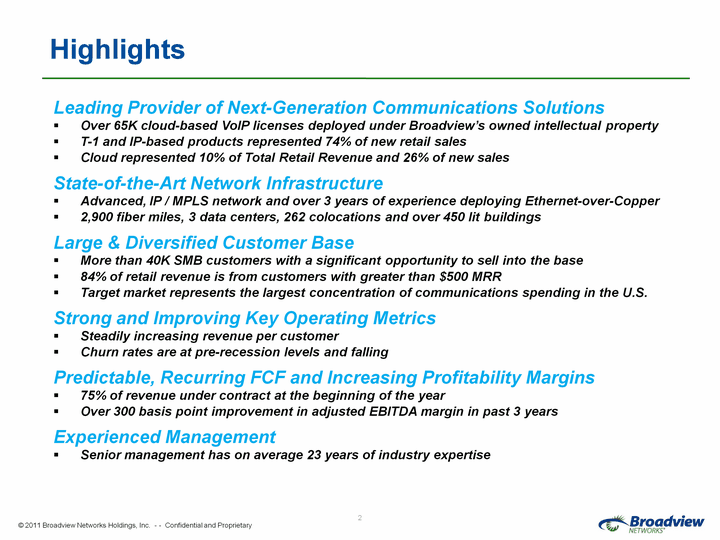 Highlights Leading Provider of Next-Generation Communications SolutionsOver 65K cloud-based VoIP licenses deployed under Broadview's owned intellectual propertyT-1 and IP-based products represented 74% of new retail salesCloud represented 10% of Total Retail Revenue and 26% of new salesState-of-the-Art Network InfrastructureAdvanced, IP / MPLS network and over 3 years of experience deploying Ethernet-over-Copper 2,900 fiber miles, 3 data centers, 262 colocations and over 450 lit buildingsLarge & Diversified Customer Base More than 40K SMB customers with a significant opportunity to sell into the base84% of retail revenue is from customers with greater than $500 MRRTarget market represents the largest concentration of communications spending in the U.S.Strong and Improving Key Operating MetricsSteadily increasing revenue per customerChurn rates are at pre-recession levels and fallingPredictable, Recurring FCF and Increasing Profitability Margins75% of revenue under contract at the beginning of the yearOver 300 basis point improvement in adjusted EBITDA margin in past 3 yearsExperienced ManagementSenior management has on average 23 years of industry expertise 2
---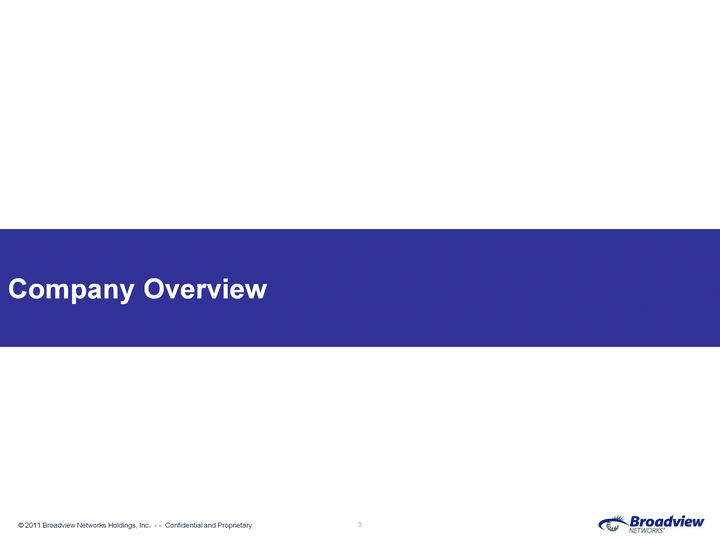 ---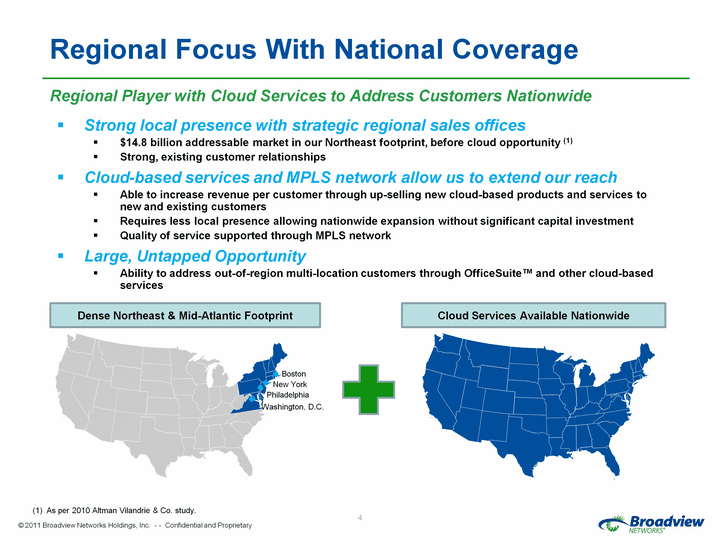 Regional Focus With National Coverage Boston Washington, D.C. New York Philadelphia Strong local presence with strategic regional sales offices$14.8 billion addressable market in our Northeast footprint, before cloud opportunity (1)Strong, existing customer relationships Cloud-based services and MPLS network allow us to extend our reachAble to increase revenue per customer through up-selling new cloud-based products and services to existing customersRequires less local presence allowing nationwide expansion without significant capital investmentQuality of service supported through MPLS networkLarge, Untapped OpportunityAbility to address out-of-region multi-location customers through OfficeSuite(tm) and other cloud-based services Cloud Services Available Nationwide Dense Northeast & Mid-Atlantic Footprint Regional Player with Cloud Services to Address Customers Nationwide 4 (1) As per 2010 Altman Vilandrie & Co. study.
---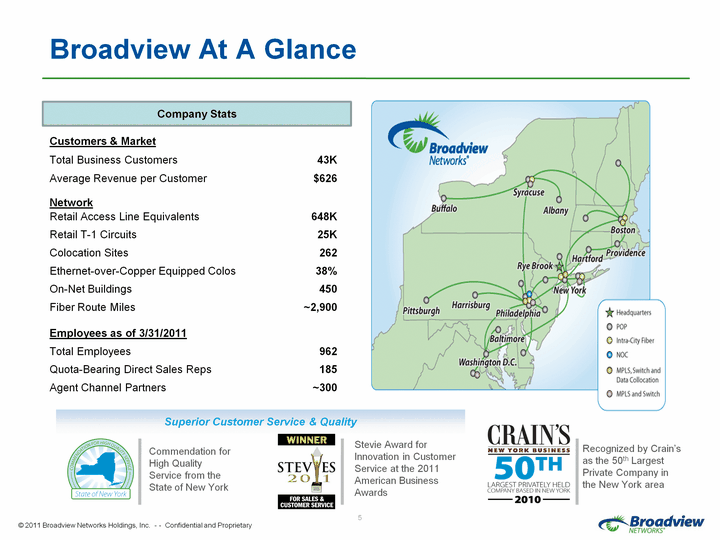 Broadview At A Glance 5 Customers & Market Total Business Customers 43K Average Revenue per Customer $626 Network Retail Access Line Equivalents 648K Retail T-1 Circuits 25K Colocation Sites 262 Ethernet-over-Copper Equipped Colos 38% On-Net Buildings 450 Fiber Route Miles ~2,900 Employees as of 3/31/2011 Total Employees 962 Quota-Bearing Direct Sales Reps 185 Agent Channel Partners ~300 Company Stats Commendation for High Quality Service from the State of New York Superior Customer Service & Quality Stevie Award for Innovation in Customer Service at the 2011 American Business Awards Recognized by Crain's as the 50th Largest Private Company in the New York area
---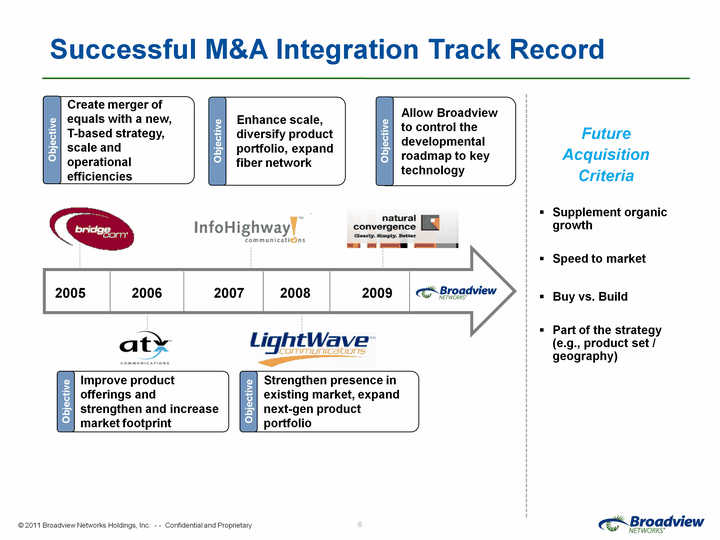 2005 Allow Broadview to control the developmental roadmap to key technology Objective Enhance scale, diversify product portfolio, expand fiber network Objective Create merger of equals with a new, T-based strategy, scale and operational efficiencies Objective 2008 2007 2006 2009 Improve product offerings and strengthen and increase market footprint Objective Strengthen presence in existing market, expand next-gen product portfolio Objective Successful M&A Integration Track Record 6 Future AcquisitionCriteria Supplement organic growthSpeed to marketBuy vs. BuildPart of the strategy (e.g., product set / geography)
---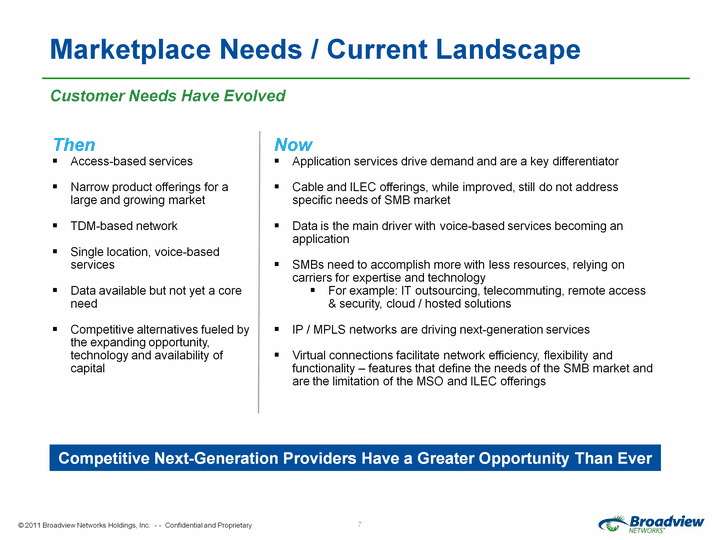 Marketplace Needs / Current Landscape 7 ThenAccess-based servicesNarrow product offerings for a large and growing marketTDM-based networkSingle location, voice-based servicesData available but not yet a core needCompetitive alternatives fueled by the expanding opportunity, technology and availability of capital Now Application services drive demand and are a key differentiator Cable and ILEC offerings, while improved, still do not address specific needs of SMB marketData is the main driver with voice-based services becoming an applicationSMBs need to accomplish more with less resources, relying on carriers for expertise and technologyFor example: IT outsourcing, telecommuting, remote access & security, cloud / hosted solutionsIP / MPLS networks are driving next-generation servicesVirtual connections facilitate network efficiency, flexibility and functionality - features that define the needs of the SMB market and are the limitation of the MSO and ILEC offerings Customer Needs Have Evolved Competitive Next-Generation Providers Have a Greater Opportunity Than Ever
---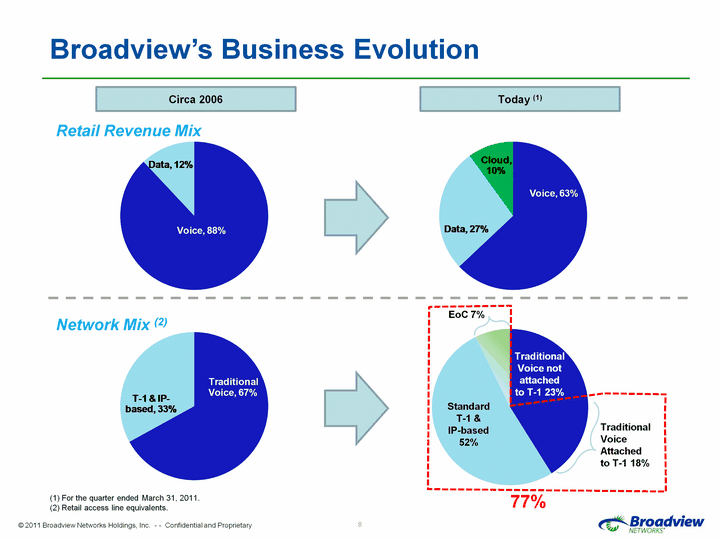 8 Broadview's Business Evolution Retail Revenue Mix Network Mix (2) Traditional Voice Attached to T-1 18% Circa 2006 Today (1) EoC 7% 77% Standard T-1 & IP-based 52% Traditional Voice not attached to T-1 23% (1) For the quarter ended March 31, 2011.(2) Retail access line equivalents.
---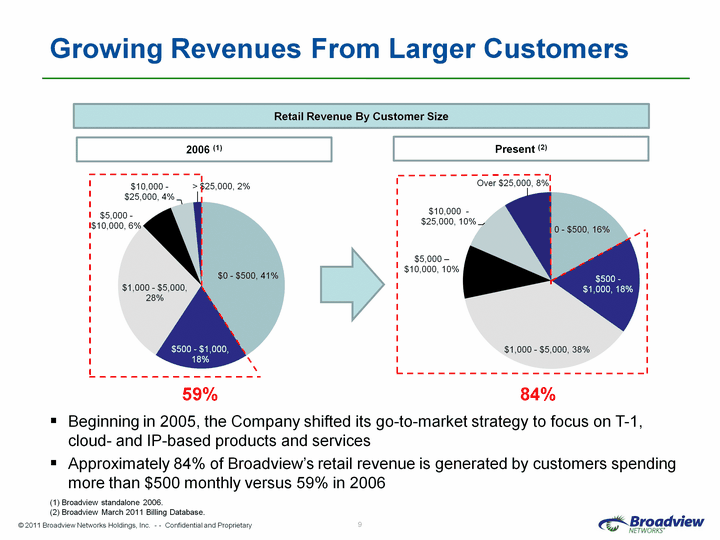 (CHART) (1) Broadview standalone 2006.(2) Broadview March 2011 Billing Database. Beginning in 2005, the Company shifted its go-to-market strategy to focus on T-1, cloud- and IP-based products and servicesApproximately 84% of Broadview's retail revenue is generated by customers spending more than $500 monthly versus 59% in 2006 Growing Revenues From Larger Customers (CHART) Present (2) Retail Revenue By Customer Size 2006 (1) 9 59% 84%
---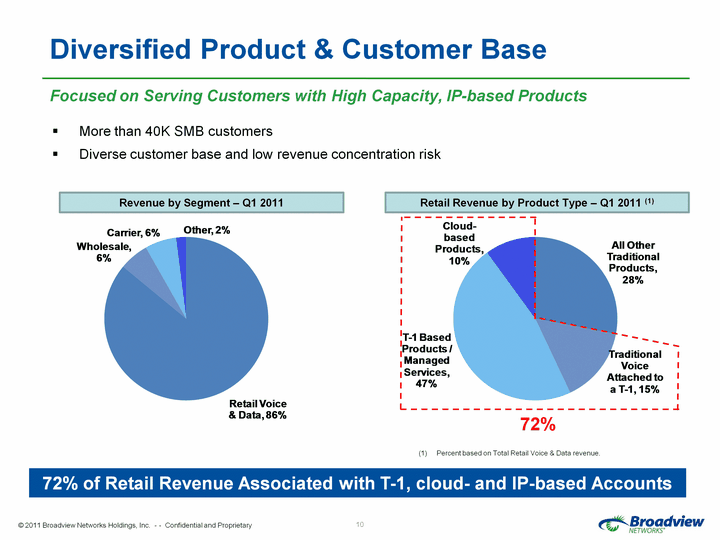 Diversified Product & Customer Base More than 40K SMB customersDiverse customer base and low revenue concentration risk Retail Revenue by Product Type - Q1 2011 (1) Percent based on Total Retail Voice & Data revenue. Focused on Serving Customers with High Capacity, IP-based Products 10 Revenue by Segment - Q1 2011 72% 72% of Retail Revenue Associated with T-1, cloud- and IP-based Accounts
---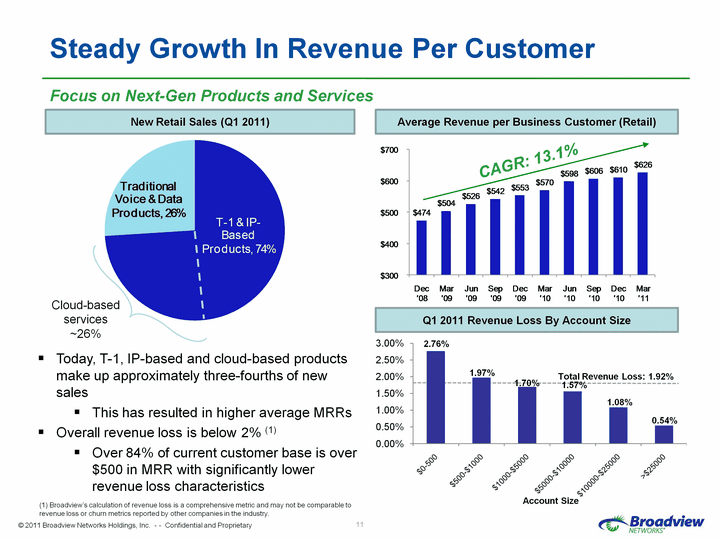 Steady Growth In Revenue Per Customer CAGR: 13.1% Today, T-1, IP-based and cloud-based products make up approximately three-fourths of new salesThis has resulted in higher average MRRsOverall revenue loss is below 2% (1)Over 84% of current customer base is over $500 in MRR with significantly lower revenue loss characteristics Average Revenue per Business Customer (Retail) 11 Focus on Next-Gen Products and Services New Retail Sales (Q1 2011) Cloud-based services~26% (CHART) Total Revenue Loss: 1.92% Q1 2011 Revenue Loss By Account Size (1) Broadview's calculation of revenue loss is a comprehensive metric and may not be comparable to revenue loss or churn metrics reported by other companies in the industry. Account Size
---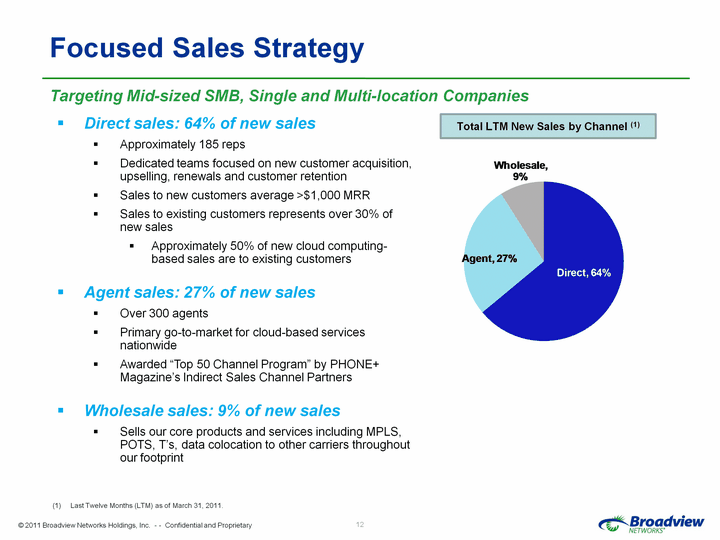 Focused Sales Strategy 12 Direct sales: 64% of new salesApproximately 185 repsDedicated teams focused on new customer acquisition, upselling, renewals and customer retentionSales to new customers average >$1,000 MRRSales to existing customers represents over 30% of new salesApproximately 50% of new cloud computing- based sales are to existing customersAgent sales: 27% of new salesOver 300 agentsPrimary go-to-market for cloud-based services nationwideAwarded "Top 50 Channel Program" by PHONE+ Magazine's Indirect Sales Channel PartnersWholesale sales: 9% of new salesSells our core products and services including MPLS, POTS, T's, data colocation to other carriers throughout our footprint Total LTM New Sales by Channel (1) Targeting Mid-sized SMB, Single and Multi-location Companies Last Twelve Months (LTM) as of March 31, 2011.
---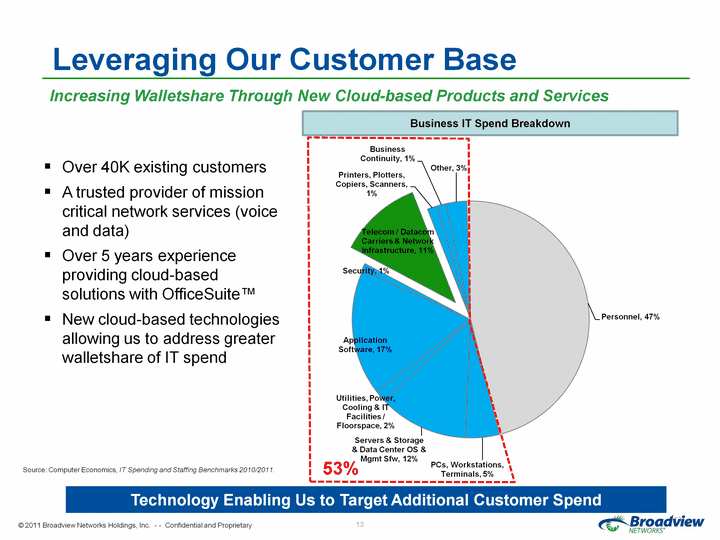 Leveraging Our Customer Base 13 (CHART) Increasing Walletshare Through New Cloud-based Products and Services Technology Enabling Us to Target Additional Customer Spend Over 40K existing customersA trusted provider of mission critical network services (voice and data)Over 5 years experience providing cloud-based solutions with OfficeSuite(tm)New cloud-based technologies allowing us to address greater walletshare of IT spend Source: Computer Economics, IT Spending and Staffing Benchmarks 2010/2011. 13 Business IT Spend Breakdown 48%
---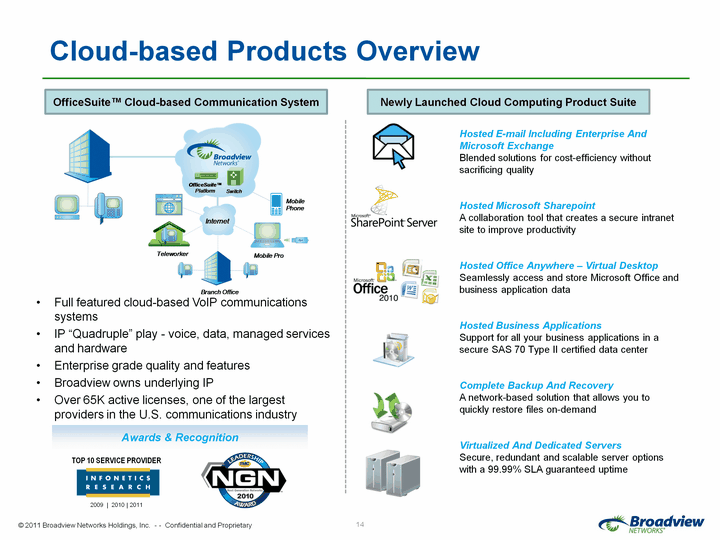 Cloud-based Products Overview 14 Teleworker Branch Office Mobile Phone OfficeSuite(tm)Platform Switch Mobile Pro Internet OfficeSuite(tm) Cloud-based Communication System Full featured cloud-based VoIP communications systemsIP "Quadruple" play - voice, data, managed services and hardwareEnterprise grade quality and featuresBroadview owns underlying IPOver 65K active licenses, one of the largest providers in the U.S. communications industry Hosted E-mail Including Enterprise And Microsoft ExchangeBlended solutions for cost-efficiency without sacrificing qualityHosted Microsoft SharepointA collaboration tool that creates a secure intranet site to improve productivityHosted Office Anywhere - Virtual DesktopSeamlessly access and store Microsoft Office and business application dataHosted Business ApplicationsSupport for all your business applications in a secure SAS 70 Type II certified data centerComplete Backup And RecoveryA network-based solution that allows you to quickly restore files on-demandVirtualized And Dedicated ServersSecure, redundant and scalable server options with a 99.99% SLA guaranteed uptime Newly Launched Cloud Computing Product Suite TOP 10 SERVICE PROVIDER2009 | 2010 | 2011 Awards & Recognition
---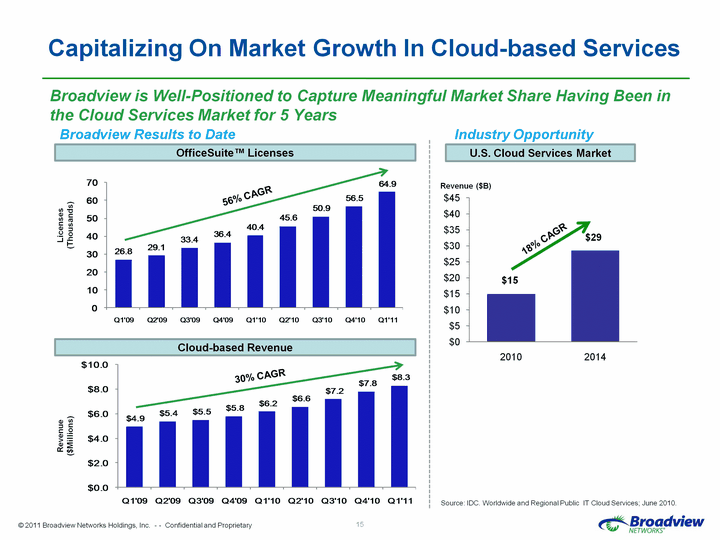 Capitalizing On Market Growth In Cloud-based Services (CHART) 18% CAGR Broadview is Well-Positioned to Capture Meaningful Market Share Having Been in the Cloud Services Market for 5 Years U.S. Cloud Services Market Revenue ($B) 15 Source: IDC. Worldwide and Regional Public IT Cloud Services; June 2010. Revenue ($Millions) Cloud-based Revenue Broadview Results to Date Industry Opportunity 30% CAGR 56% CAGR Licenses (Thousands) OfficeSuite(tm) Licenses
---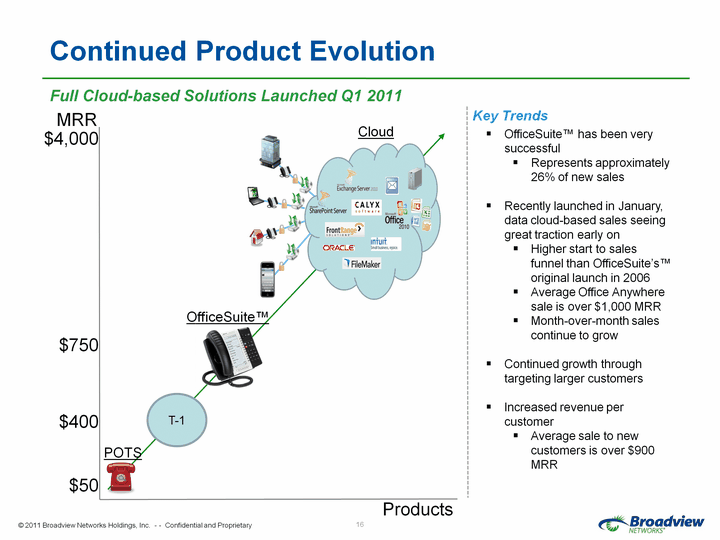 Continued Product Evolution Key Trends OfficeSuite(tm) has been very successful Represents approximately 26% of new salesRecently launched in January, data cloud-based sales seeing great traction early onHigher start to sales funnel than OfficeSuite's(tm) original launch in 2006Average Office Anywhere sale is over $1,000 MRRMonth-over-month sales continue to growContinued growth through targeting larger customersIncreased revenue per customerAverage sale to new customers is over $900 MRR $400 $750 $4,000 Products T-1 OfficeSuite(tm) 16 MRR Cloud $50 Traditional & T-1 Based Offerings Dedicated & switched accessDedicated Internet accessEthernet networkingMPLS networkingDynamic IP integrated voice & data Local, regional and long distanceConferencingToll-free Full Cloud-based Solutions Launched Q1 2011 POTS
---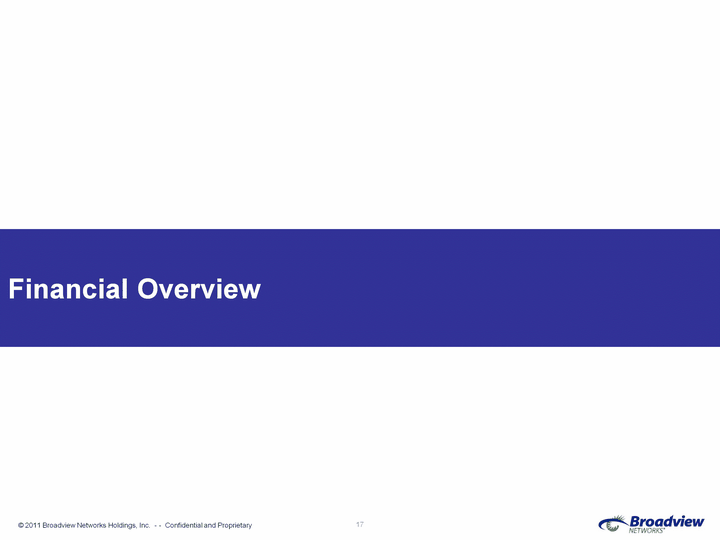 ---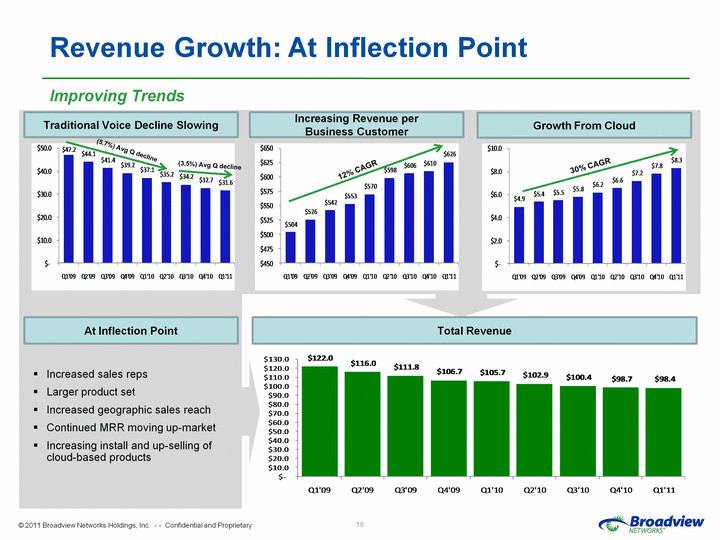 Revenue Growth: At Inflection Point 18 Improving Trends Traditional Voice Decline Slowing Increasing Revenue per Business Customer Growth From Cloud Total Revenue (3.5%) Avg Q decline 30% CAGR 12% CAGR At Inflection Point Increased sales repsLarger product setIncreased geographic sales reachContinued MRR moving up-market Increasing install and up-selling of cloud-based products (5.7%) Avg Q decline
---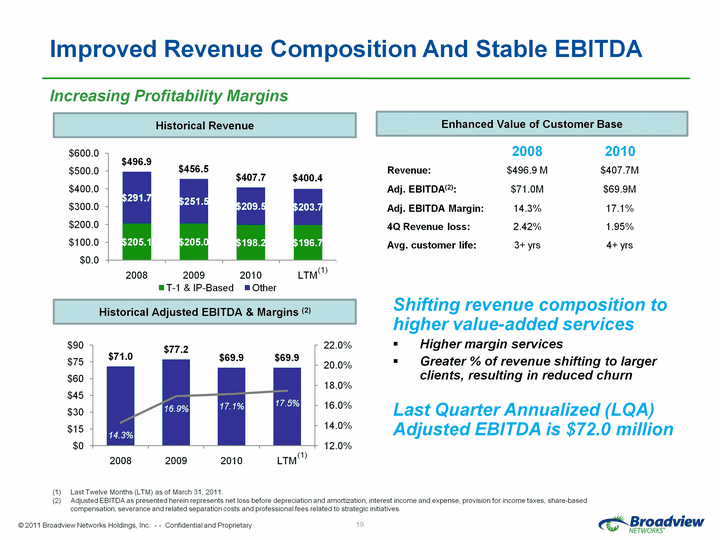 (CHART) Improved Revenue Composition And Stable EBITDA 19 Historical Adjusted EBITDA & Margins (2) Historical Revenue (CHART) $496.9 $456.5 $407.7 2008 2010 Adj. EBITDA(2): Adj. EBITDA Margin: 4Q Revenue loss: $71.0M 14.3% 2.42% $69.9M 17.1% 1.95% Enhanced Value of Customer Base Revenue: $496.9 M $407.7M Avg. customer life: 3+ yrs 4+ yrs Shifting revenue composition to higher value-added services Higher margin servicesGreater % of revenue shifting to larger clients, resulting in reduced churnLast Quarter Annualized (LQA) Adjusted EBITDA is $72.0 million Increasing Profitability Margins Last Twelve Months (LTM) as of March 31, 2011.Adjusted EBITDA as presented herein represents net loss before depreciation and amortization, interest income and expense, provision for income taxes, share-based compensation, severance and related separation costs and professional fees related to strategic initiatives. $400.4 (1) (1)
---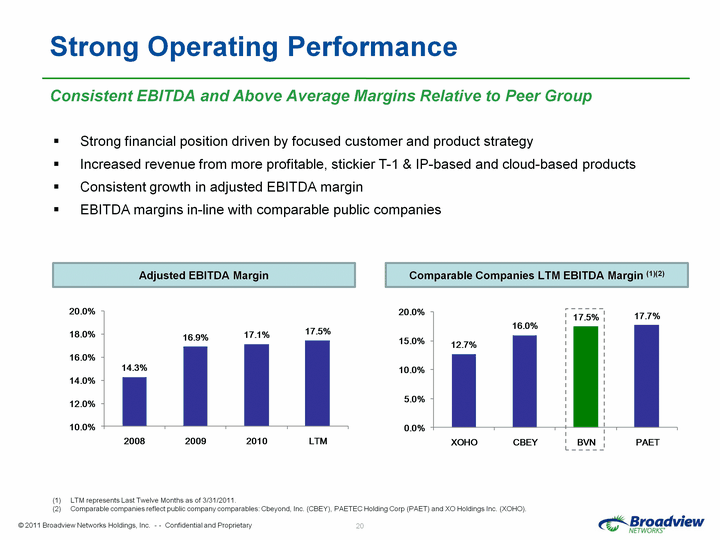 Strong Operating Performance Strong financial position driven by focused customer and product strategy Increased revenue from more profitable, stickier T-1 & IP-based and cloud-based productsConsistent growth in adjusted EBITDA marginEBITDA margins in-line with comparable public companies Comparable Companies LTM EBITDA Margin (1)(2) LTM represents Last Twelve Months as of 3/31/2011.Comparable companies reflect public company comparables: Cbeyond, Inc. (CBEY), PAETEC Holding Corp (PAET) and XO Holdings Inc. (XOHO). Consistent EBITDA and Above Average Margins Relative to Peer Group Adjusted EBITDA Margin 20
---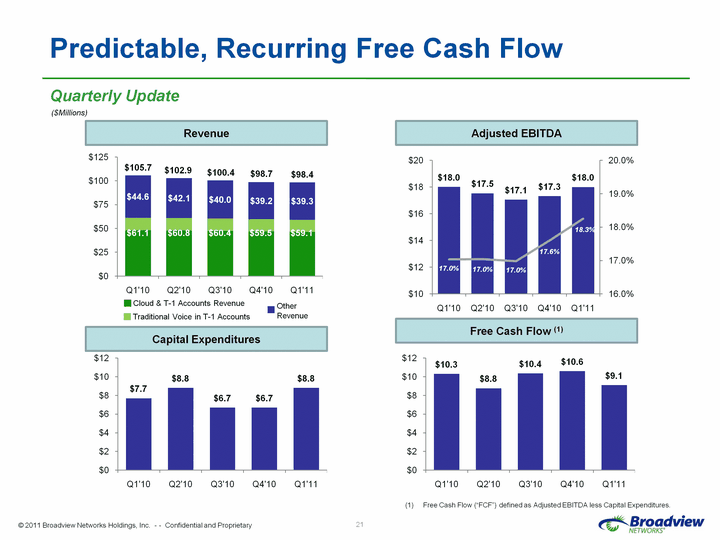 Predictable, Recurring Free Cash Flow 21 Quarterly Update Free Cash Flow ("FCF") defined as Adjusted EBITDA less Capital Expenditures. Capital Expenditures ($Millions) Revenue Adjusted EBITDA Free Cash Flow (1) (CHART) (CHART) (CHART) $105.7 $102.9 $100.4 $98.7 $98.4 Other Revenue Traditional Voice in T-1 Accounts Cloud & T-1 Accounts Revenue (CHART) $61.1 $60.8 $60.4 $59.5 $59.1
---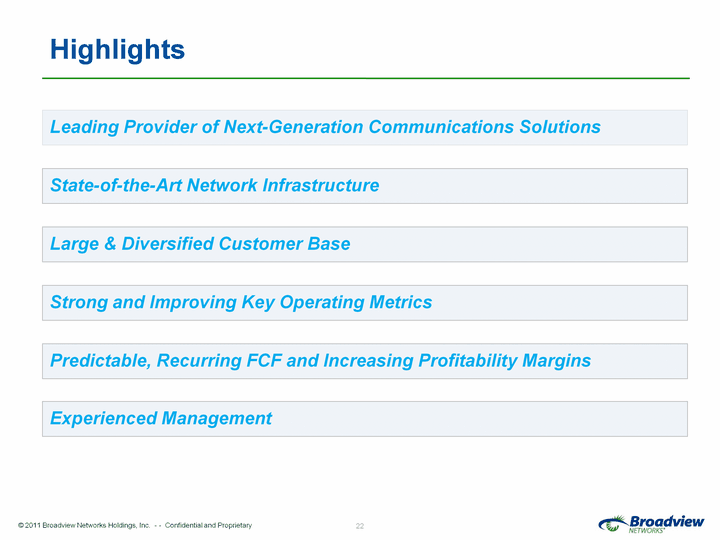 Highlights Leading Provider of Next-Generation Communications Solutions 22 Large & Diversified Customer Base Predictable, Recurring FCF and Increasing Profitability Margins State-of-the-Art Network Infrastructure Strong and Improving Key Operating Metrics Experienced Management
---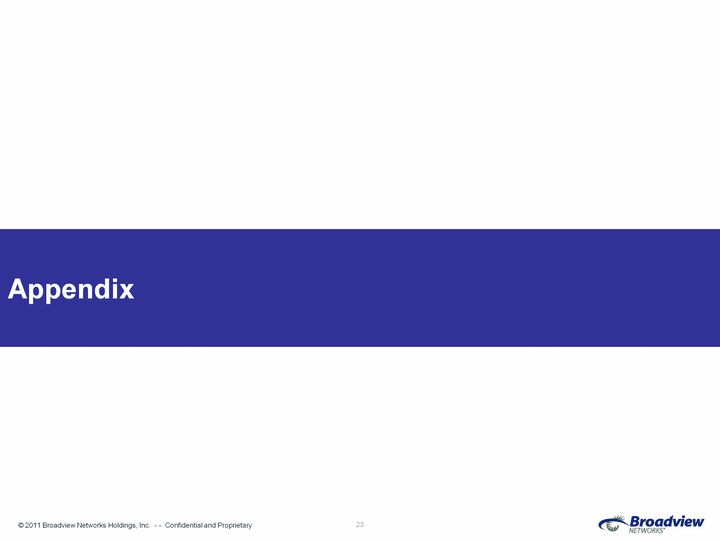 ---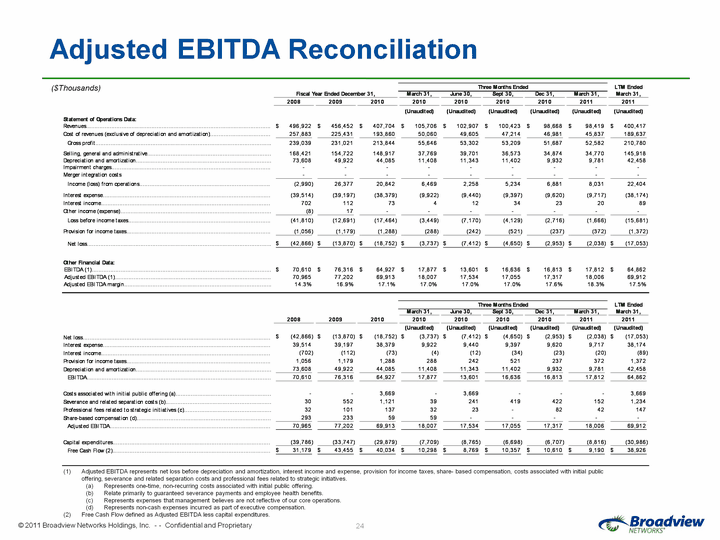 Adjusted EBITDA Reconciliation 24 Adjusted EBITDA represents net loss before depreciation and amortization, interest income and expense, provision for income taxes, share- based compensation, costs associated with initial public offering, severance and related separation costs and professional fees related to strategic initiatives. (a) Represents one-time, non-recurring costs associated with initial public offering.(b) Relate primarily to guaranteed severance payments and employee health benefits.(c) Represents expenses that management believes are not reflective of our core operations.(d) Represents non-cash expenses incurred as part of executive compensation. ($Thousands)