Attached files

April 9, 2010
Dear G REIT Liquidating Trust Beneficiary:
I write regarding your beneficial interest in G REIT Liquidating Trust. We recently filed our Annual Report on Form 10-K for the year ended December 31, 2009 with the U.S. Securities and Exchange Commission, a copy of which is enclosed.
As you know, G REIT Liquidating Trust was formed on January 22, 2008 pursuant to the plan of liquidation of G REIT, Inc. which was approved by its stockholders on February 27, 2006. Through December 31, 2009, G REIT Liquidating Trust, and previously G REIT, Inc., has successfully disposed of the majority of its assets and distributed net proceeds totaling approximately $393,223,000 to our beneficiaries. We continue to pursue the plan of liquidation, and expect to pay future cash distributions totaling approximately $40,509,000, or $0.92 per unit, although this is only an estimate and we can offer no assurance that the actual amount of distributions will not differ materially.
Of course, we are currently operating in the midst of a severe economic recession that has directly impacted the performance and value of commercial real estate. According to Moody's /REAL Commercial Property Price Indices, commercial real estate properties across the nation have declined in value by 40.2 percent since the market's peak in October 2007. Additionally, the constrained credit environment has significantly slowed transactions, further complicating the liquidation process. The impact of the economic decline could reduce the estimated sales values of our remaining assets, or result in our inability to meet our liquidation timeline. Nevertheless, significant progress has been made, and we continue to pursue the highest possible sales values for our remaining assets, while maintaining current value and income from these properties.
In 2009, G REIT Liquidating Trust did not sell any assets as the market was highly unfavorable and we believed it was not in the best interest of our beneficiaries to liquidate assets in such an environment. On March 26, 2010, however, we entered into a purchase and sale agreement with an unaffiliated third party for the sale of one of our assets, Pacific Place in Dallas, Texas for $5,300,000. We expect this sale to be completed during the second quarter of 2010. We also continue to actively market our three remaining assets and expect to complete our plan of liquidation by March 31, 2011.
Further details regarding the performance of G REIT Liquidating Trust can be found in the enclosed annual report. We appreciate your confidence in us as we continue to pursue the liquidation of G REIT on your behalf. Should you have any questions, please feel free to contact Investor Services at 877-888-7348.
Kind regards,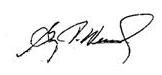 Gary T. Wescombe
Chairman of the Trustees
FORWARD-LOOKING STATEMENTS:
This letter contains certain forward-looking statements (under Section 27A of the Securities Act of 1933, as amended, and Section 21E of the Securities Exchange Act of 1934, as amended) with respect to G REIT Liquidating Trust being able to dispose of its remaining properties and complete the plan of liquidation within the anticipated timeframe and its ability to pay future cash distributions to its beneficiaries. Because such statements include risks, uncertainties and contingencies, actual results may differ materially from those expressed or implied by such forward-looking statements. These risks, uncertainties and contingencies include, but are not limited to, the following: These risks, uncertainties and contingencies include, but are not limited to, the following: our ability to successfully market for sale our four remaining properties, generate proceeds from the sale of our properties to pay cash distributions to our beneficiaries, the effect of the economic recession on commercial real estate, the effect of the constrained credit market on potential buyers of our properties and other risk factors as outlined in G REIT, Inc.'s plan of liquidation contained within its definitive proxy statement filed January 13, 2006, and as further detailed from time to time in our periodic reports, as filed with the U.S. Securities and Exchange Commission. Forward-looking statements in this letter speak only as of the date on which such statements were made, and we undertake no obligation to update any such statements that may become untrue because of subsequent events. We claim the safe harbor protection for forward-looking statements contained in the Private Securities Litigation Reform Act of 1995.