Attached files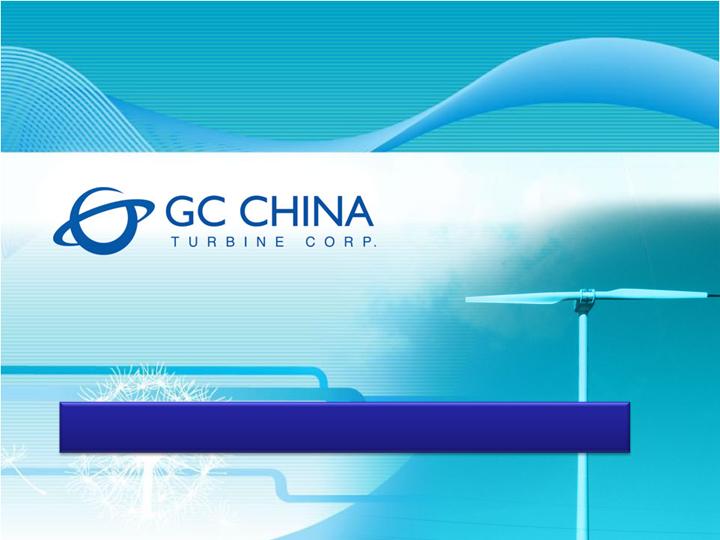 Corporate Presentation
OTCBB:GCHT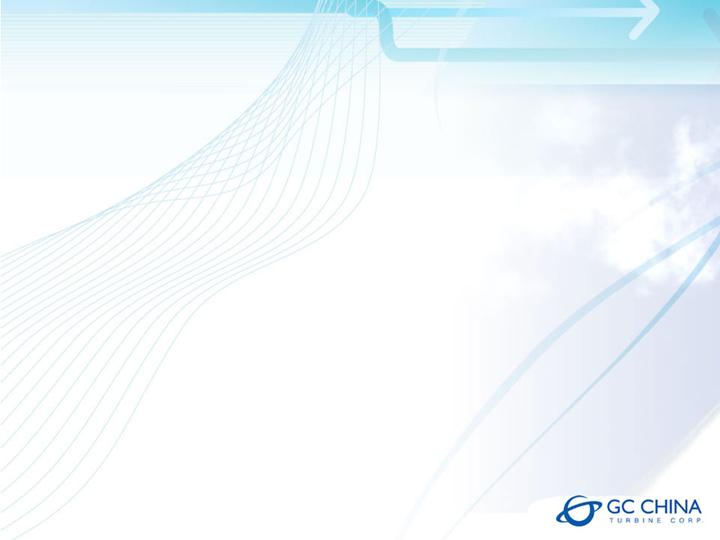 Legal
Forward Looking Statements
This January 14, 2010 Corporate Presentation includes forward-looking information regarding GC China
Turbine Corp. and its subsidiaries that is intended to be covered by the safe harbor "forward-looking
statements" provided by the Private Securities Litigation Reform Act of 1995. Statements that are
predictive in nature, that depend upon or refer to future events or conditions, or that include words such
as "will", "would", "should", "plans", "likely", "expects", "anticipates", "intends", "believes", "estimates",
"thinks", "may", and similar expressions, are forward-looking statements. Statements that are not
historical facts are also forward looking statements. Although the Company believes that its expectations
are based on reasonable assumptions, there are risks, uncertainties and other factors that could cause
actual results to be materially different from those in the forward-looking statements. These factors
include, among other things: our limited operating history and inability to predict future operations with
any certainty, the ability to timely complete vendor agreements, construction and build out of
infrastructure, lengthy sales cycles, labor costs, political environment, cash flow estimates, future
financial performance, planned capital expenditures, market conditions, uncertainties inherent in wind
energy generation, unexpected future capital expenditures, accuracy of test results, and other normal
business risks.
The foregoing factors do not constitute an exhaustive list of factors that could cause actual results to
differ materially from those anticipated in forward-looking statements, and should be read in conjunction
with the other cautionary statements and risk factors included in the Company's Current Report on Form
8-K filed with the Securities and Exchange Commission on November 5, 2009 and other cautionary
statements described in our reports filed with the Securities and Exchange Commission. The Company
undertakes no obligation to publicly update any forward-looking statements for any reason, even if new
information becomes available or other events occur in the future. The Company cautions readers not to
place undue reliance on those statements. The Corporate Presentation does not constitute an offer to
sell or solicitation of an offer to buy securities of the Company.
2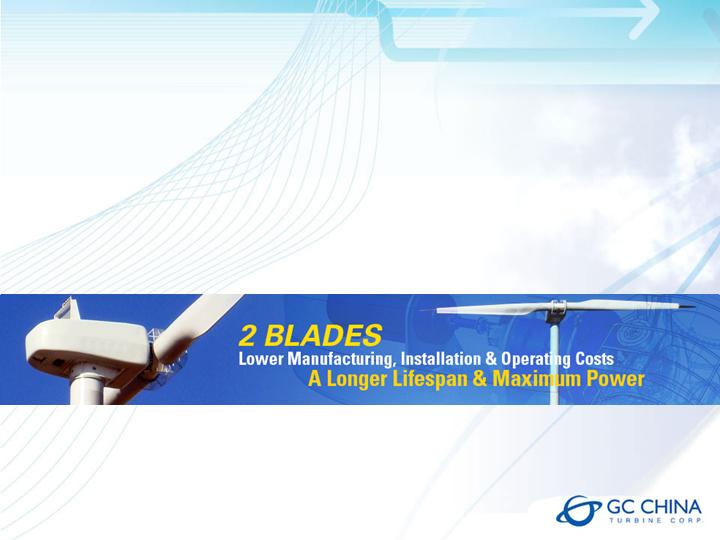 GC China Turbines Inc.
Manufactures state-of-the-art twin blade wind turbines
and development systems aimed at delivering economics
comparable to traditional electrical generation systems.
3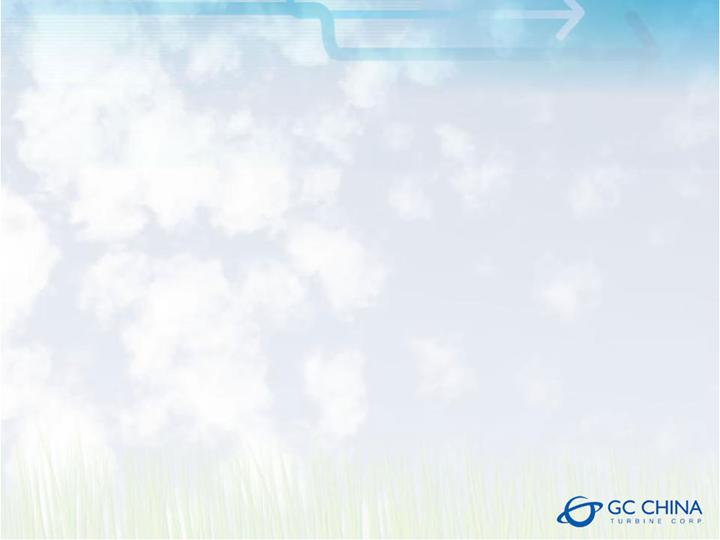 Company Overview
The Leader in Cost Effective
Megawatt Class Wind Energy Turbines
Existing Manufacturing, Sales and Distribution Capability
GC China Turbines is associated with Wuhan Guoce Sci & Tech Co., Ltd. (established
1993) Which offers direct access to previously developed, well established vertical
markets across China. GC China Turbines has 135 million in sales currently in pipeline.
Licensed proprietary game-changing technology
Technology based on 10 year, 75 million dollar R&D investment by the Government of
Sweden
A Sound Operation
A venture of Wuhan Guoce Nordic New Energy Co. Ltd., an arm of the highly
regarded, well established and successful multi-division Wuhan Guoce Group of
Companies.
4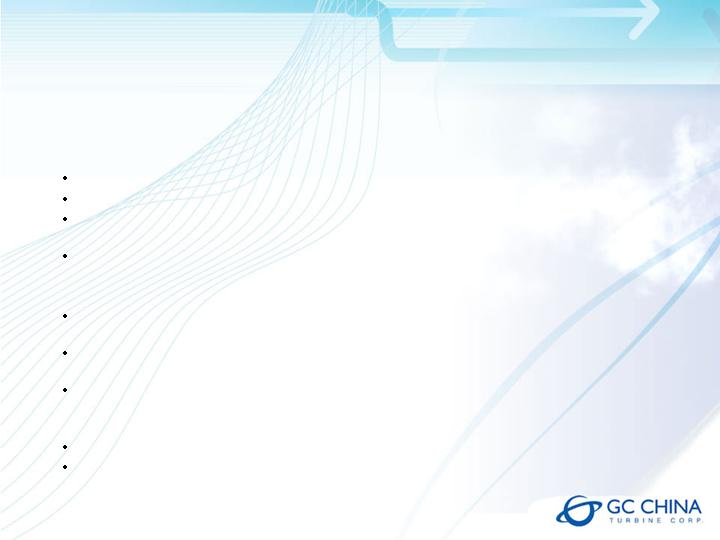 Investment Highlights
An established team with a proven track record
and immediate access to the massive Chinese market
Market
Large and growing wind turbine market in China's energy hungry economy
The government is driven to source alternative clean energy solutions - quickly
$47B in 2008 growing to $100B in five years — 1 MW class wind turbines exceed
5,000 MW/year and $7.5 billion in sales
Chinese Government constantly developing new incentives for large producers
Company
Experienced management team with demonstrated expertise in large scale
manufacturing of complex systems and a robust, established parent organization
Extremely competitive proprietary technology on a cost of energy ($/kWh) and cost
of installation ($/kW) basis
Growing sales ($135 million) and customer prospects for 2010 and 2011 revenues
Financial
2009 - First Profitable year!
Projecting $500 million in annual sales by 2012
5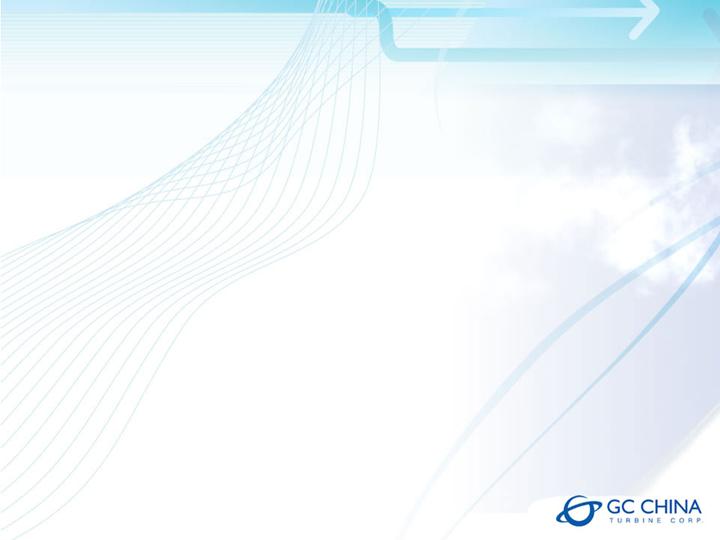 Management
6
Hou Tiexin, Chairman & CEO
Beginning in 1982-2001, Hou Tiexin served with the Power Research Institute, State Grid Corporation as a senior
engineer at professor-level, head of research offices and office of scientific research. He published a number of
dissertations during this period and was awarded a number of scientific progress awards and patents. From 2001-
2008, he served as the Chairman and General Manager of Wuhan Guoce Sci & Tech Co., Ltd.
Qi Na, CEO & Director
Ms. Qi Na has been General Manger of Wuhan Guoce Nordic New Energy Corp. since 2006. From 2004, she was
General Manager of Wuhan Guoce Power Investment Corp. as well as Vice General Manager of Wuhan Guoce
Science & Tech Corp. Ms. Qi obtained a Bachelor of Engineering degree specializing in Marine Power Plants from
Shanghai Jiaotong University in 1978.
Zhao Ying, CFO
Zhao Ying holds a Masters degree in law and economics. She previously served with Wuhan Guoce Sci & Tech Co.,
Ltd. for 9 years during which time she raised approximately 100 million Yuan for the company.
Tomas Lyrner, CTO
Mr. Lyrner is a Swedish wind power technology expert with over thirty years in R & D, design, production and
assembly of wind turbines. He was fully involved in the design and development of the original wind turbine
prototypes. These units were developed under the auspices of the Royal Swedish Fund and are installed in Sweden.
A 3.0MW 2-blade wind turbine designed by Mr. Lyrner has been in operation for more than 100,000 hours thereby
achieving the electricity generation world record for a single wind turbine structure.
Preben Maegaard, Consultant
Preben Maegaard of Denmark is a Former Chairman of the World Wind Energy Association, and since 1999 is a
Director of EREF, the European Renewable Energy Federation. Since 2001 he has been the President of the World Wind
Energy Association, WWEA.
Marcus Laun, Non-Executive Director
Mr. Laun is currently a senior banker at Wynston Hill Capital, LLC where he is responsible for all aspects of capital
raising and advisory engagements for micro- and small-cap ventures. From 2004 through 2008, Mr. Laun held various
senior positions at Knight Capital Group. Mr. Laun received a Masters' in Business Administration degree from
Columbia Business School and received a Bachelor of Science degree from Cornell University.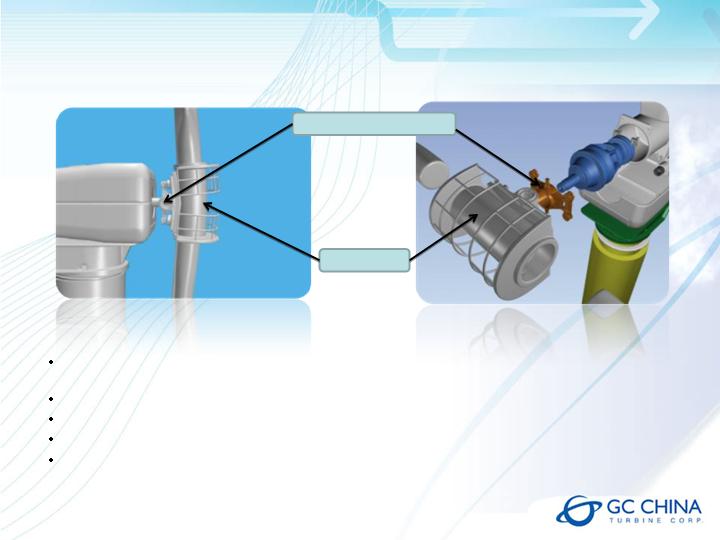 Key Technology
7
Flexible Hub
Load Absorbing Mounts
Exploded view of proprietary moving hub
and vibration damping system
The design is a patented, integrated system designed to minimize potentially damaging
vibrations
Flexible "moving-hub" avoids transferring most shock loads to the gearbox
Management and design of the control system is key
Uses automated blade sensors & controls. Constant feedback ensures highest efficiency
The technology offers a new approach and significant opportunities for large scale wind
farms including remote onshore and offshore installations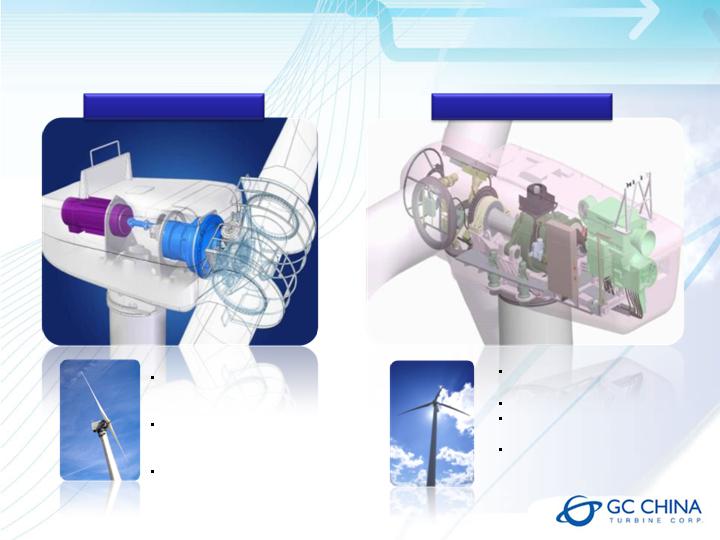 Product Differentiation
2-Bladed Turbine
3-Bladed Turbine
Simplified Internal
Mechanism and
Structure
Load shedding, "flexible"
design reduces stress
and impact loads
Lower loads, less weight,
less cost
Complicated Internal
Mechanism and Structure
Rigid & Massive
Much higher failure rate and
higher operational costs
Difficult to erect in many
locations
8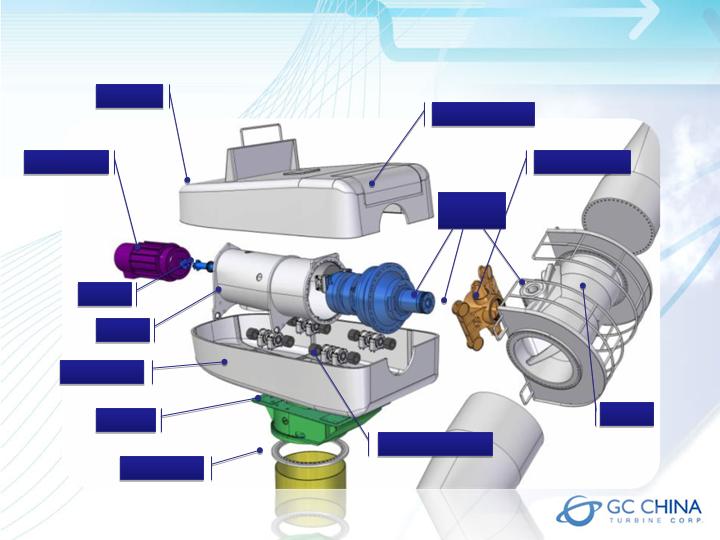 Simple Design when compared
to 3-Blade
Generator
Top access
Stand
Chassis
Lower access
Coupling
Yaw bearing
Main gearbox
Hubsupports
Flexible
Hub
Elastic support
Load
Absorbing
Mounts
Exploded internal structure of GC China 1MW
2-blade wind turbine
9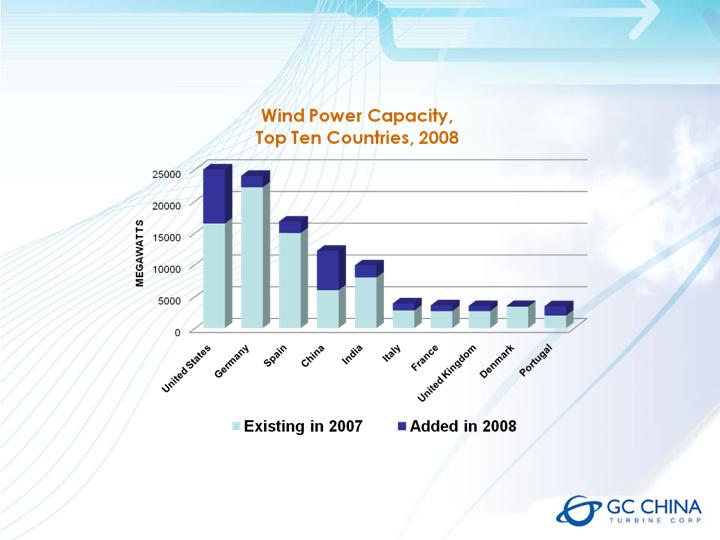 Global Market Positioning
China will soon possess the
largest wind generation capacity worldwide
10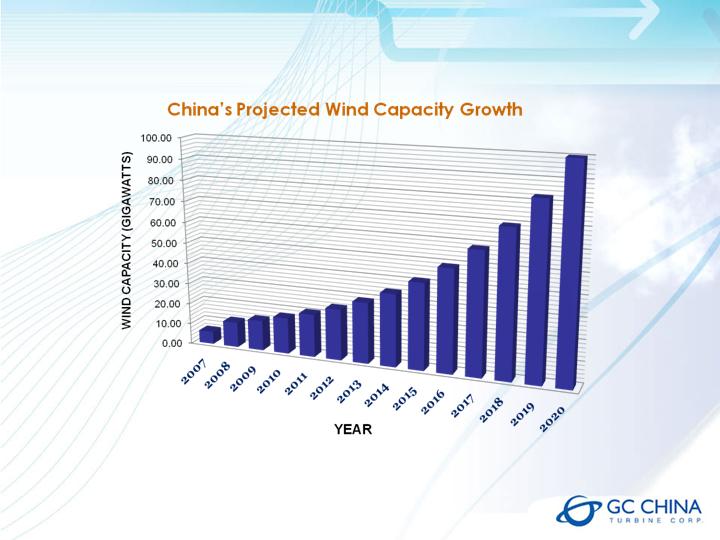 Market Growth
GC China Turbines is well positioned to capture
this government mandated growth
11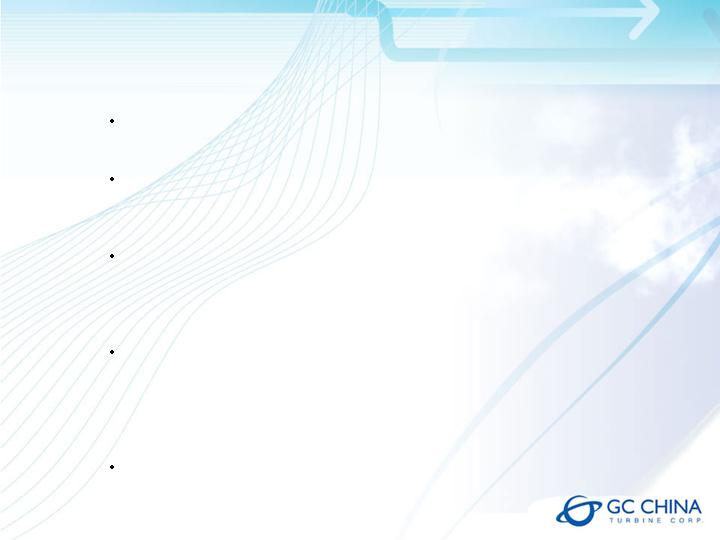 China's Wind Initiatives Likely to Benefit
Chinese Companies most
Government Stimulus funds are being allocated to Chinese
Companies
"Foreign Makers of wind turbines complain that they have been
shut out of bidding for a $5 billion stimulus financed power plant"
– AP 6/18/09
GE has pulled out of the bidding process for expansion of the
Jiangsu Wind Farm – believing that it can't compete against the
Chinese incumbents – Reuters "Foreigners swept aside as wind
power blows through China" 6/4/09
Foreign Manufacturers complain that China's efforts to eliminate
turbines with capacities of less than 1 megawatt is also a form of
restrictive practice that plays into the hands of domestic firms. –
Reuters "Foreigners swept aside as wind power blows through
China" 6/4/09
Ministry of Energy projecting expenditures of $150 billion before
2020
12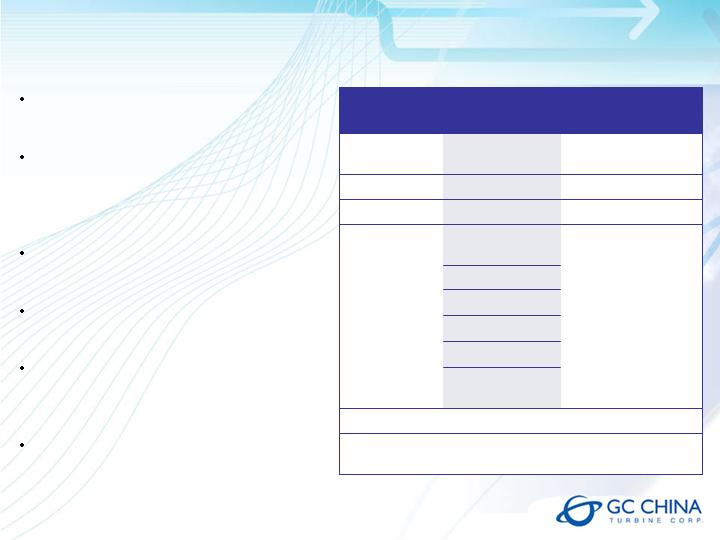 Competitive Advantage Through Design
Cost Differences Between
3-bladed and 2-bladed
2-Bladed
parts
3-Bladed parts
Manufacturing
Cost Saving
2 blades
3 blades
$90,000 USD
Soft tower
Tower
$45,000 USD
No need
Frequency
converter
$200,000 USD
Blade bearing
Main bearing
Variable pitch
Main shaft
Yaw brake
system
Same parts
Total
$335,000 USD
2 blades vs. 3… a lighter, simpler
product
No need for main shaft, main
bearing, pitch bearing – saves
initial costs and fabrication lead
times. Saves on operational costs
No need for mechanical yaw
braking system
Built in blade tip braking system
outperforms anything else
Dedicated electronic sensor and
remote operations systems –
instant feedback & control
Lighter tower, saving materials
and foundation costs – allows for
installation in challenging
environments
13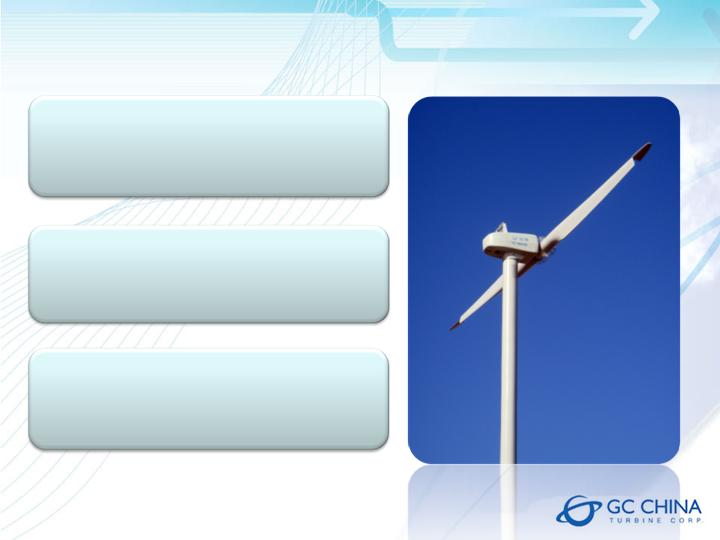 Competitive Advantage Through Quality
Four 1MW turbines have been running in
Sweden continuously for 8-12 years
There were no drive train failures during the
entire timeline
The system has achieved 100,000 hours of
problem-free operation with 97.7% uptime
14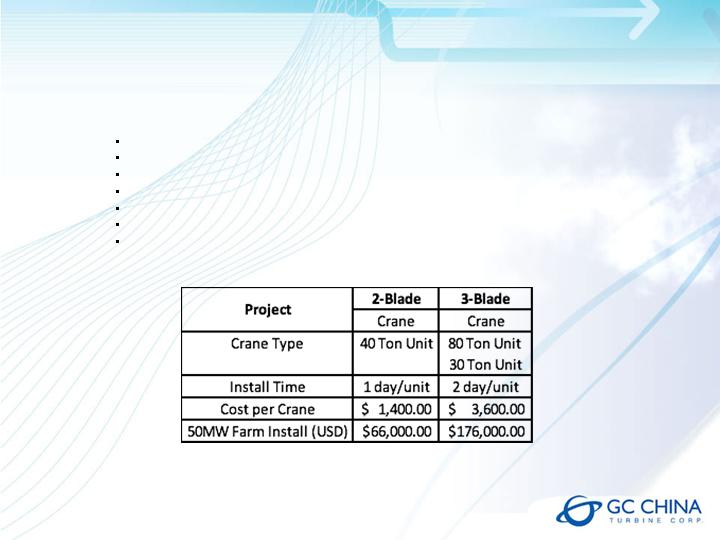 Competitive Advantage
Low Installation Cost
Two bladed installations are faster, simpler, lower risk and safer
On-ground assembly mitigates risk and overall difficulty
Fewer crane picks (3 vs. 5) simplifies scheduling
Use of cheaper 400 T Hydraulic truck-crane - arrives onsite and sets up faster.
Remote rural region non-hydraulic lift system under development.
Lower transportation costs because of fewer trailer loads (4 versus 6)
Installation cost ~ 50% of that for 3-bladed turbines
15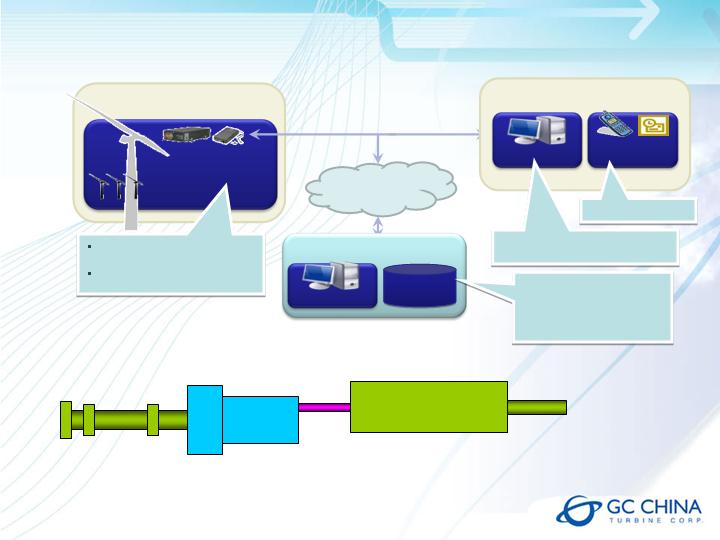 Competitive Advantage
Proprietary Monitoring Technology

Input shaft
Gearbox
Generator
shaft
Generator
1
3
4
5
6
7
2
Wind Farm
Diagnosis & Forecast Data
WT-HUMS auto diagnosis
and result forecast
Status alarm (via SMS or
HSDPA)
Diagnosis center
WW-WT
Database
Diagnosis server
Remote Operator
Ground station
Mobile and email
Internet based wind turbine
management system
Via SMS or Email
Online diagnosis supports,
updates and interprets
wind turbine results
compared to database
WT-HUMS
Representative Detector Locations
Internet / LAN
1
3
4
5
6
7
Front bearing of horizontal input shaft
Rear bearing of input shaft
Planetary system
Output shaft & oil pump
Generator input bearing
Generator output bearing
2
Front bearing of vertical input shaft
16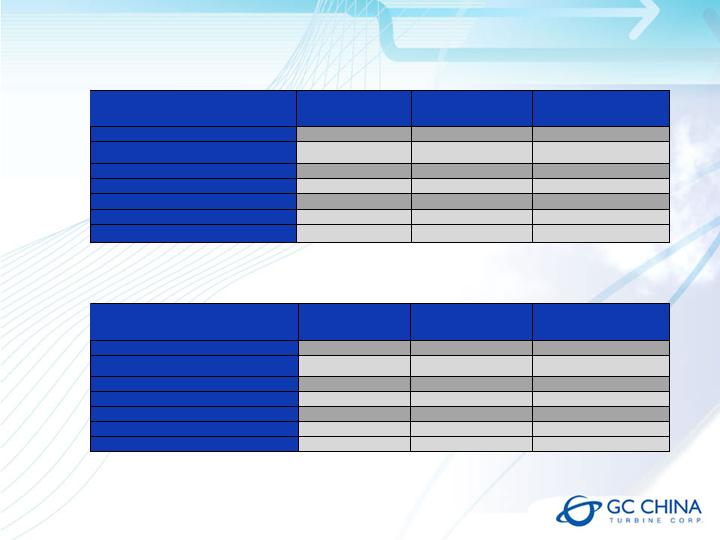 Competitive Comparison
Figure 2: IEC2 wind farm return on investment analysis
Figure 3: IEC3 wind farm return on investment analysis
GC China Turbines generate the quickest payback on investment
Design Capacity:
50×1000Kw for 2-blade wind turbines
33×1500Kw for 3-blade wind turbines
1.0MW 2-blade wind
turbines (imported
components)
1.0MW 2-blade wind
turbines (domestic
components)
1.5MW 3-blade wind turbines
Total Estimated Investment
56,366,834.94
43,933,017.31
65,284,490.05
Per KW
1,127.40
878.60
1,318.85
Return on investment
8.10%
11.15%
7.06%
Return on capital
31.20%
33.49%
24.52%
Pre-tax return on investment
9.38%
12.80%
8.64%
IRR
14.81%
17.31%
14.08%
Payback period (years)
7.2
5.33
7.49
Design Capacity:
50×1000Kw for 2-blade wind turbines
33×1500Kw for 3-blade wind turbines
1.0MW 2-blade wind
turbines (imported
components)
1.0MW 2-blade wind turbines
(domestic components)
1.5MW 3-blade wind turbines
Total Estimated Investment
56,365,372.31
43,933,017.31
65,284,490.05
Per KW
1,127.40
878.60
1,318.85
Return on investment
5.13%
7.26%
4.49%
Return on capital
19.78%
21.80%
15.58%
Pre-tax return on investment
6.40%
8.89%
5.76%
IRR
11.44%
13.51%
10.53%
Payback period (years)
8.56
6.61
9.06
17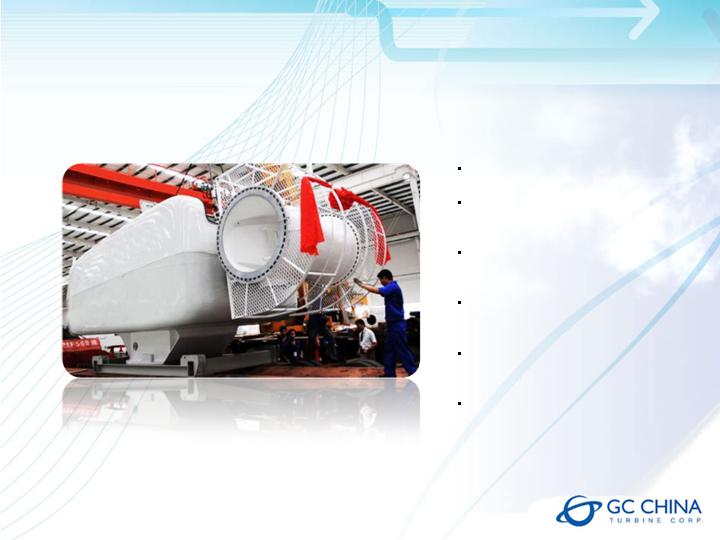 Supply Chain & Quality Control
All key components for 1.0 MW wind turbine are
fabricated locally in China to the highest standards
Efficient working capital
utilization
Quality driven purchasing for
outsourced components: two
suppliers for each part
Independent quality
substantiation offered on all
critical parts
GC China is in close
collaboration with certifying
authorities
Quality plan drives focus on
critical processes and
components
All outsource partners offer
verifiable inventories to ensure
timely logistics
18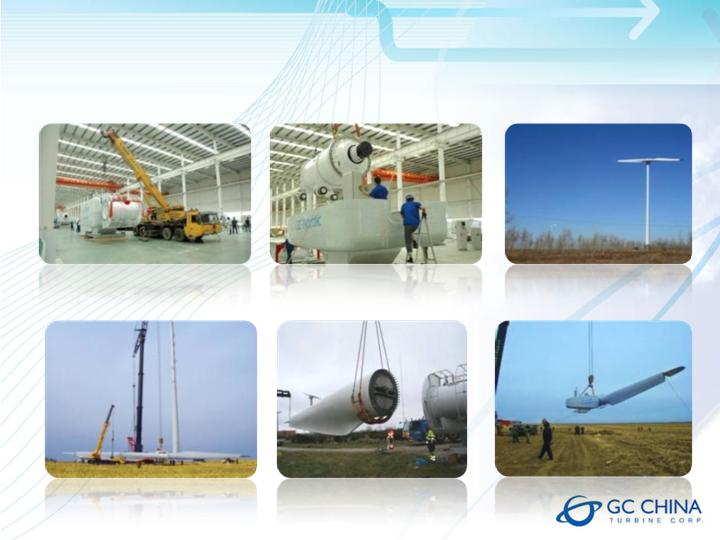 Manufacturing and Installation
The production line for 1.0 MW turbines is operational
19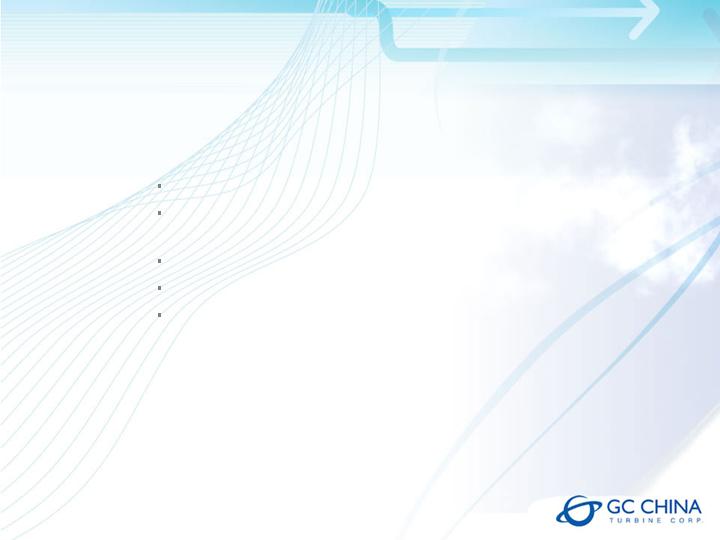 Joint Venture Announced
GC China signs MOU in Jiangsu Province that contemplates:
1 of 3 wind turbine suppliers in Development Zone
Will be the second manufacturing facility owned by GC
China Turbines
Multiple 500mw wind farms planned
Estimated Revenues of $750 million as part of the projects
Development and production of 3.0 MW offshore turbine
20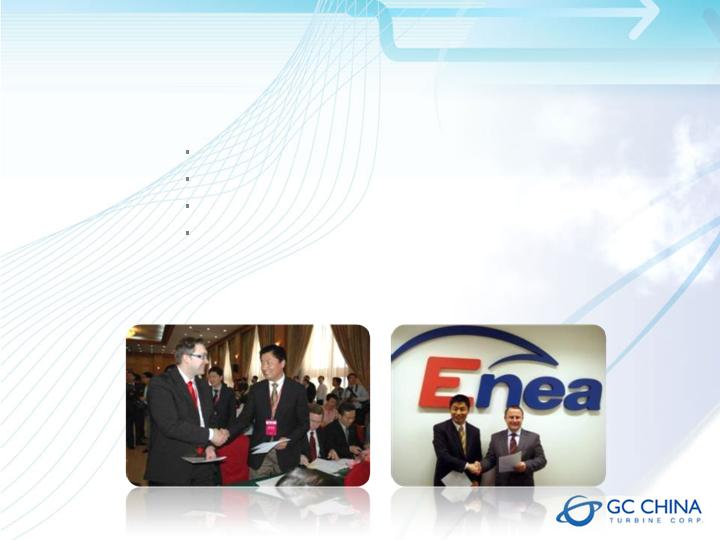 Recent Developments
Recent Capital Raises of $19 million
Successful ramp-up of production
Shenzhen Guohan orders 10 turbines
R&D agreement finalized for facility in Sweden
21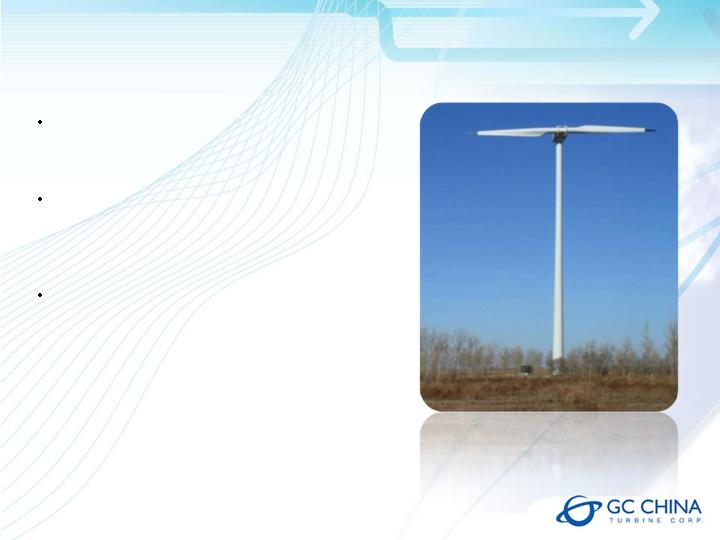 Future Growth
The Company aims to provide wind energy
at a price comparable to traditional
electrical generation projects.
GC China intends to achieve this by
identifying promising technologies and to
further minimize costs by sourcing the
majority or all components from within China.
GC China currently produces a 1.0 MW two-
blade wind turbine. Focusing on the Chinese
market, GC China will penetrate broader
reaches of the Chinese market with the
launch of the more powerful 2.3 and 3.0 MW
2-blade turbines. The 3.0 MW wind turbine is
specifically targeted for offshore applications.
22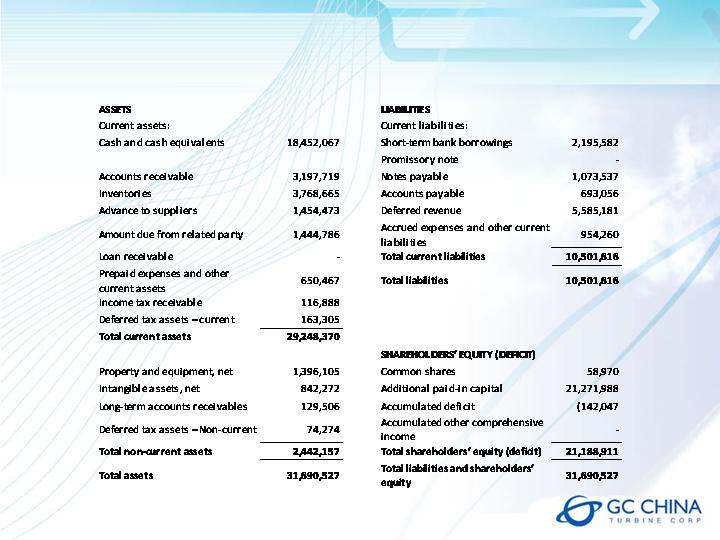 Financial - Balance Sheet
GC China Turbine Corp. - Pro Forma – 11/1/09

23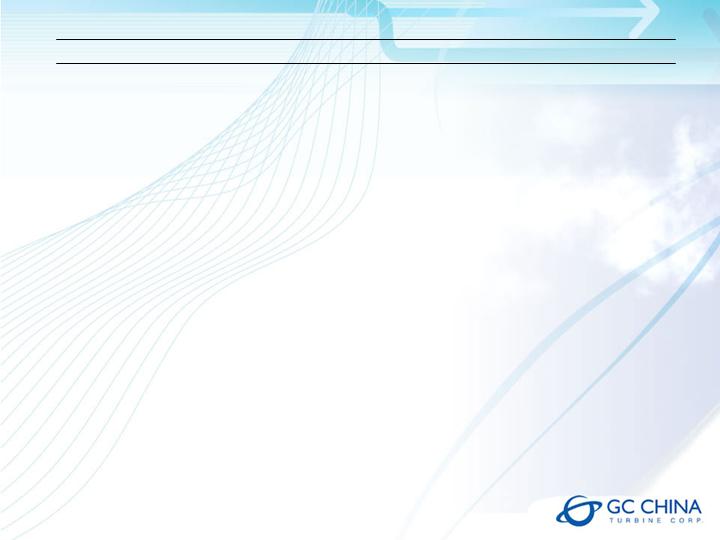 Financial – Income Statement
24
2008 est.
2009*est.
2010 est.
2011 est.
2012 est.
Net Sales
3.06
19.6
87.20
199.48
536.05
Cost of Sales
2.94
15.0
57.45
136.97
365.42
Gross Profit
0.12
4.638
29.75
62.51
170.63
4%
24%
34%
31%
32%
Operating Expense:
selling and marketing expenses
0.06
-
1.02
2.33
6.27
Research and development expenses
0.09
-
-
-
-
General and administrative expenses
0.4
1.45
9.18
19.67
45.89
Total operating expenses
0.55
1.92
10.20
22.00
52.16
Gain(loss)from operations
-0.43
2.72
19.54
40.51
118.47
-14%
14%
22%
20%
22%
Interest expense
0.11
-
-
-
-
Interest income
0.001
-
0.04
0.09
0.22
Gain on foreign exchange
0.06
-
-
-
-
other expenses
0.02
-
-
-
-
Earnings(loss before income taxes)
-0.50
2.79
19.59
40.59
118.70
Income Taxes
-0.12
1.29
4.90
10.15
29.67
Net income(loss)
-0.38
1.5
14.69
30.44
89.02
*Figures are unaudited and subject to revision and are subject to the officially audited financial
data issued by Deloitte Touche Tohmatsu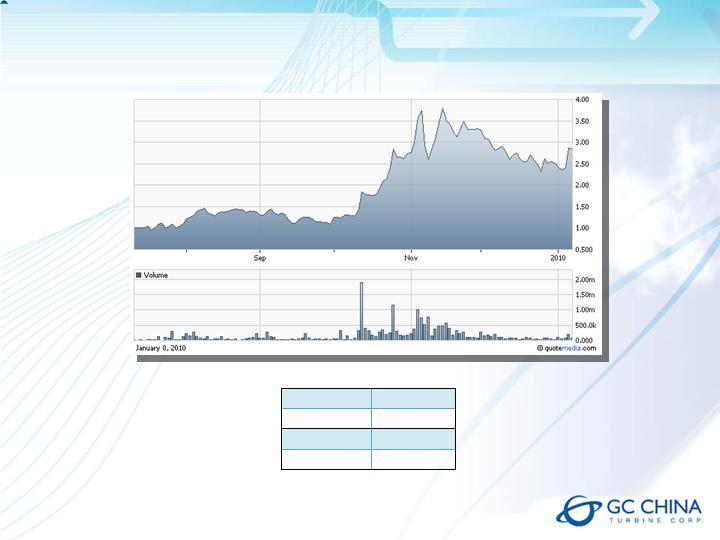 GC China Turbine Corp. - OTCBB: GCHT
25
52 Wk Hi
Avg Volume
4.07
253K (90 day)
Market Cap
Shares
180m
58.97m
GCHT - Recent Trading Activity - $2.89 (01/08/10)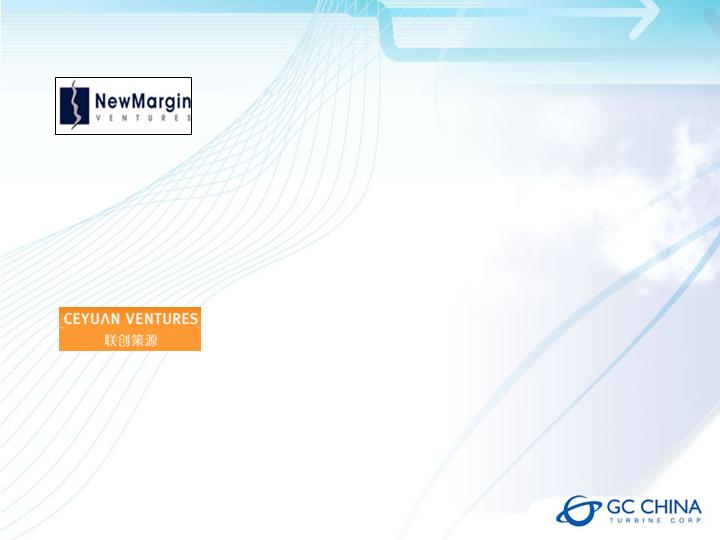 Financial Partners
26
NewMargin Ventures is a leading venture capital management company in
China. The company focuses on industry sectors that they believe will offer
phenomenal growth opportunities in the coming decades. NewMargin's team
consists of seasoned professionals with a combination of deep industry
knowledge and strong investment experience. NewMargin is the first venture
capital management company in China that manages and advises both
domestic and offshore funds.
Ceyuan Ventures is a Beijing-based early stage venture capital firm focused
on IT and emerging growth companies. They emphasize backing great teams,
technology and business innovation. John S. Wadsworth, Jr. is Chairman, Co-
Founder and Special Director. He is also the Honorary Chairman of Morgan
Stanley Asia and an Advisory Director for Morgan Stanley & Co. Incorporated
("Morgan Stanley") globally.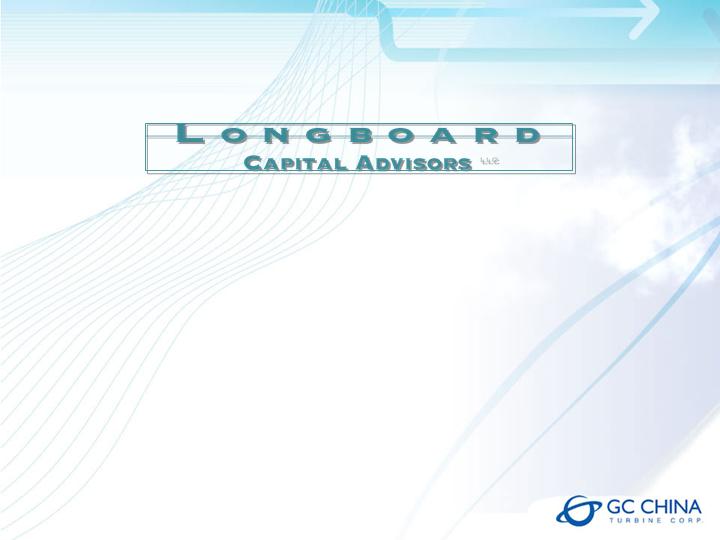 Financial Partners
Lead investors in our recent $8 million PIPE financing, Longboard
Capital Advisors invests in clean energy businesses. Founded in
2006 to help capitalize cleantech companies that address global
warming and security issues head on. Staying ahead of complex
developments in clean technologies and markets provides
Longboard Capital with a global understanding of key issues and
their opportunities.
27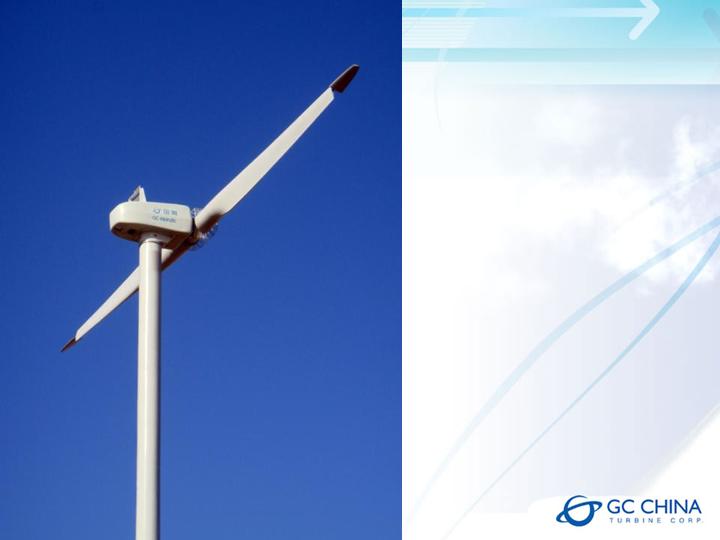 Thank You
GC China Turbine Corp.
No. 86, Nanhu Avenue,
East Lake Development Zone,
Wuhan, Hubei Province 430223
People's Republic of China
1-888-838-8478
info@gccturbine.com
For Investor Relations:
PR Financial Marketing LLC
Jim Blackman, 713-256-0369
jim@prfmonline.com
For Institutional Investors:
PR Financial Marketing LLC
Brian Blackman, 832-515-0928
brian@prfmonline.com
OTCBB; GCHT
28