UNITED STATES
SECURITIES AND EXCHANGE COMMISSION
WASHINGTON, D.C. 20549
FORM 8-K
CURRENT REPORT
Pursuant to Section 13 or 15(d) of the Securities Exchange Act of 1934
Date of Report (Date of Earliest Event Reported): October 22, 2009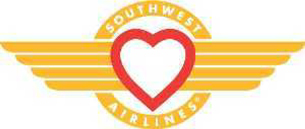 Southwest Airlines Co.
(Exact name of registrant as specified in its charter)
| | | | | |
| --- | --- | --- | --- | --- |
| | | | | |
| Texas | | 1-7259 | | 74-1563240 |
| (State or other jurisdiction | | (Commission | | (I.R.S. Employer |
| of incorporation) | | File Number) | | Identification No.) |
| | | |
| --- | --- | --- |
| | | |
| P. O. Box 36611, Dallas, Texas | | 75235-1611 |
| (Address of principal executive offices) | | (Zip Code) |
Registrant's telephone number, including area code: (214) 792-4000
Not Applicable
Former name or former address, if changed since last report
Check the appropriate box below if the Form 8-K filing is intended to simultaneously satisfy the
filing obligation of the registrant under any of the following provisions:
| | |
| --- | --- |
| ¨ | Written communications pursuant to Rule 425 under the Securities Act |
(17 CFR 230.425)
| | |
| --- | --- |
| ¨ | Soliciting material pursuant to Rule 14a-12 under the Exchange Act (17 |
CFR 240.14a-12)
| | |
| --- | --- |
| ¨ | Pre-commencement communications pursuant to Rule 14d-2(b) under the |
Exchange Act (17 CFR 240.14d-2(b))
| | |
| --- | --- |
| ¨ | Pre-commencement communications pursuant to Rule 13e-4(c) under the |
Exchange Act (17 CFR 240.13e-4(c))
---
| | |
| --- | --- |
| Item 7.01 | Regulation FD Disclosure. |
| | | |
| --- | --- | --- |
| | TO: | ALL CURRENT RECORD HOLDERS AND BENEFICIAL OWNERS OF COMMON STOCK OF SOUTHWEST AIRLINES, CO. ("SOUTHWEST" OR THE "COMPANY") AS OF OCTOBER 9, 2009. PLEASE NOTE THAT THIS ACTION IS NOT A "CLASS ACTION" AND NO INDIVIDUAL SOUTHWEST SHAREHOLDER HAS THE RIGHT TO BE COMPENSATED AS RESULT OF THIS SETTLEMENT |
PLEASE TAKE NOTICE that, as Southwest Airlines Co. has previously disclosed, a derivative action claiming a breach of fiduciary duty was commenced on August 1, 2008, by certain shareholders of the Company against certain directors and officers of the Company, naming the Company as a nominal defendant, and that prior to that several demand letters were sent to the Company by certain shareholders requesting that the Company take such action against certain Southwest directors and officers. The derivative action filed in state district court in Dallas, County, Texas (the "Court"), and styled Carbon County Employee Retirement System and Mark Cristello, Derivatively on Behalf of Nominal Defendant Southwest Airlines Co. v. Gary C. Kelly, Colleen C. Barrett, Barry Brown, Gregory N. Crum, Jim Sokol, Michael G. Van De Ven, David Biegler, Louis Caldera, C. Webb Crockett, William H. Cunningham, Travis Johnson, Herbert D. Kelleher, Nancy Loeffler and John T. Monford, No. 08-08692 (this action and the demand letters are referred to herein as the "Derivative Action") is being settled. The terms of the proposed settlement of the Derivative Action (the "Settlement") are set forth in a Stipulation of Settlement dated October 9, 2009 (the "Stipulation"). This notice should be read in conjunction with, and is qualified in its entirety by reference to, the text of the Stipulation, which has been filed with the Court. A copy of the Stipulation may be obtained from the 44th District Court (Hon. Carlos Cortez, Presiding). The Court is located in the George L. Allen, Sr. Courts Building, 600 Commerce Street, Dallas, Texas 75202. All capitalized terms herein have the same meanings as set forth in the Stipulation.
The terms of the Settlement set forth in the Stipulation include: (1) the adoption and/or implementation of a variety of reforms, including measures that relate to and address many of the alleged underlying issues in the Derivative Action, including, but not limited to, the implementation of various corporate governance reforms; (2) the implementation of various reforms to Southwest's safety and maintenance processes and procedures to Southwest's Management; Safety Management Systems; Maintenance Organization and Maintenance Procedures; and Management Airworthiness Directive Procedures; (3) releases of various individuals and entities, including officers, directors, and the Company related to certain claims, and (4) Southwest's payment of Plaintiffs' Counsel's attorneys' fees and expenses in the amount of $3.5 million, subject to Court approval.
IF YOU ARE A CURRENT OWNER OF SOUTHWEST COMMON STOCK, YOUR RIGHTS MAY BE AFFECTED AND RELEASED BY PROCEEDINGS IN THE LITIGATION.
On the 7th day of December 2009, at 9:30 a.m., the Court will hold a hearing (the "Settlement Hearing") at the Dallas County Courthouse, 44th District Court, George L. Allen, Sr. Courts Bldg., 600 Commerce St., 5th Floor, Dallas, Texas 75202 to determine: (1) whether the terms of the Settlement should be approved as fair, reasonable and adequate; and (2) whether the above-entitled action should be dismissed on the merits and with prejudice.
Any shareholder of Southwest who objects to the Settlement of the Derivative Action shall have a right to appear and to be heard at the Settlement Hearing, provided that he or she was a shareholder of record or beneficial owner as of October 9, 2009. Any shareholder of Southwest who satisfies this requirement may enter an appearance through counsel of such member's own choosing and at such member's own expense or may appear on their own. However, no shareholder of Southwest shall be heard at the Settlement Hearing unless no later than fourteen (14) days before the date of the Settlement Hearing, such shareholder has filed with the Court and delivered to Plaintiffs' Counsel and the Defendants' Counsel (named below), a written notice of objection, their ground for opposing the Settlement, and proof of both their status as a shareholder and the dates of stock ownership in Southwest. Only shareholders who have filed and delivered valid and timely written notices of objection will be entitled to be heard at the Settlement Hearing unless the Court orders otherwise.
If you wish to object to the Settlement, you must file a written objection setting forth the grounds for such an objection with the Court on or before November 23, 2009 with service on the following parties:
Legal Counsel for Plaintiffs
Robin Winchester
BARROWAY TOPAZ KESSLER
MELTZER & CHECK, LLP
280 King of Prussia Road
Radnor, PA 19087
---
Legal Counsel for the Defendants
Richard Sayles
Sayles Werbner
4400 Renaissance Tower
1201 Elm Street
Dallas, Texas 75270
Madeleine Johnson
Vice President - General Counsel
Southwest Airlines Co.
P.O. Box 36611 (HDQ-4GC)
Dallas, Texas 75235
Inquiries may be made to Plaintiffs' Counsel: Robin Winchester, Barroway Topaz Kessler Meltzer & Check, LLP, 280 King of Prussia Road, Radnor, PA, 19087; telephone 610/667/7706.
The information furnished in this Item 7.01 shall not be deemed "filed" for purposes of Section 18 of the Securities Exchange Act of 1934 or otherwise subject to the liabilities of that section, nor shall such information be deemed incorporated by reference in any filing under the Securities Act of 1933 regardless of any general incorporation language in such filing, except as shall be expressly set forth by specific reference in such filing.
SIGNATURES
Pursuant to the requirements of the Securities Exchange Act of 1934, the registrant has duly caused this report to be signed on its behalf by the undersigned hereunto duly authorized.
SOUTHWEST AIRLINES CO.

October 22, 2009

By
/s/ Madeleine Johnson
Madeleine Johnson
Vice President General Counsel